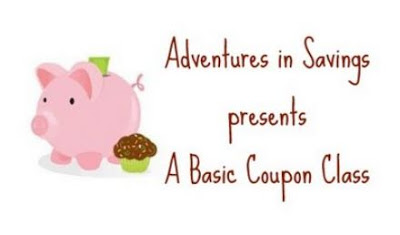 This page is not a coupon class…
While any of my readers are welcome to the information here, I created this page for those who attended my local coupon class. All links mentioned in the class should be posted here (plus lots more!) If you see something I missed, please let me know!
Be sure to subscribe to Adventures in Savings by email for a daily update of all the deals! Just enter your email address at that link, then watch for an email from Feedburner (check your spam) and click through the link in that email to start getting a daily email from my website!
You can also be a fan on Facebook for faster updates or follow me on Twitter!
Coupon Organizing:
How to Organize Coupons: My Binder Method
My Coupon Categories
Coupon Sources (Printable) I recommend check these often for the latest coupons:
Coupons.com
Redplum.com
Smartsource.com
Sign up at these sites to get printable coupons and offers in your mailbox!
Vocalpoint.com
Right at Home
Kelloggs.com
CoolSavings.com
Pillsbury.com
Nestle's Very Best Baking
Eat Better America
Mambo Sprouts
UPromise
AllYou.com
All You Magazine (see why should subscribe to All You!)
A Full Cup
Couponbug.com
Kraft First Taste
RecycleBank
Coupon Previews:
Sunday Coupon Preview
2011 Coupon Insert Schedule
If you're looking for a specific coupon, you can always do a Swagbucks search and check here for a couple of other ones.
FREE Office Supplies & School Supplies from Officemax! These posts will show you how I got all that free paper and pens… and how to get tons of other free stuff!!
Lists of Coupons in Magazine by Month : Nicole's Nickels
Digital or eCoupons
Kroger eCoupons
Cellfire
Shortcuts
P&G eSaver
UPromise
Coupon Clipping Services (where you can order clipped coupons and/or coupon inserts online):
The Coupon Clippers
Coupon Carryout
The Coupon Master
Whole Coupon Inserts
eBay (search for coupons or coupon inserts)
Store Specific Coupons
Rite Aid Video Value Coupons
Target Coupon Generator
Coupon Policies:
Walmart Coupon Policy
Walgreens Coupon Policy
Rite Aid Coupon Policy
CVS Coupon Policy (via Mama Cheaps)
Kroger Coupon Policy
Dollar General Coupon Policy
Family Dollar Coupon Policy
Store Loyalty Cards
Kroger Plus Card
CVS Extra Care Bucks Card
Wellness + Rewards Card (use to earn +UP Rewards)
Where to find the Weekly Deals Lists:
(or… my favorite blog coupon match-ups)
Walmart : Passion for Savings
Walgreens: Hip2Save and Keeping the Kingdom First ($5 Challenge Series)
Rite Aid: Moms Need to Know
CVS: The Thrifty Mama
Kroger (the Delta Region including MS): The Big Red Pot
Family Dollar: Sarah's Deals
Dollar General: Nicole's Nickels
Kmart: Just Trying to Save Money
Target: Bargain Briana
Daily Deals Sites: (still adding links here)
(some of these links may not lead to the current deal, but you can still sign up through them to find the latest HOT deal!)

Eversave
Groupon
Living Social
Totsy
The Mini Social
Buy With Me
DealPulp
HauteLook
Rue La La
Zulily
Mail-In Rebates: They Are Worth It! (and how to make the most of them!)
Other Frugal Blogs I Love:
Frugal Fun and Fortune
The Frugal Find
Coupon Geek
iheartCVS.com
iheartWags.com
iheartRiteaid.com
If you have any questions, please leave a comment, ask on my Facebook page or send me an email!
New to Adventures In Savings? Subscribe to Adventures in Savings by email for a daily update of all the deals or follow me on Facebook or Twitter to get all the latest updates faster!