Once again I woke up this morning at 8:30am to my husband calling me.   His wake-up calls are so much more effective (and sweet!)  for me than any alarm clock!
Today was a doozy.  I got overwhelmed.  Frustrated.  Tired-out.  I felt so down and out and ready to quit.  But I knew I couldn't, so I just pushed through… over and over again.  It all started when I wrote my final list for the week and realized that I still had 6 cakes, 4 dozen cupcakes, 2 dozen petit fours, a dozen cake pops, and candy apples to do this weekend.
WHAT!?!?!?!  There are no excuses for how I managed to over-schedule myself like this this weekend… I just screwed it up good!
It was a combination of my orders being spread out from Thursday through Sunday, me completely forgetting to write down two of my orders altogether (thank goodness customers check in with me!!) and having a scheduling issue with the dessert table last night (it was originally set up on a less busy week and had to be moved… I could've said no, but I love that ministry and I wanted to do it).
Anyway, it doesn't matter.  I'll get it done – or at least my husband says I will.  He has complete confidence in me even when I feel like I'm drowning.  So… on with the show.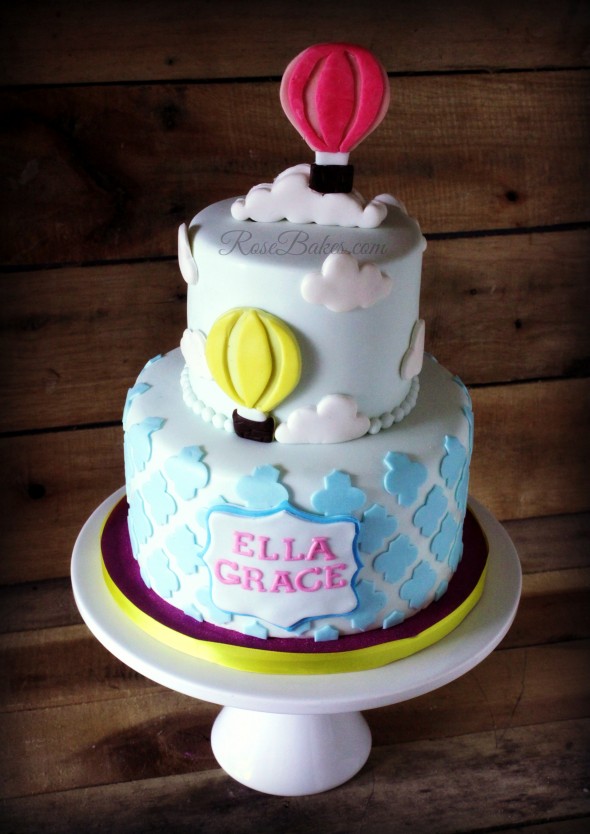 I started my morning by decorating this Hot Air Balloon Cake.  I usually have all of my cakes filled and frosted and ready to cover with fondant by Friday  morning but since yesterday was so busy prepping for the dessert table last night, I didn't get my usual prep work done.
So first I pulled those cakes out of the freezer, filled and frosted them, and then while I let them thaw a little, I cleaned up the horrid mess left from yesterday so I would have a clean slate to work with today.  Let me just say… a disastrous kitchen is not a fun way to start the day!
As soon as I finished that cake, I filled and frosted a little 6″ roses cake (no picture, but it was like this) and then I moved on to my baby shower order…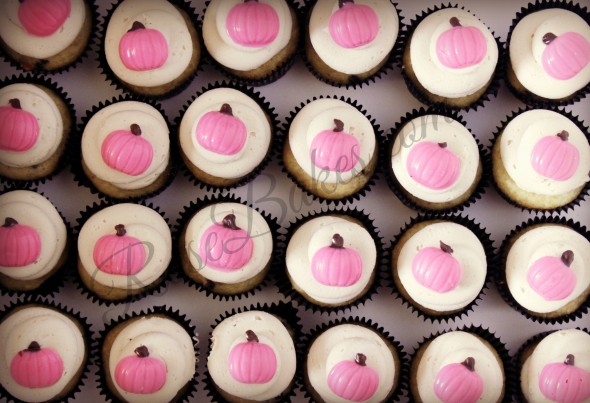 I made 4 dozen Pink Pumpkin cupcakes (half vanilla, half coffee) and then we made little- chocolate pumpkins to go on each one.  You can read more details about them here.  I also made two dozen petit fours.
Then I took pics… and snagged this one while I was also photographing cakes: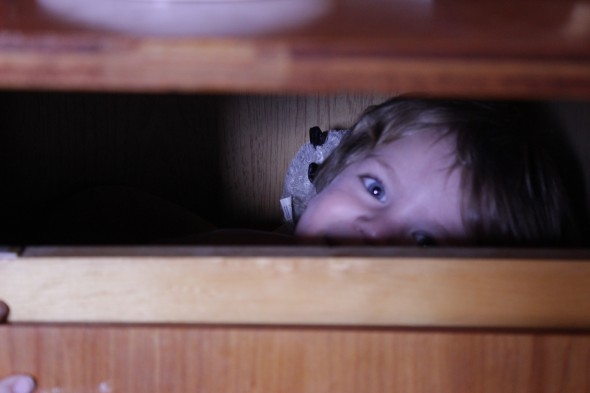 With all three of those orders finished… just in the nick of time… I changed clothes, loaded them up and left the house around 2:35pm to go deliver all of that.  I had 3 customers – 3 different meeting spots and like some kind of crazy person, I had told them all 3 o'clock.  So, I dropped off the first order a little early, met the second customer (who was there also a little early, thank goodness), then bee-lined it over to the last meeting place and got everything handed off!
Deep breath.  I haven't seen or talked to my sister in a few days and I miss her terribly, so I stopped by her office while I was in town and give her a few extra cupcakes and visited for a few minutes.  It's funny how sister's are… she looked in my face and immediately knew something was wrong.  She had customers coming in and out so I couldn't talk long, but I just told her how tired and overwhelmed I was feeling… she gets me.
After a short visit, I headed home around 3:50pm.  When I got here, Sarah had already mixed up the first bowl of batter for our next round of baking… the wedding & groom's cakes for tomorrow.  While she did that, I cleaned the kitchen a little, then sat on the couch and blogged over at Rose Bakes, then started making notes for this post.
It was nice to relax for a short while (I guess close to 2 hours?!) and then I knew I had to get up and get back in the kitchen.  I have a birthday order going out around 11 in the morning, then the wedding in the afternoon…
SO we baked and baked, then made supper, then I started filling and frosting the cakes for tomorrow and my hubby dipped the cake pops.  After the baking was finished, I ate supper, then I made a Minnie Mouse cake and then before I knew it, it's nearly 2am.  Oy!!
Until tomorrow…