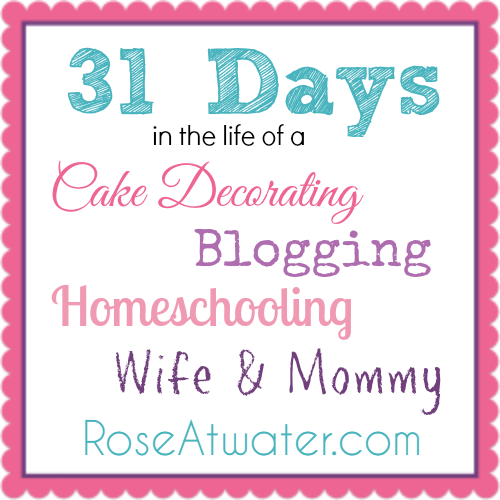 I slept a little late this morning… until 9:30am.  I might have slept all day if the phone hadn't woke me up.
Usually a kid (or two) comes to climb in bed with me, ask about breakfast, or just gets loud enough that I wake up, but yesterday they got a new Wii U (the 5 oldest kids each contributed $64 of their saved money to buy it together!) and well… they were all too engrossed in their new toy to bother with Mommy.
So, when I got up, I quickly shut down their fun, told them to quickly eat breakfast (yea… they hadn't bothered) and get it together so we could start school.   They weren't liking me very much.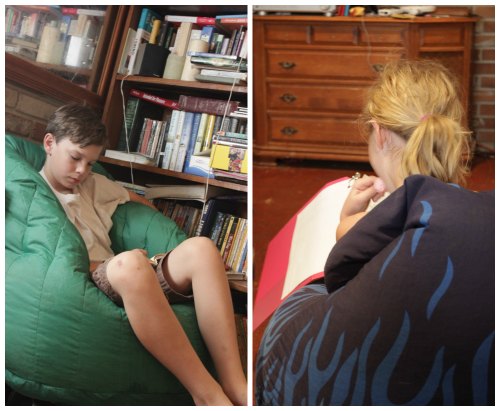 Around 10:15am, we started school and since I had a horrible back ache again, we did it in the living room today so I could sit with a pillow and heating pad.   The kids sat on their bean bags, the floor, the couch, the rocking chair… it's a nice change of pace.
We took a break for lunch around noon, and I also had Sarah bake a batch of cupcakes and Caleb make a batch of frosting (I had a small order this afternoon), then around 12:45, we got back to it!   We were working hard to try and do yesterday's and today's assignments (since we had a "holiday" yesterday).
Things were going really well until around 2:15 when I got up to frost the cupcakes.  I couldn't remember how many she wanted (it was an odd number, like 22 or 27 – not a usual order size in dozens), so I open up my schedule to find that she wanted 27 and she wanted them CONFETTI CAKE – I had baked vanilla.  Oy!!!
I started scrambling to bake another batch (I had plenty of time, but I didn't want to take any chances) and about that time is when the toilet overflowed in one of the bathrooms and I realize it's a little hot in the house… the AC has quit again.  I think it's the 4th or 5th time in a matter of weeks.  Really???
So, long story short, we opened windows to cool down the house (it was really nice outside) and as soon as the cupcakes were baked, I put them in the freezer to cool quickly and then frosted and and sprinkled on sugar pearls, and ran out the door to go deliver them around 3:50pm.  No pics were taken.  :-p
I met the sweet lady who ordered them at the grocery store, t hen I ran in to grab a few things I needed for the week (sour cream, eggs, oil. etc.).  I normally shop at Walmart for ingredients and would've yesterday except the weather was so bad, I just hurried and grabbed things I couldn't get in my hometown.
Anyway – grocery store, a quick stop at my Mama's house to drop off a few things she needed in town, then I got back home just before 5pm.
When I walked in the door – I scrambled the kids to do a quick clean-up of the house before Richy got home (I like for him to walk in the door from work to a semi-clean house when possible… and it puts us all in a better mood).
From then on til now I made supper, blogged a little bit, worked on catching up on our online banking (I finally have my laptop back – the Dell guy came while I was out yesterday) and then watching NCIS, running over to my Daddy & Mama's house for about an hour, and then chatting on the phone late tonight and working on the computer to book us a FUN, overnight family trip together with my best friend Kathy & her family!
I know today's post seems really rushed but I really, really want to get some rest tonight… some of you might remember that I was afraid I wouldn't get to see her while she's here from Italy, but I am….. TOMORROW NIGHT and I want to be rested!!!!!    Aaah, now I'm off to bed – if I can sleep 😀