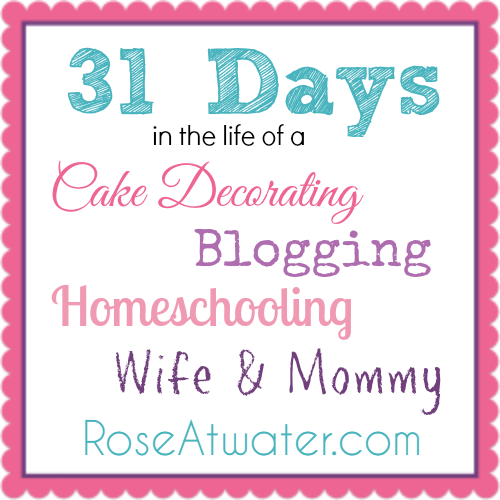 I feel like my 31 Days posts have been more negative than positive and that's not the kind of blogging I want to do.  Maybe it's just in my head… maybe it's for real, but to maybe change that tone, I'm going to start with 3 things I loved about my day!
Sleeping in and having breakfast in bed!  My kids are awesome!!
My teenage son volunteered last night to start doing all the laundry duty in our house.  From gathering to loading/unloading to folding and putting away.  He did 4 loads today with zero prompting.  Can you hear me singing the Hallelujah song??  I really hope this is a trend!!
Whispers and flirting with my husband.  #love
So… now let me tell you about my day.
It was so nice to get a full night's rest again.  I got in bed late, but I also slept late, so I'm starting to feel normal again after a week of yuck.   I woke up around 9, read a little, watched a little TV, and then my daughter brought me breakfast in bed (score!!) before I got up around 10 and started our day.
Well… the older kids actually started their day much earlier.  They got up around 5:45am with their Daddy and got dressed and rode up the road to watch the eclipse.  They said it was too foggy/misty to see it very well, but they did get a decent picture (which I can't find right now) and then they went back to bed!
So, around 10am we started school.  I'm not sure exactly how or why, but school went super smooth today and not only did we finish everything for today, we also finished most of tomorrow's work so I can focus on cake work tomorrow (and I'm  sure you remember I have a truck-load of it).  There's not much to tell about those hours… we just read books, and took quizzes and listened to audio books and worked, worked, worked!
I have to say I was really thankful and praying and thanking Jesus that today went so well with the kids (even though they did have a few rounds of bickering that made me want to scream!).  I've gotten pretty anxious about getting everything done this week and I really have had to consciously turn it over to God.   I know I can't do any of this without Him and I need to not lose sight of that!!
Around 4:30 we wrapped up everything and I immediately started working on my baking list.    Oh… at some point during school we realized it was really hot in the house.  Our darn air conditioner had stopped working again.  AGAIN!!!  Nothing else to say about that.
I continued to work and around 6:45, the kids went to church.  I had cakes in the oven and Richy was filthy from working on the air conditioner, so he & I opted to stay home (and we kept Asher with us).  I don't like missing church, but it was nice.
We both quit working when they left and sat down on the couch together and watched Madam Secretary without interruption.   Well, Asher was here so I won't say there were no interruptions, but one kid is a lot less than 6!!
There aren't many new shows on television that are worth watching (IMHO), but so far, we're really enjoying that one!   I also wrote this blog post (up to this point) while we watched (hoping it won't take long to finish up my post later).
Anywho… my break in cakes also allowed me to have the ovens empty long enough to bake some chicken for supper so the kids could eat when they came home.
Fast forward to 8:15… the kids are home, we ate supper, and then I went back to work.  I completely finished 104 cookies, 50 cake pops, and 80 dipped Oreos.   I also got the petit fours torted and filled and chilling and about 80% of my baking finished before running out of eggs… yikes!  I'm meeting a bride for a consultation and tasting in the morning, so I'll grab some eggs in town to finish up the last few things.
It's now 1:39am and I'm going to bed.  I'm so tired I'm not even going to get a shower.  I know, I know, that's gross, but my feet are swollen, my hands are swollen, my head is throbbing, my back/shoulder are killing me from piping cookies and dipping cake pops and I just want to lay down on my heating pad and pass out.
I hate it that I didn't get any pics today but it really was the last thing on my mind… until just now 😉
Talk to you tomorrow!!