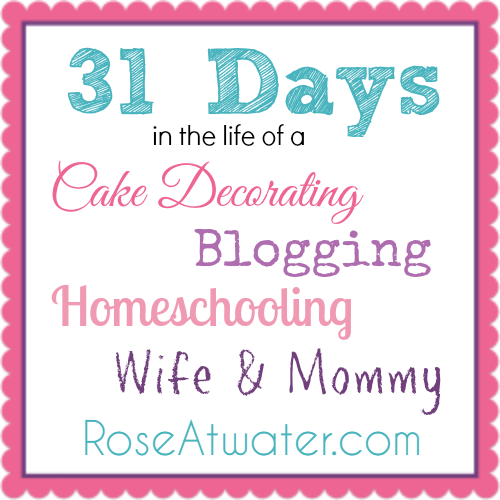 Well, my day couldn't have started any brighter than it did.  My husband called me to wake me up around 8:30 (my most favorite wake-up call EVER.. and he does it 2 or 3 times a week :D) and then I rolled over to find this next to me…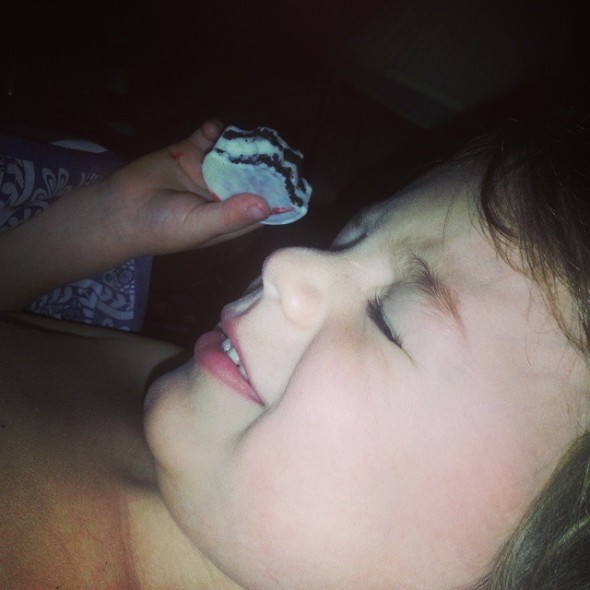 This little monkey, aka Asher Cody, had found my extra dipped Oreos and had not only helped himself to one for breakfast, he had crawled into my bed with me and was hiding it under the covers!!    When I rolled over and he immediately closed his eyes and giggled, I asked what he was doing and he slowly pulled it out and showed it me and said, "Eating a cooookie" and then grinned!!  He's irresistible!!
Anyway, I had asked Richy to wake me up at 8:30 because I had an appointment to meet with a bride at 10:00 at the library and I still had to frost her cupcakes (for a tasting) and box them up!  So I hopped up and got on it!  OH and also, the AC man was coming at 10 to see if he could find anything wrong with our air conditioner (he did and it's all fixed up!! Praise the Lord!!).
So, I met with the bride from 10 to 11am, then came right on back home to work on finishing the sweets for tonight!  Oh and since I was super busy, I let the three little boys do one of their most favorite things (to keep them occupied for a little while)… they played in a bubble bath (and incidentally, my bathroom floors no longer need mopping!!)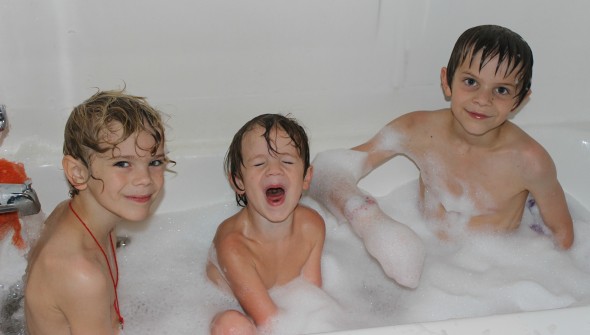 They are such a mess ya'll!  Christian was just being his quiet little self, Asher was being ridiculously cute and Noah had a "pretend" cast on his arm like Christian has had for weeks!
Anyway… I can't remember if I mentioned before what I was doing tonight, but I had to do a dessert table for 300 at the Doll's House Benefit Dinner.  I had to frost 100 cupcakes, pour icing on 75 petit fours and decorate them, and decorate the cake and then gather all of my white dishes out of the shed, box up and package everything (including all the cookies and cake pops I finished last night) to make the 30 mile drive, clean out my Excursion and remove a seat to make room for all.the.things and finally… load it all up!
Deep breath.  At some point in the afternoon I realized I had 3 dozen extra Italian Cream cupcakes, so I quickly posted them on Facebook and sold them and Joshua made a mid-afternoon delivery run for me!  I love having a son who can drive… yes I do!!
OH and I took a shower.  I really, really needed one and anyone who might have gotten around me pre-shower appreciated that… hahaha!
So we (Sarah & I) walked out the door around 3:50pm.  I stopped by my Mama's house and picked her and my aunt up (they were riding with us to the dinner) and we were on our way!!
I had hoped we might squeeze in a math lesson today (my only real homeschooling goal for the day and it was really a "that would be nice" goal, not a "we really need to do this" goal) but that didn't happen…  thank goodness we got ahead yesterday!!
All of that lead up to this…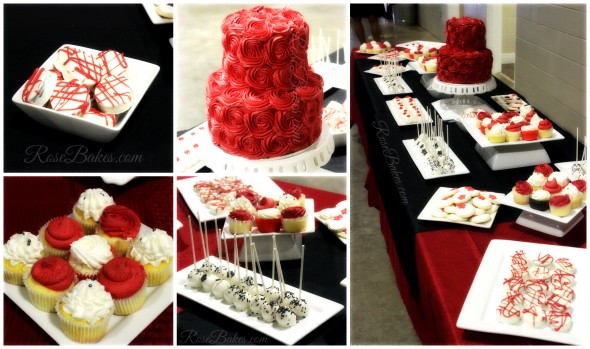 I couldn't have pulled it off without help from my kids, my Mama & Aunt, my pastor and most importantly, his wife, Mrs. Jeanne Pearl (she's the MASTER at putting together a beautiful table)!!  I just show up with the desserts and she makes them ROCK!
PS.  the lighting and cinder block walls didn't really make for the most beautiful lighting and backdrop, but as a whole, the table and the whole convention center was stunning done in black, white and red … if only I had taken more/better pics!  I can tell you I did the main chocolate cake, ~100 cupcakes (4 flavors), 80 chocolate-covered Oreos, 50 cake pops, ~100 vanilla almond cookies and 75 petit-fours.
Anyway, it started at 6pm and we enjoyed a delicious dinner, heard some amazing speakers and a chorale sing and just enjoyed fellowship!  When it was over, we helped with the cleanup and pulled out of the parking lot at 9pm.
My Mama needed to run by Walmart (it's 35 miles to the nearest Walmart from our tiny hometown), so we did that, filled up the tank on my Excursion and then made a quick Wendy's run for late night fries and rootbeer and we headed home.
We got here around 10:35pm and I was tiiiired but still sort of wired up from the evening.  Since I still needed to bake a couple of batches of cupcakes for tomorrow, I decided to go ahead and do that.    But now, I'm zonked… so at 12:44am and I'm going to bed NOW.     See you this time tomorrow!  xx