I know I've fell off the map here but our big family celebration last night for the 4th of July was so much fun and I wanted to pop in and share some pics.  Plus, it's our very first 4th of July at Joy Hills Farm.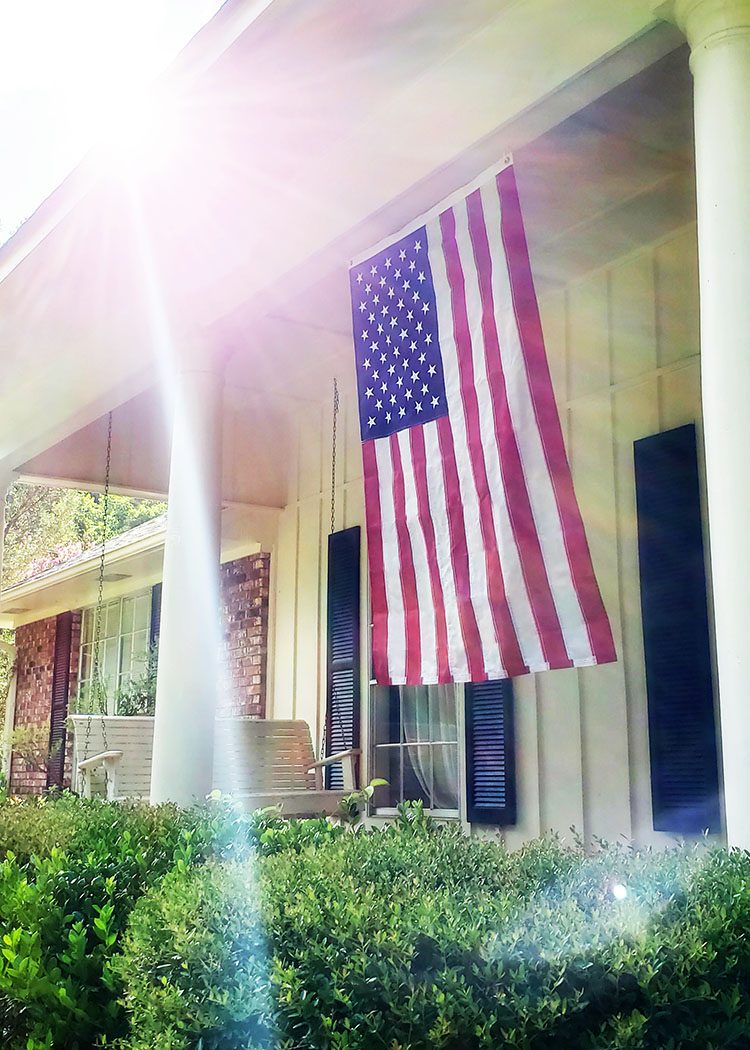 Just a few hours before my family got here, I told Richy that I regretted that we never got a flagpole up to hang our flag.  I have to be careful mentioning things like that to my husband because he's really such a good guy – if I mention something, he will try to get it done.
I mean that with the most sincerity – he always tries to make me happy with little and big things and as soon as I said it, he started looking for the flag and figuring out a way to hang it. We're pretty patriotic peeps with a geniune respect for our flag, so he wantd to be sure we handled it with care and followed proper flag etiquette.
With a quick internet search, we foung that we could hang it vertically without a pole (as long as the blue was on the left side) so that's what he did on our front porch.  And I LOVE the way it looks there!!  I took another beautiful shot when we were packing up the chairs after the fireworks: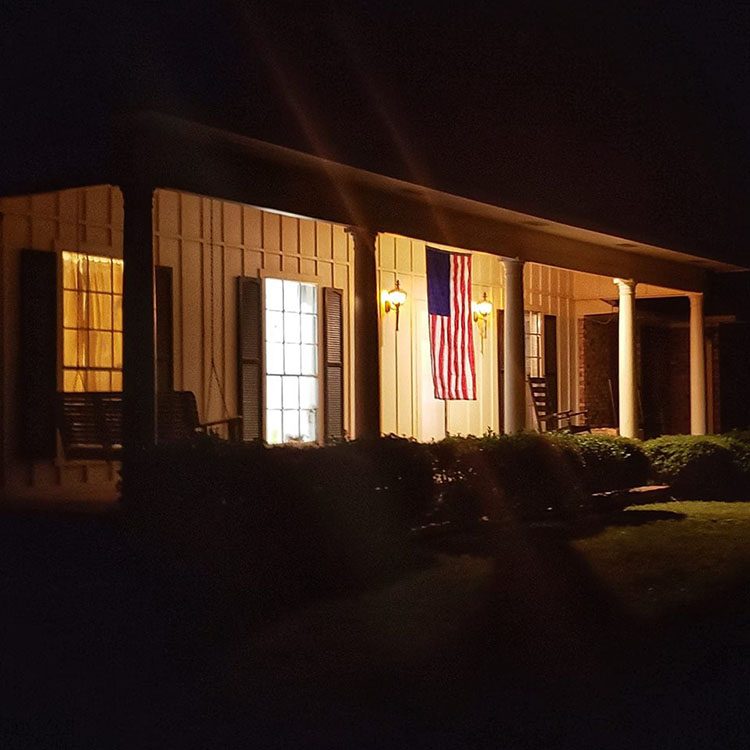 Anyway… for our 4th of July get-together, we had my parents and my siblings and the whole crew here last night (minus one brother-in-law who was working).
We didn't do anything fancy… grilled hot dogs and burgers and just enjoyed each others company.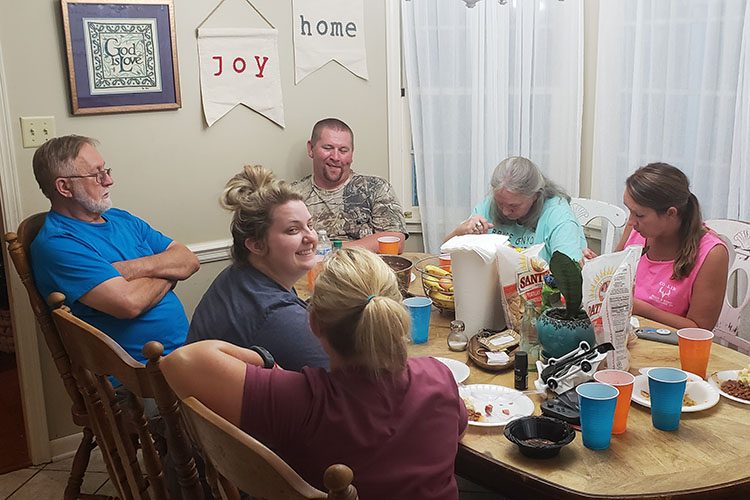 We sat around the table eating.  And the little girls played with dolls!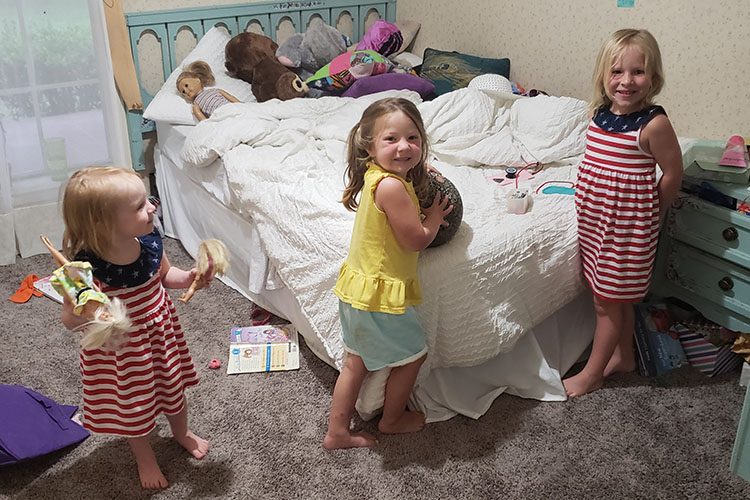 We had pie…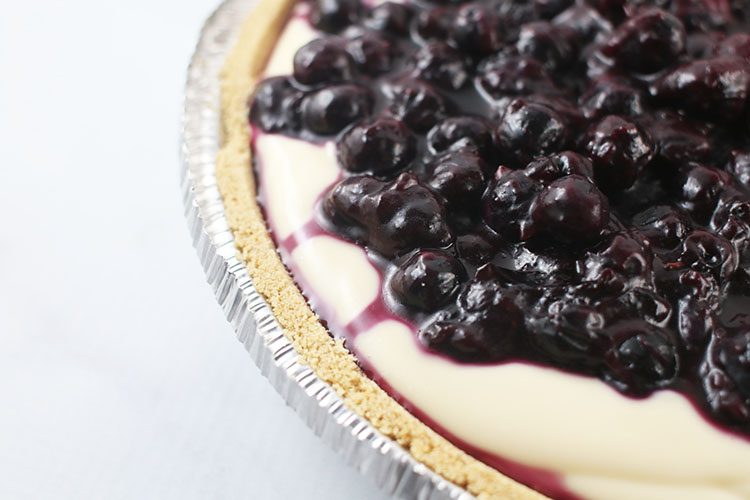 Several of the kids rode bikes and the 4-wheeler and then the guys (plus Sarah & I) did a little shooting…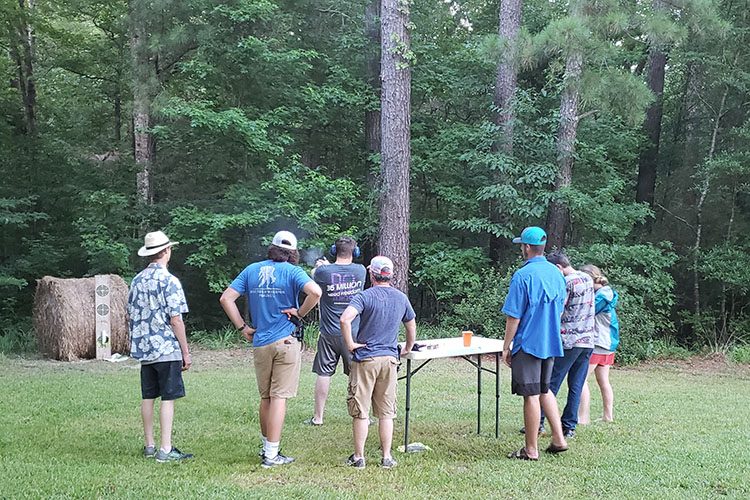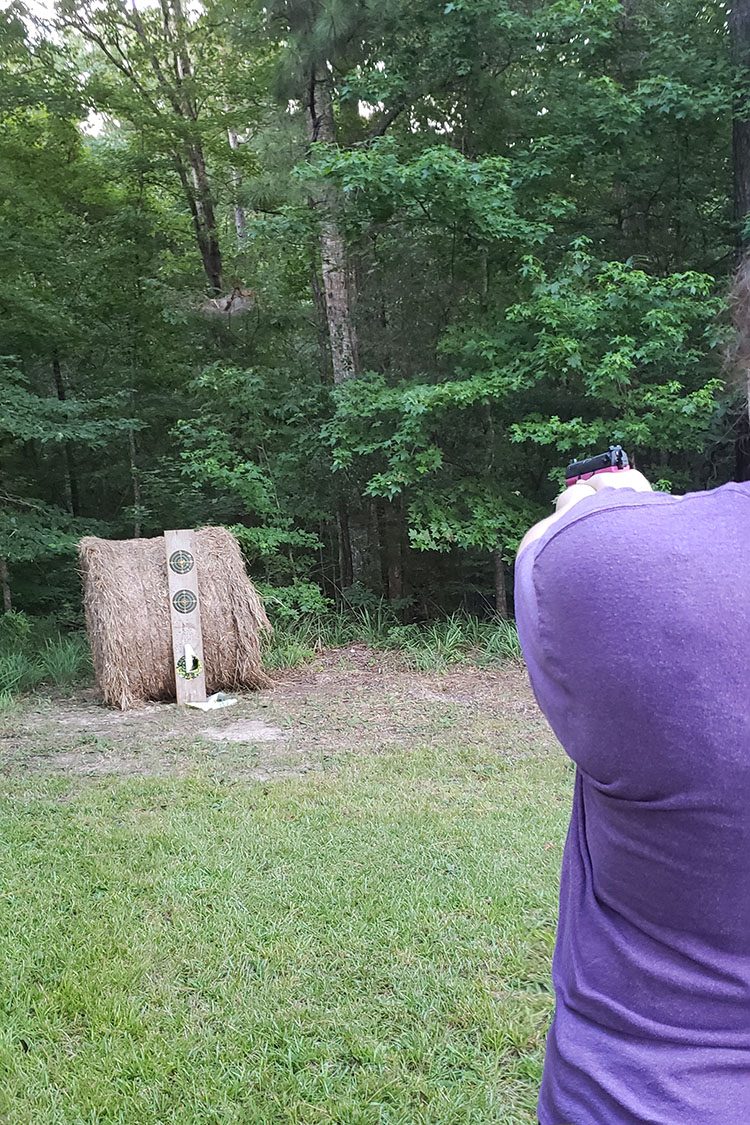 When I was walking back from shooting, I had to stop and smile at this picture: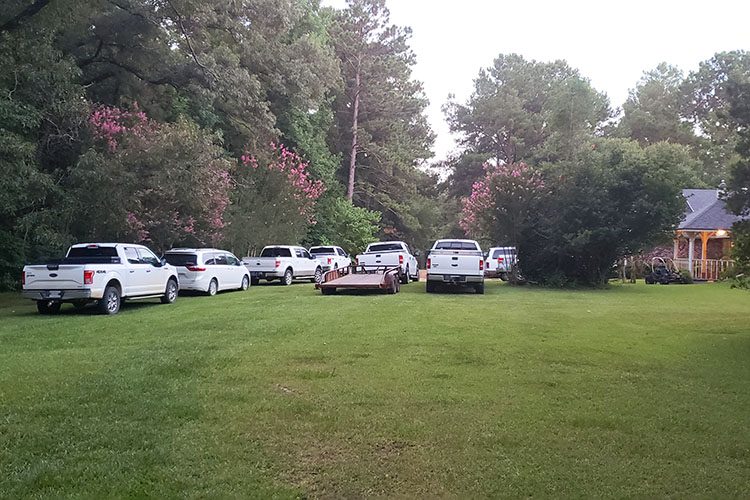 Have I ever mentioned that my family loves Ford vehicles?  And apparently we also like white vehicles?  We had 12 vehicles at our house yesterday. Ten of them were Fords.  Seven of them were white. Haha!
Then we did fireworks!  Well, the little ones started with sparklers and smoke bombs.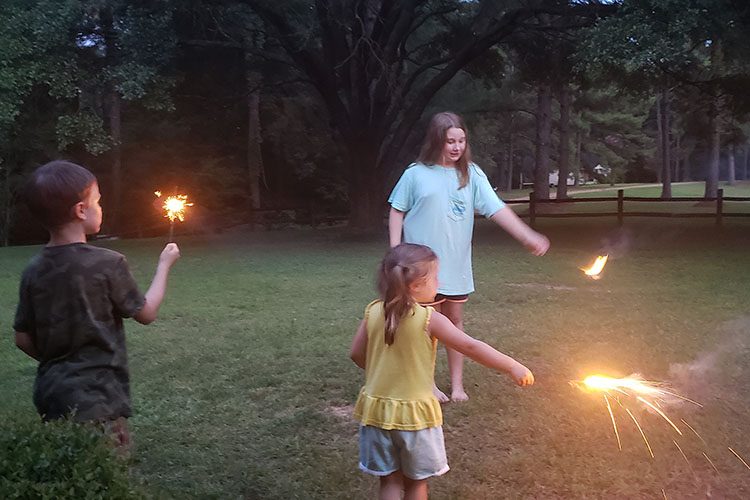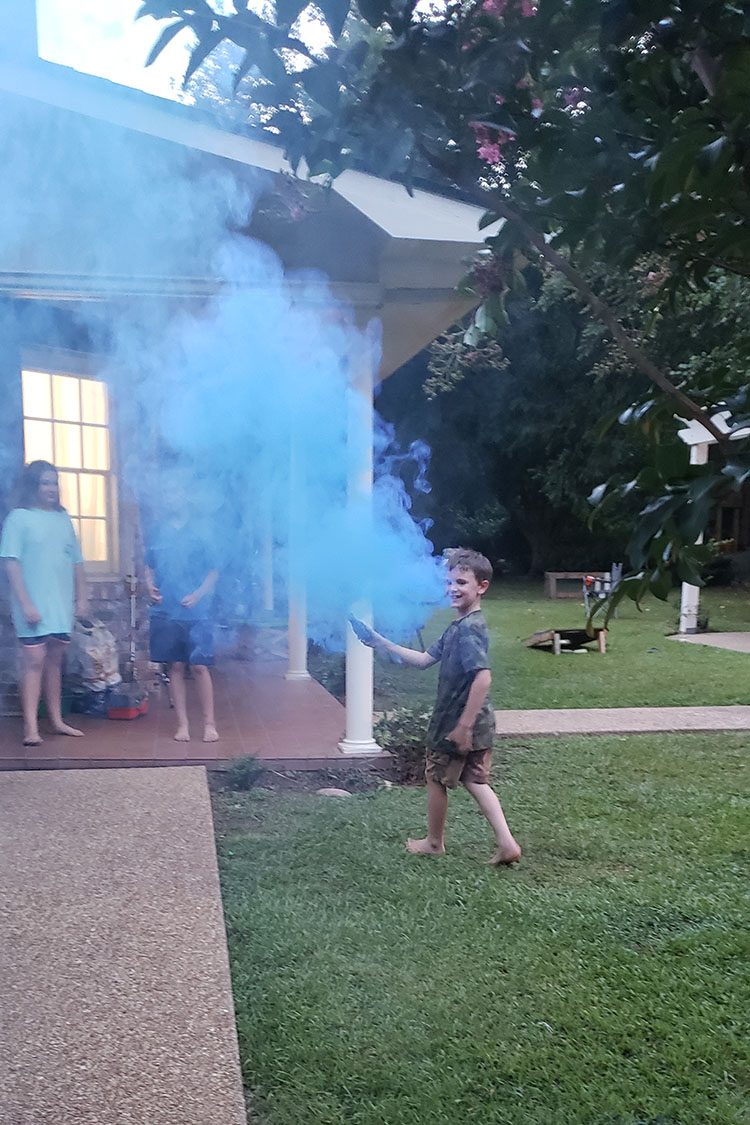 Then we moved on to the big kid fireworks after dark. Unfortunately I didn't get any good pictures.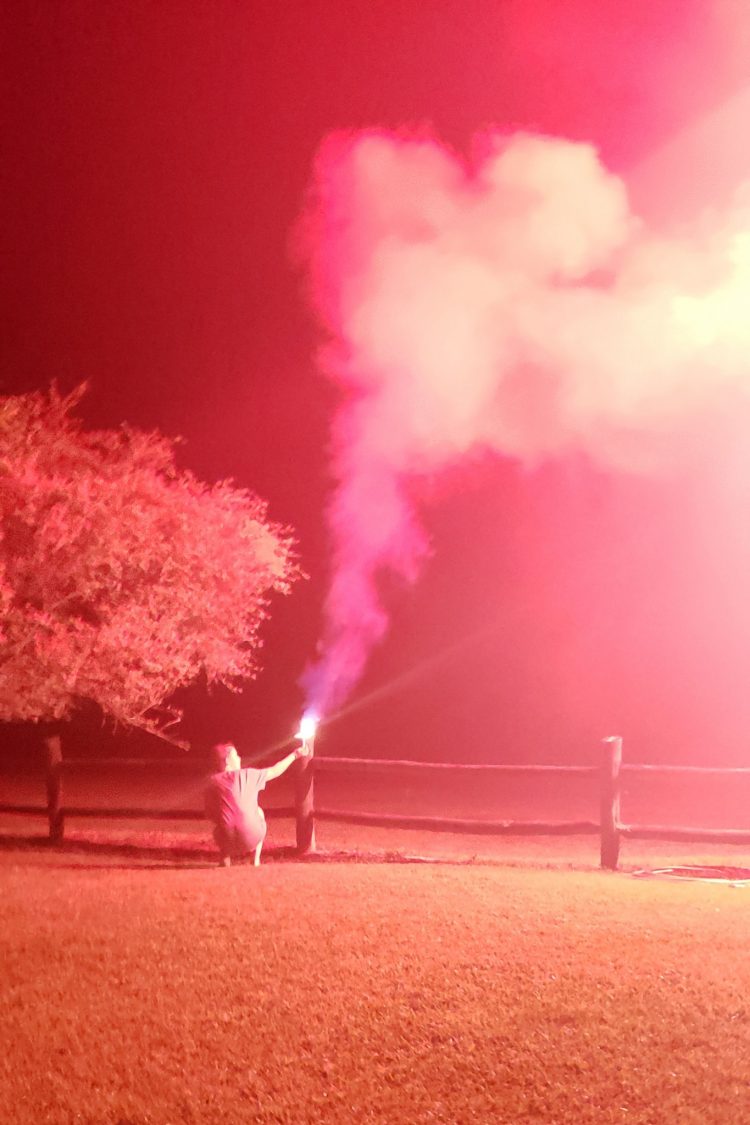 Richy had to work today so everybody left around 10pm so he could get to bed.  Well, everybody except for one niece and two nephews. They slept over 🙂
With 9 kids in the house, I went to bed around 11pm but got up at midnight when I heard the kids still playing. I found most of them around the table playing Clue:.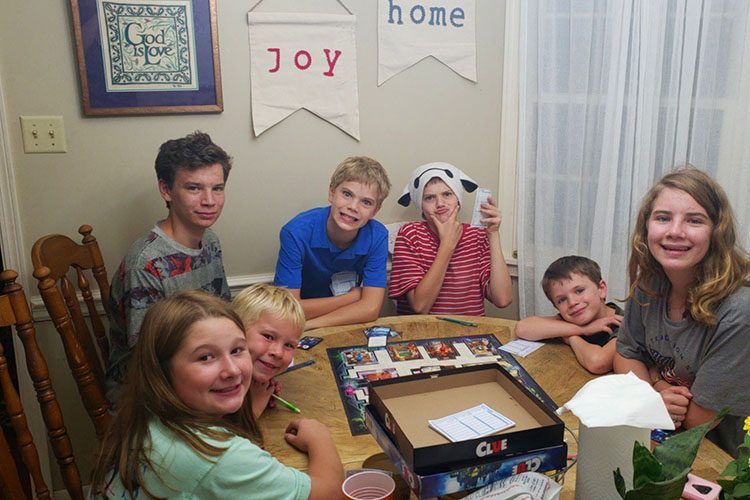 Except for my oldest son (who went to bed) and my nephew Tucker…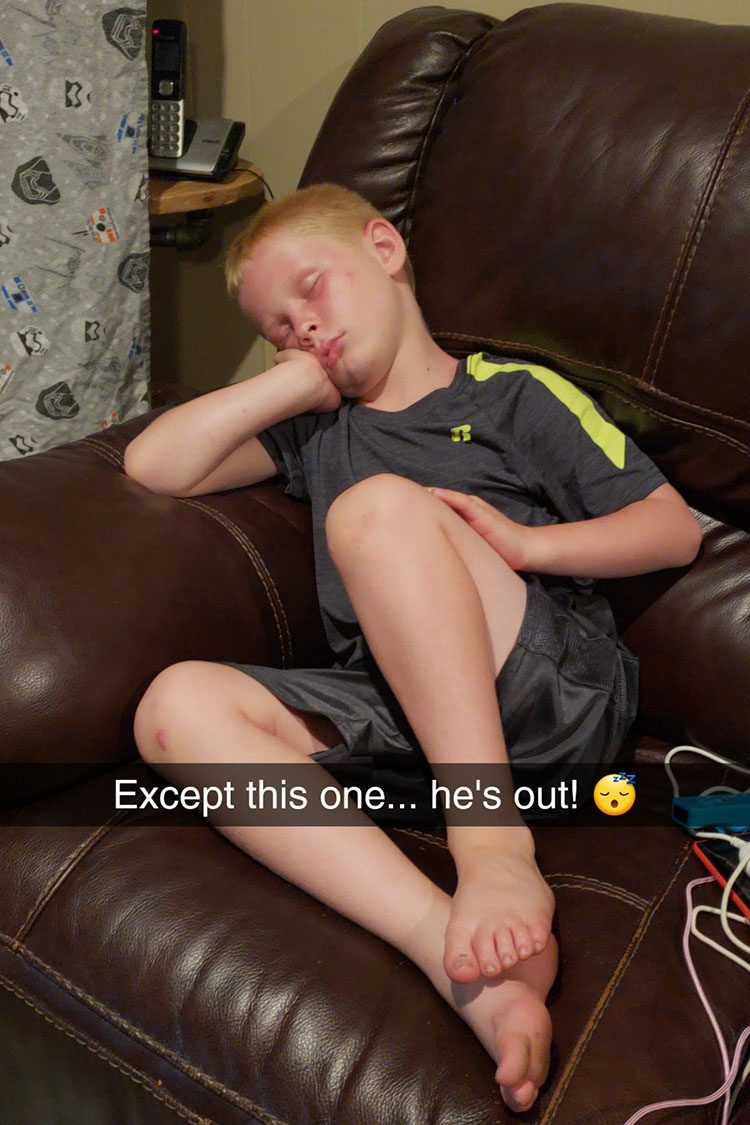 They finally settled down shortly after this and I think everybody was asleep by 1am.  It was a good, good day.
Today the kids slept late, played games, went fishing, and just enjoyed a lazy morning. I spent a little time cleaning the kitchen and most of the day going through email and doing blog work.
Now I need to sign off and fold (my mountain of) laundry!
So that was our very first 4th of July at Joy Hills Farm! I hope you all had a wonderful 4th of July celebration and enjoy the rest of your week!
PS – I've tried and failed repeatedly at getting back on my fasting plan. I have not given up – I just haven't succeeded yet.