Hey ya'll – I'm back for Day 12 of the 500 Things Decluttering Challenge inspired by Kathi Lipp's course, Jumpstart to Clutter Free.  The Day 12 challenge is to get rid of 25 things out of your closet.  Ouch!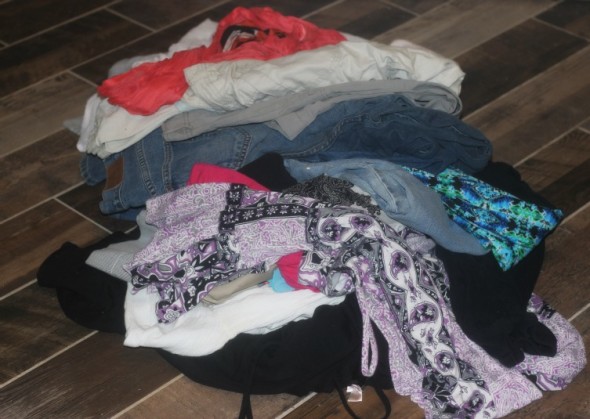 I'm pretty sure today was the hardest decluttering day for me.  Let me explain…
I am by no means a clothes junkie… I'm not a girly-girl who likes to shop and has clothes and shoes overflowing everywhere.   Actually the only thing clothes related that I have too much of is pajama/lounge pants, t-shirts, flip flops and socks.  Those are my go-to "around the house" clothes.  So, the things I have hanging in my closet?  I really like that stuff.
I can't wear some of it because I've "outgrown" it (nice way of saying I got fat!), but I honestly would be wearing all of it, if it fit.   And here's the other kicker.  Almost 3 weeks ago I started a new diet with my friend Susan.  It's not a typical diet and the weight is not coming off fast… more like almost 3 pound in almost 3 weeks.
But that's good, right?  Lose it slowly and you're more likely to keep it off?!   Isn't that what "they" say??   It may not be true, but I keep telling myself that because this is definitely coming off slooooow.  My point is, I really wanted to keep my too-small clothes just a little longer to see if I could actually fit into some of them again.   I told myself that if in 6 months I wasn't fitting into any of them, then I'd finally get rid of all of the stuff that doesn't fit.
But still… I'm committed to this challenge so I dug deep and I got rid of exactly 25 things (the last 2-3 things were hard)… and I didn't even touch Richy's side of the closet (which I was tempted to do!)…. haha!
But I did it!!  YAY!!    And thanks to the kids decluttering  yesterday, we're already way past 500 things but I'm determined to finish this challenge!
So here's where I am:
Day 12 (unofficial):  25 Things Decluttered
Total Items Decluttered So Far:  563