I didn't get around to the "official" decluttering challenge today.   But we did declutter…. stick with me.
You see, I didn't mention it in my post yesterday, but I did not have a good Monday.   I won't get into the details – it involved 3 hours in a doctor's office which led to the rest of my day running late, late, LATE … but today we doubled up on schoolwork to catch up.  I think that the double school work, combined with the mess yesterday led to me having a massive stress headache.
When the ibuprofen finally kicked in and I thought I finally felt like doing the challenge this evening, my oldest son called and his car was broken down on the side of the road.  Really?!  There went the rest of my evening plans!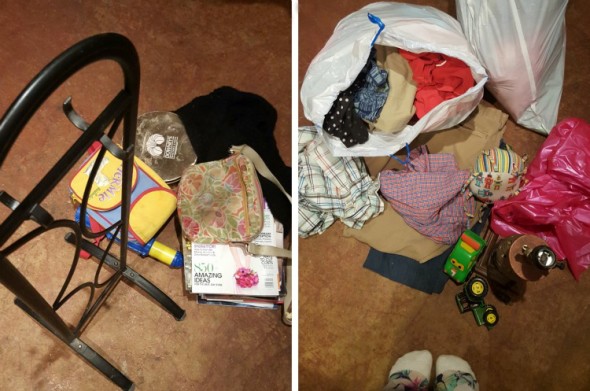 So instead of me decluttering myself – I told my kids it was their turn to declutter.  We have 6 kids – and they share 2 bedrooms.  I instructed them to clear out 50 things from each bedroom. They didn't get anywhere near that number (and I didn't feel like making a big deal out of it), but combined they got rid of 44 things – mostly clothes and toys.  It would've been more but I insisted on double checking their piles before we put them in the trash (or the truck for donation – depending on condition).
One of my boys was a little lazy in his decluttering… he basically stuffed everything out of his dresser in a bag – including several nearly new shirts and pairs of jeans.  So I had to take them out of the bags – but everything else, they did great with!  Some broken toys, some they didn't like or play with and some bags/purses.  Most of the clothes were too small, or torn or stained.  I was really proud of their effort!!
In addition to their bags of stuff, I also added a fire place tools hanger thingy that we never use, an old broken lamp that had been hanging around, and a huge stack of magazines out of my bathroom (22 magazines – all gotten for FREE!).
So in total, we got ride of 67 things today!!  I was SO excited!!   Anywh0 – it's late now and I'm off to bed, but if the good Lord is willing, I'll get back on track with the "official" day 12 tomorrow!
Day 12 (unofficial):  69 Things Decluttered
Total Items Decluttered So Far:  538