It's day 13 of the 500 Things Decluttering Challenge and I can say without a doubt, this challenge is changing me.  I catch myself walking through rooms and randomly picking up things to throw out or giveaway – things I'd have overlooked before.  And you know what?  I love this!
But today's challenge… I didn't love so much.  Yesterday's challenge was really hard and today's was way too easy.  You'd think decluttering 25 things from your car (that is today's challenge, by the way) would be hard, but for me, it was embarrassingly easy.
I don't even have a picture for you today (who wants to look at a big bag of mostly trash?), but let me tell you how it went down.
It was close to 5pm when I remembered the challenge so I quickly watched the video and then grabbed a couple of bags to go out to my Excursion before it got dark… wait, I can show you a picture of my truck (yes, it's huge – remember we have SIX kids!)…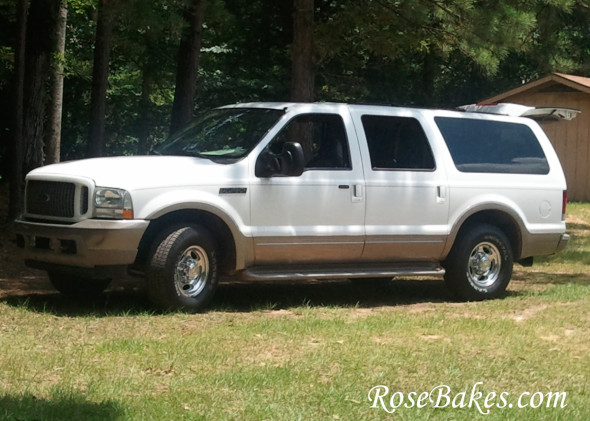 Anywho… it was getting close to dark so I couldn't even finish cleaning it out, but can we just say that I far exceeded 25 things?  and 50 things?  I actually exceeded 70 things and my truck is still not clean!!
Do you know how many shoes and pens and crayons and, and, and….  pieces of outright trash 6 kids can leave in a truck and stuff under seats?  Let's just leave it at a lot, okay?!  So I'm gonna call it 70 things and pretend that's all.
And now, since it's nearly 2am and I just finished cake work and I still have tons more to do tomorrow… I'm gonna wrap it up and get some sleep!  I hope you're all still hanging with me and decluttering!
Day 13:  70 Things Decluttered
Total Items Decluttered So Far: 633