So after skipping yesterday, I'm back to the 500 Things Decluttering Challenge.  The assignment for Day 7 is to clear 50 things out of our basement/garage.  Well, we don't have a basement or garage and our shed would be a whole other challenge all on it's own.  So I sort of picked my own areas to declutter today.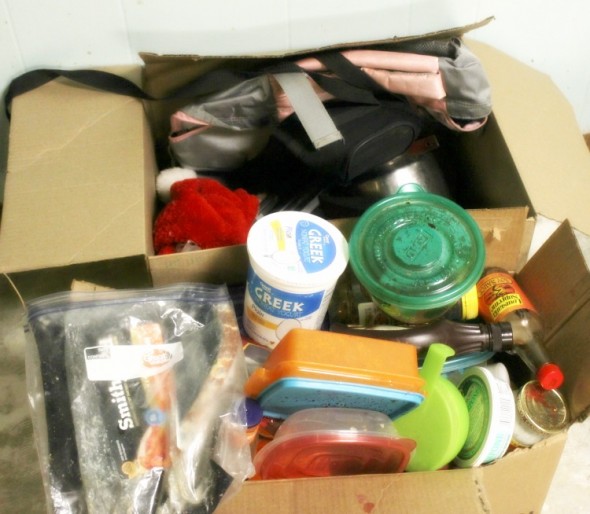 A shelf in my bedroom (got rid of some lotions/perfumes that I never use), the hall closet (got rid of several bags/backpacks and other odd items) and our refrigerator.
We use the Motivated Moms planner for chores and since cleaning out the frig doors and planning meals from leftovers were both on the chore list for today, we decided to do a full-out frig emptying and cleaning.
And ya'll… it was long, long overdue.  And super embarrassing!  (Note – we didn't throw away all those containers – we just threw them in the box for the pic, then took them out and emptied/cleaned them.)
In that box on the front, there were more than 40 things that were old, expired, or just plain, "what was this before it turned green anyway?"  We also had two of several things that we were able to combine and/or throw out one of them.
I know many of you will probably be totally appalled at this (my jaw is hanging open too), but we do have 6 kids and 2 refrigerators.  Things easily get pushed to the back, to the bottom… out of sight.  It's not an excuse – just the way it goes around here sometimes.
Anywho… we also made a list of meals we could/should make this week to use up some things that are on the verge of expiring.  For instance we found buttermilk and bacon.  We'll have Buttermilk Crab Pasta Salad one night and we'll also have a breakfast supper one night  – using the buttermilk for pancakes and have the bacon on the side.
Yay for a finally clean frig and for a few meals planned this week to avoid waste!
Here's where I stand on the decluttering challenge:
Day 7: 52 Things Decluttered
Total Items Decluttered So Far: 342