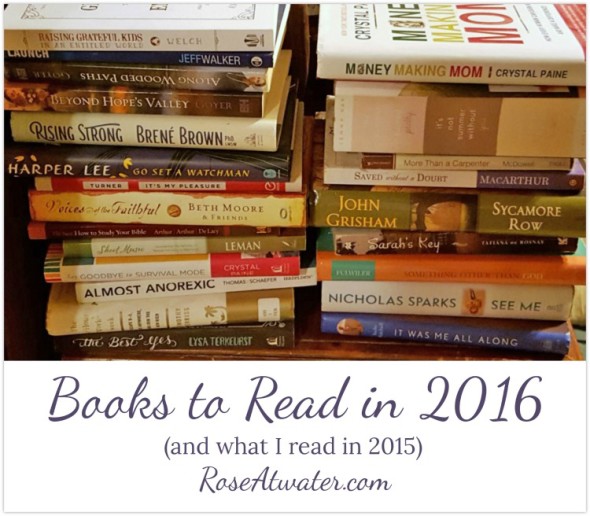 In yesterdays post about My Goals for 2016 (Personal and Business/Blogging), I mentioned that I wanted to read at least 12 books in 2016!   I want to read 6 that are related to business and blogging and 6 that are… not?!  Those might include fiction or books to improve my marriage, parenting, spiritual life, etc.  So here's my list: Books to Read in 2016 (and what I read in 2015)!
As I was writing the post, I went back to my bedroom and snapped a picture of the books sitting on the end of my dresser (I added the ones I've already finished and the one I'm reading now) – just to give you some perspective.
If you had any doubts, I absolutely love to read!  I used to get on a kick and tear through several books in the span of a few weeks and then go quite awhile without reading anything.
Lately however, I've left a book in my bathroom and one on my nightstand, and one in my purse for when I'm out (like today – while waiting on the kids at the dentist, I was knocking out a couple of chapters in Money Making Mom) and I have one or two going on my Kindle… so I try to read at least a tiny bit every day .  Clearly it's paying off… I read more than I thought in 2015!
So first… here are the books I have purchased and want to read for 2016 (I'm not listing everything I have stacked up on the left… those are just all the books I have acquired and not read and I may or may not intend to 😉 ) :
Money Making Mom (business) – listed above – hoping it'll be the first one I finish in 2016!  This is the one I was reading today!!  

read in January!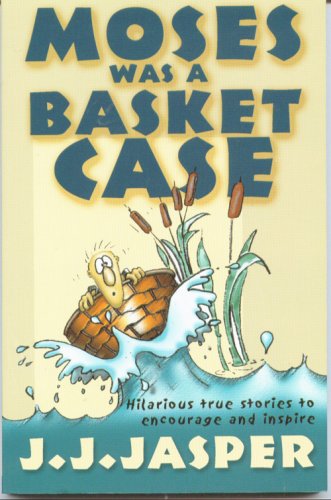 Moses Was a Basketcase (personal /inspiration) – I'm also reading this right now (it was in the bathroom – I forgot to grab it for the pic)  It was a gift from my Mama for Christmas.  So far is lots of fun, lots of laughs… and quite inspiring!  

read in January!

Raising Grateful Kids in an Entitled World (personal – parenting).    This was written by my friend and someone I admire greatly, Kristen Welch.   I cannot wait to dive into it – it's next on my list to start!!  She sent me an advanced copy but you can go ahead and pre-order it here!  (in fact, I'd encourage you to!)
The Art of Work (business)- this is a book by Jeff Goins – it was on sale for $.99!!
Big Sky Novel Series (pleasure reading – just to relax and enjoy a good, wholesome story).  I have them in paperback from PaperBackSwap, but you can get all 3 on Kindle here for under $5 total.  

read all 3 in February!

Rising Strong (business/personal… not sure) – I started this a few months ago based on the raving reviews of another blogger.  I couldn't get into it (maybe to chapter 2?)… but I'm going to put it down and try again in a month or so – see if I can get more out of it.
It's My Pleasure (business/inspiration) – written by the Vice President of Chik-fil-A, I've heard nothing but rave reviews about this book and I'm inspired by the work ethic of the founders of Chik-fil-A.
Almost Anorexic  (personal)- recommended by someone I know who also struggles with weight, unhealthy body image and self-esteem issues… While I'm clearly not anorexic or even "almost" anorexic,  she said I'd really get a lot out of this book.  We'll see!
The 4-Hour Work Week – someone recommended this book to me years ago and it's been on my wish list for PaperBackSwap for-EVER… I finally have it and hope to read it soon!
The Best Yes (personal/spiritual/business) – this is another book I heard great things about over and over again and I feel like it might spill over into my business life too!!
EntreLeadership by Dave Ramsey (business) – as a financial coach and teacher, I'm always interested in money and finances and budgeting.  So while we were already debt-free when I first heard about Dave Ramsey, I read his stuff anyway (Total Money Makeover and Financial Peace and my kids have read  his children's books) and learned a few new things and was inspired to keep on keeping on.  SO – when he wrote a business book – I added it to my wish list on PaperBackSwap and it finally came this week!
Not specific books, but our realtor highly recommended that I read some novels (fiction) by C J Box and also Harlan Coben.  I haven't researched them beyond the Amazon search to add links here, but in the back of my mind, those are possibilities because I love Marlene (realtor) to pieces and I feel confident her recommendations would be something I'd enjoy!
Okay – so that's only 11 (specific) books/series, but I'll leave a little wiggle room in my plans for for new books that may come out or be recommended… and obviously I have a few more in my stack if I run out 🙂
UPDATED to ADD:  The Fringe Hours, Killing Lincoln, With Every Letter
And if you're interested .. these are some of the books I read last year: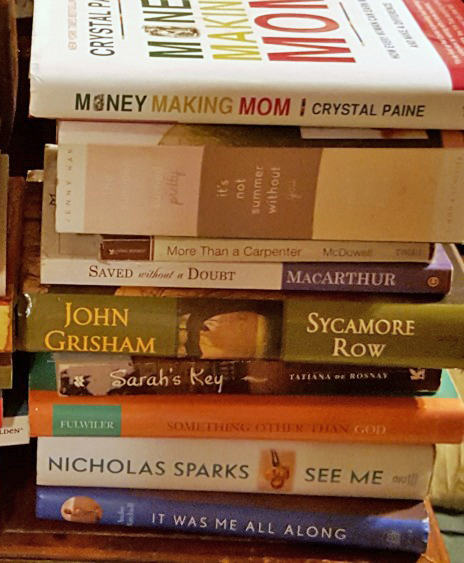 Let me give you a quick rundown of those on the right (this is not everything I read, but everything I could quickly gather from my dresser, my nightstand, and our bookshelf for a pic):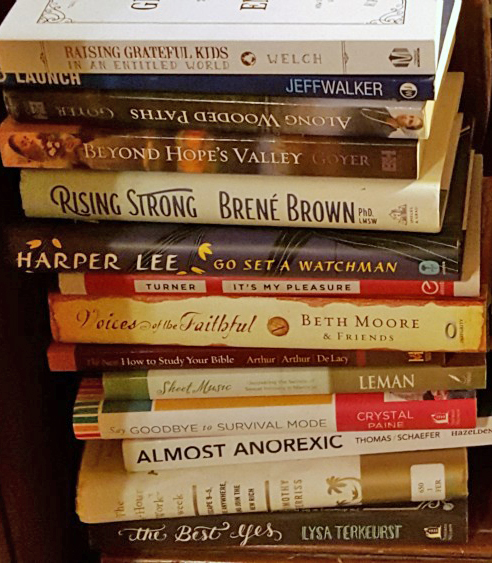 Whew – this blog post got way out of hand, huh?!  Soooo – what do YOU like to read?  Any fantastic books to read … in any genre?  Leave me a comment!