I'm taking a break from the No-Spend Grocery Challenge to do my last income report for 2016.  I know, I know – it's February of 2017 so I'm running way behind, but better late than never, right?  Let's get to it – the December 2016 Blogging Income Report.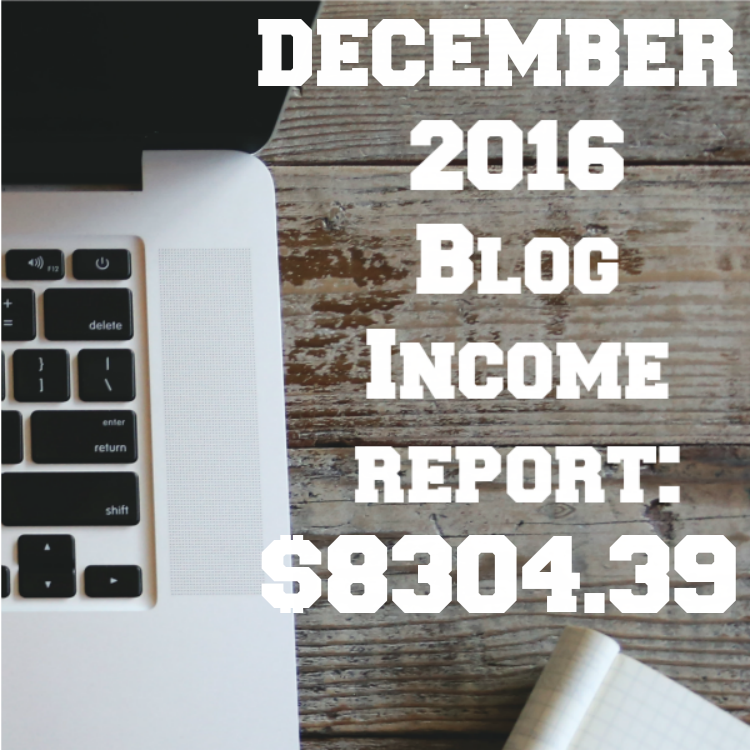 Scroll to the bottom for links to my previous months' income.  Why am I sharing?  Well, several months ago, over on Rose Bakes, I wrote a post about how to make money blogging (specifically with a food blog, but most of my info would apply to any blog).  Then back in January, I wrote a post on how I made almost $37,000 blogging in 2015.   Both of those posts got a lot of attention.
In addition to that, I'm always talking about finances with someone.   I love to talk about budgeting, saving, making money online, paying off debt, blogging, etc.  And ya'll… when I say I love it, I mean I love it.  I get as excited about that stuff  as I do about cake.  Haha!
Yes, I am a nerd.  (I absolutely love math! ? )
Anyway, since my previous posts about blogging and money and income have been popular and I absolutely love reading other blogger's income reports, I figured I'd jump on that bandwagon and start sharing my income reports.  My hope is to inspire, encourage and help other bloggers increase their income… or help someone else jumpstart a blog so they can start earning online as well!
I also hope that seeing these reports will keep me motivated, inspired and driven to see ways to improve and grow my blog and income.
Now let's talk about December!  It was another HUGE income month for me – almost hitting the $10,000 mark (on gross income) like I did in November, but not quite.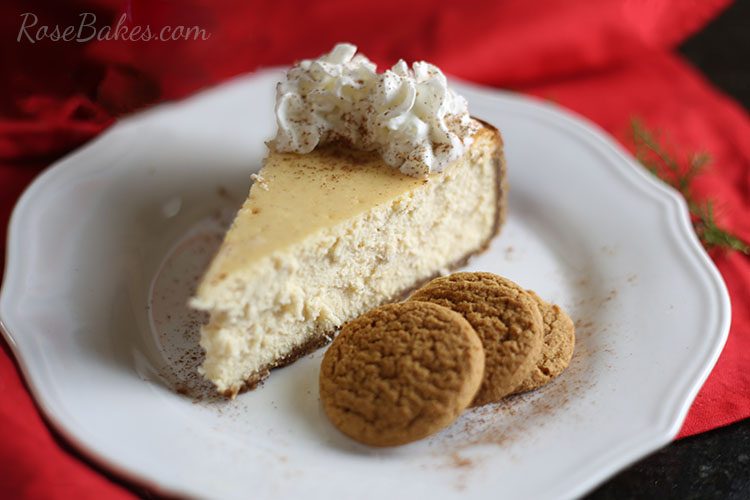 Then Eggnog Cheesecake post continued to bring in a huge chunk of change… more than $700 in December, bringing my total income for that single post to more than $3800.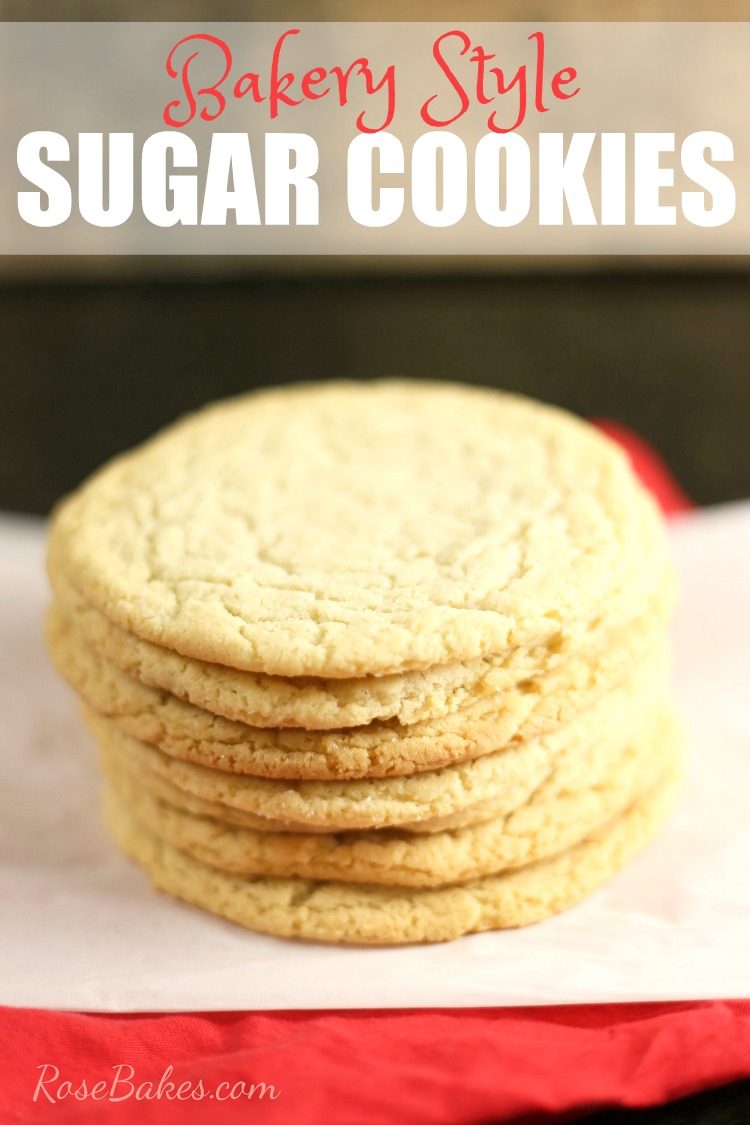 I also posted this recipe for Bakery-Style Sugar Cookies which was really popular and it earned almost $800 in income as well.
As far as content goes, those are really great numbers for me!  I don't have a lot of posts that have gone "viral" or earned income like that immediately after posting, so these recipes make me happy!
Of course the major income earner for December was ad income – considering December is the biggest month for advertisers to spend for the whole year (thanks to Christmas), it's a great month for bloggers who run ads.  And then my Amazon income (and other affiliate income) was up as well… again, due to Christmas shopping!
One least note about my income… if I had taken on more sponsored content for December, I could've easily had another $10,000 month but with a trip to Kentucky, the holidays and lots of planned time "off", I kept my sponsored work to a minimum so it dropped from over $1100 earned in November to under $350 earned for December.  It would've been crazy-cool to have another $10,000 month, but I don't regret the downtime for one second!
Okay… so let's get on to the details!
So, here are my traffic reports for the year (click on them to see that month's report) and I've marked the ones that are not accurate (due to my code malfunctioning at the time):
January 2016 – $2019.68 | 326,229 pageviews
February 2016 – $3223.67 | 324,460 pageviews
March 2016 – $4257.42 | 341,411 pageviews
April 2016 – $4068.26 | 316, 593 pageviews
May 2016 – $3286.01 | 337,854 pageviews
June 2016 – $4321.78 | 308,670 pageviews (partially incorrect)
July 2016 – $3878.32 | 265,438 pageviews (incorrect)
August 2016 – $5028.55 | 246,526 pageviews (incorrect)
September 2016 – $4088.47 |271,838 pageviews (incorrect)
October 2016 – $5757.79 | 404,753 pageviews (partially correct)
November 2016 – $9113.09 | 469,365 pageviews (correct)
December 2016 – $8304.39 | 360,767 pageviews (correct)
The lower traffic number in December is a little disheartening, but considering that it always tanks after Christmas, I know it's to be expected.  Knowing that helps it sting a little less.  I'm bracing myself for the fact that January traffic & income will probably be much, much lower as well.   My goal is to keep my income up around the $5000 mark through the slow months, so we'll see.
Want to start your own blog?  Check out this post:  How to Start a Food Blog (or any blog) and Make Money With It!
Now that all of that is out of the way (have I bored you to death yet?), let's talk about my income!
This month I'm going to break it into income categories because last month, somebody asked!
December 2016 Blogging Income Report
INCOME:
Ad income:   $7225.75  (76.8%)
Adthrive $ 6557.06
Adsense $ 330.20
Swoop $ 323.01
Meridian Sovrn $ 11.30
Rhythm One $ 1.18
Affiliate income: $1754.83 (18.6%)
Sponsored Post income: $436.40 (4.6%)
Collective Bias $ 200.00
Linqia $ 146.40
BlogHer/SheKnows $ 25 (FR)
CleverGirls $ 65 (AZ)
These income streams were at zero this month:
Rakuten $0
CenterpointMedia $0
Ebay Partner Network $ 0
IZEA $ 0
Influence Central $ 0
Bluehost $ 0
Shopher Media $ 0
Pinch of Yum $ 0
Commission Junction $ 0
Elite Blogging Academy $ 0
DOZ $ 0
Blog and/or Cake Business Coaching $0
TOTAL INCOME: $ 9416.98
**The Shareasale income includes income from Craftsy, Flirty Aprons, Pretty Witty Cakes, Zulily, Easy Canvas Prints, Food Blogger Pro, Brown Cookie, PicMonkey and York Photo. Join Shareasale  HERE!
EXPENSES: 
Virtual Assistant $ 342.00
Contract Work $ 45.00
Education $ 64.98
BigScoots (Hosting) $ 69.95
Madmimi + Google $ 63.16
Plugins, Apps, Software $ 258.38
Paypal + Bank Fees $ .39
Advertising $ 168.18
Inventory $ 87.55
Shipping $13.00
TOTAL EXPENSES: $ 1112.59
NET INCOME: $ 8304.39
And that's that… I'm still pinching myself a little.
I'm planning to write a round-up for the whole year of 2016 and still debating on whether to post my 2017 income reports.  I'd love for you to leave me a comment telling me if this is something you're interested in!