If you're visiting to see my cakes, you can scroll through all of my cakes posts here, visit my cakes page here, and "like" my new Facebook page "Rose Bakes" here.
I was so excited about my cake order this week. Until I started working on it.
You see, the customer wanted a "dumbbell cake". As soon as she said it, I was excited about making it. I envisioned baking two 4 inch or 6 inch round cakes, standing them on their sides, putting a fondant or gumpaste tube between them…it all sounded great.
Oh, and to add a few more servings, I was going to place the dumbbell on a single layer 10×10″ sheet cake. Sounds easy, right? That was the plan. In my head.
In real life… things didn't work out so well. When the 96° weather…with 90% humidity set in here in southern Mississippi, my cake was off to a bad start.
I baked two 4″ round cakes, covered them in buttercream and put them in the frig to chill. I didn't get pictures, but they were already starting to sag. Uh-oh.
While I let them chill, I made some lime green fondant (the color the customer requested) and made a "tube" to use as the handle for the dumbbell.
Then after a little while, I proceeded to cover the cakes. The buttercream covered cakes started falling apart. It was hard to seamlessly cover a "wheel" shaped piece of cake. They immediately began to collapse. The more I worked and tried to get them smooth and seamless, the worse they looked. The fondant was too soft. And too heavy. And it just would not work on the round shape.
It was a mess. This is what they looked like after resting overnight.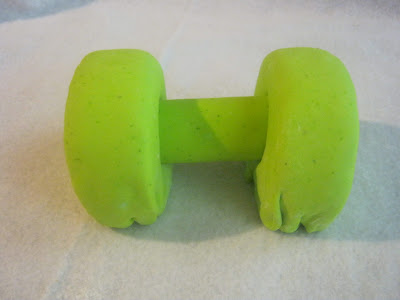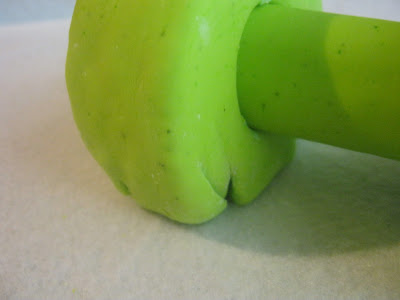 Yuck. So, I opted for another option. I couldn't quit. I had to try again. It's not as substantial as I originally planned. I feel like it was a cop-out actually.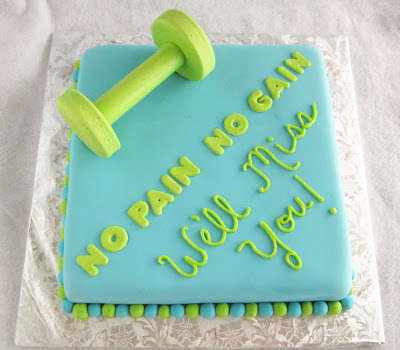 How'd I do it?
I rolled out some fondant (with Tylose powder mixed in to help it harden) almost an inch thick. I used a cookie cutter to make the ends. I rolled a solid fondant handle (with a pencil-sized dowel down the middle for support). And I let them dry. And I glued them together with sugar glue.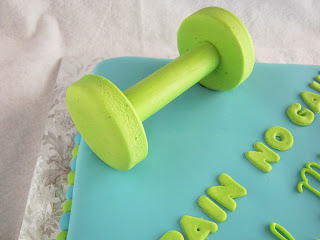 It wasn't perfect and I do want to figure out how to do it the other way… but I think it turned out okay! And the customer was happy.
Be sure to check out all my other cakes and cupcakes here!
New to Adventures In Savings? Subscribe to Adventures in Savings by email for a daily update of all the deals or follow me on Facebook or Twitter to get all the latest updates faster!
This post contains affiliate links – which means I might earn a few cents (or even dollars) if you click on them. However, ALL opinions and recommendations are my ovf4rbt54buey32wn and are not affected by the use of these links. I won't tell you I like something unless I really like it!