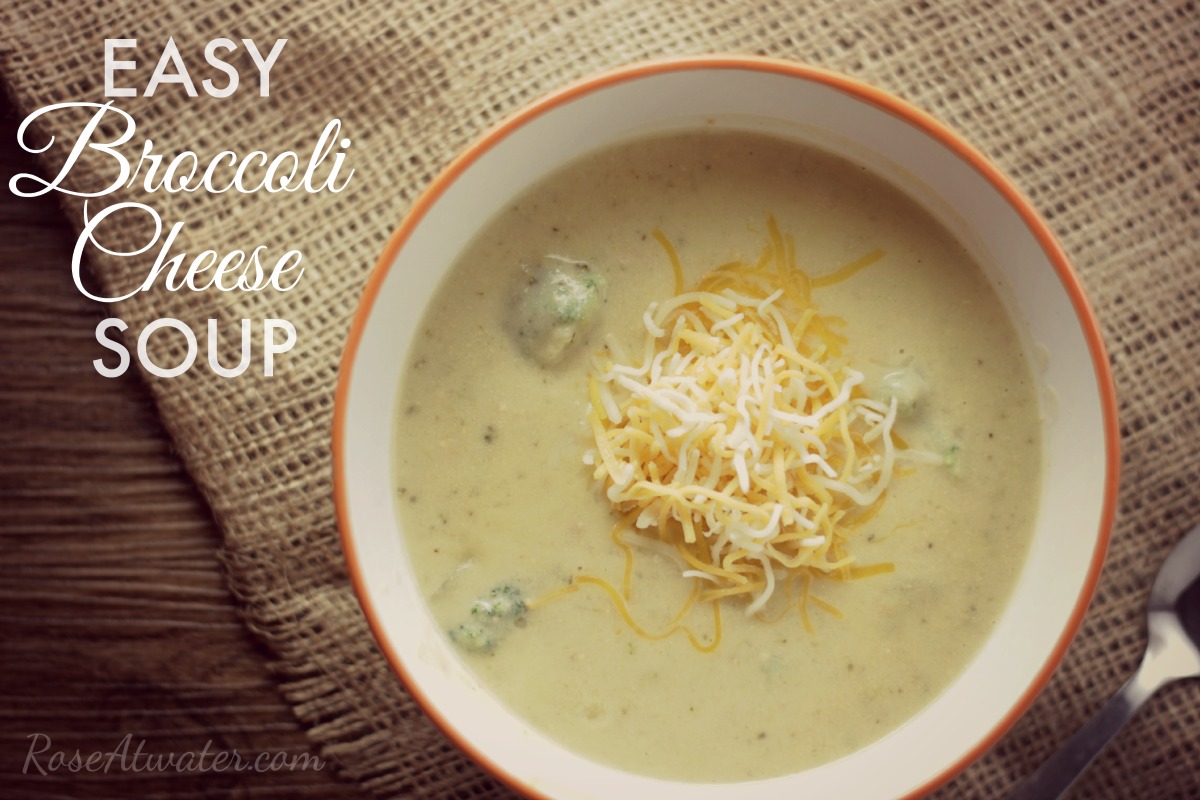 It was 90°F here in Mississippi today.  And I rebelled.  I so desperately want the weather – the OCTOBER weather – to resemble Fall that I decided I would pretend it was cool and crisp and fall-like outside… and make a big pot of this Easy Broccoli Cheese Soup.
Have you entered to win a Sparkle Box?  Enter HERE!!
A few weeks ago my friend Kristen posted a picture of Broccoli Cheese Soup on Facebook and I haven't been able to stop thinking about it since then.   I've never actually made Broccoli Cheese soup before now but I figured it couldn't be that hard.
I took the recipe she posted and made a few changes based on what I had on hand and how I like to do things (throwing all the ingredients in at once vs. rigorous step-by-step instructions). Okay – so her recipe wasn't really all that complicated but I do much prefer the "throw it all in at once" method.  I'm lazy, ya'll.  That's the bottom line.
I should note that my husband was less than thrilled by the idea of Broccoli Cheese Soup.  He's a meat man.  All meals, all the time, must.have.meat.  I kept mentioning it thinking he'd come around to the idea, but he really didn't.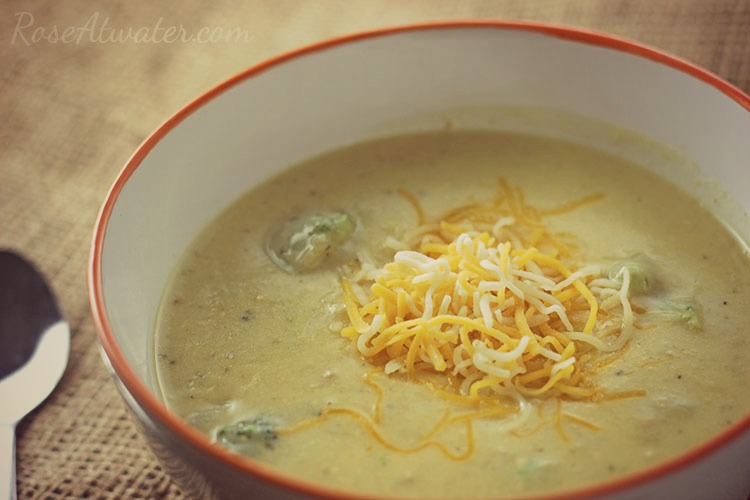 Oh well.  I just had to make it!   It helped that he's working nights so I was able to cook it all while he slept during the day and when he woke up, he had no choice but to eat it or make himself something else for supper.  I'm a cruel woman sometimes.
But surprise, surprise…  he liked it!  Or at least he said he did.   And I believe him because he took a bowl to work with him to have for lunch.  If he had made a sandwich instead, I'd have known he didn't really like it.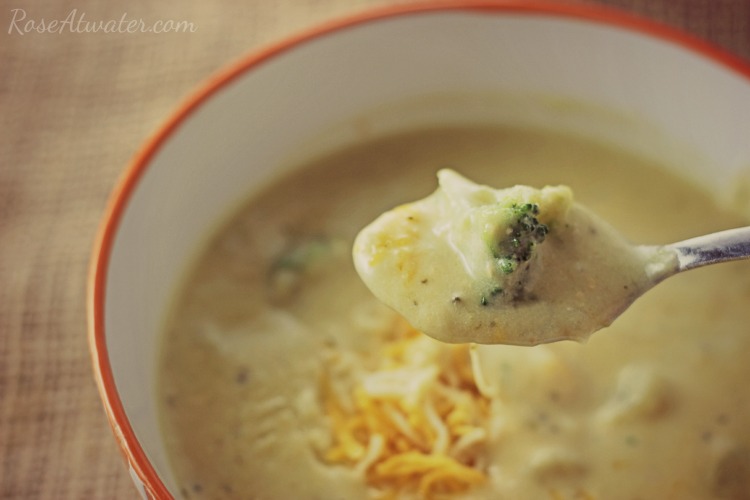 Okay – I'm getting way off topic here.  Soup.  Broccoli Cheese Soup.  That's what I'm supposed to be talking about.
So this soup is chunky, creamy, filling and delicious.  And easy.  That's probably my most favorite trait of the soup.  It's semi-homemade instead of completely from scratch.
I should also add that most of these ingredients are flexible.  You don't have to have the exact size bag of frozen broccoli that I use.  You can use more potatoes if you like or less cheese (who  uses LESS cheese?).   The recipe won't completely flop if you adjust here and there… that's all I'm saying.
Are you ready for the recipe?
Here ya go:

Easy Broccoli Cheese Soup
Prep time:
Cook time:
Total time:
Ingredients
6 cups water
6 teaspoons of Better than Bouillon*
26 oz. can of cream of chicken soup
28 oz. bag of frozen broccoli florets
4 medium red potatoes, peeled and diced (appx. 1.5 pounds)
1 lb. block of Velveeta cheese, cubed
1-2 tsp. salt (to taste)
Shredded Cheese & Crackers (optional)
*If you can't find Better than Bouillon, you can use traditional bouillon cubes or a similar product. OR substitute 6 cups of chicken broth to replace the water and Better than Bouillon.
Instructions
When I said I threw it all into the pot at once, I wasn't kidding. You'll need a large pot - then just add in the water, bouillon, cream of chicken soup, broccoli, diced potatoes, and cubed Velveeta.
Stir until it's mixed up, then turn it on medium-high heat. As soon as it comes to a simmer, turn it way down on low, put the lid on and let it cook for about an hour. I stirred every 15 minutes or so to make sure it wasn't sticking on the bottom, then I salted it and we were good to go.
I wanted it to be a little less chunky than it was originally, so I used my immersion blender to break up some of the larger chunks of broccoli and potato - and then I regretted it. I wished I had left it super chunky. But either way - super creamy or super chunky or somewhere in between - it'd delish!
We added shredded cheese on top, threw in a few crackers and gobbled it up!