Do you dread the daily question, "What are we going to have for supper tonight?"  Me. Too.  That's why I'm SUPER excited to share Eat at Home Meal Plans for Your Family!  This program is going to save you SO much time and money!!
If you get tired of the same old recipes week after week or maybe you just need to eat at home (and spend less money eating out), then I promise – Eat at Home Meal Plans are going to make your life so much easier!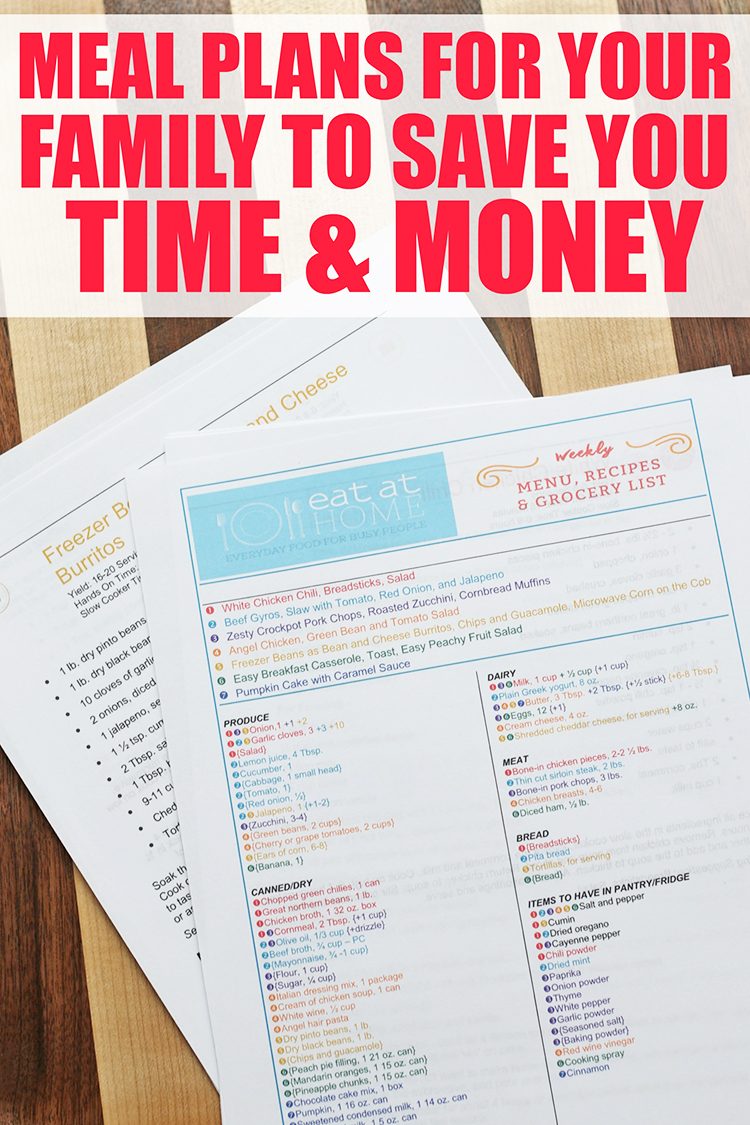 I can't remember when I got on board with menu (or meal) planning, but it was at least 8 years ago. And over the last 8 years, I've come to realize how valuable it is to plan a menu for my family.
And when I discovered Eat at Home Meal Plans last year, I got even more excited.  You see, Tiffany has done all the work and you get to reap all the benefits.
Eat at Home Meal Plans
Eat at Home is a menu-planning service designed to help you have supper at home every night.  The meal plans are written, along with done-for-you weekly grocery lists.
And the variety seems endless.  The meal plans include "traditional" meals, slow cooker meals, sugar & flour-free meals, wholesome meals, and more!  We've cooked so many meals from Tiffany's menus and they really are delicious, filling meals.
Of course there have been a few here and there that my family hasn't loved and we always still include some of our own family favorites in our meal plan, but even without using all of the meals, it's still worth every penny.
Speaking of cost… the meal plans are incredibly affordable!!  The Eat at Home plan pays for itself almost immediately and continues to do so for as long as you use them.
For $1.62 per week (on the annual plan) or less than $3.50 per week (on the monthly plan)… you get all the work done for you!!  
I PROMISE you will save that $1.62 every single week by having a menu plan done and your family will eat WELL at home.
Here's what you get when you sign up:
An entire month of Traditional Menu Plans, including weekly grocery lists and printable recipe instructions
An entire month of Slow Cooker Menu Plans, including weekly grocery lists and printable recipe instructions
An entire month of Whole Food Menu Plans, including weekly grocery lists and printable recipe instructions
An entire month of No Flour No Sugar Menu Plans, including weekly grocery lists and printable recipe instructions
Each menu plan comes with recipes created for small family (3-4 servings) and large family (6-8 servings)
Color-coded grocery lists make it easy to swap out ingredients or whole meals
Printable Menus to hang on the fridge or near your calendar, so you can easily see what's for dinner that week and your family can too
Access to the entire month at once!
1 Hour Freezer Stash Plans – a new plan each month to stock your freezer with 6 meals in 1 hour!
As a busy mom of 4, she only writes recipes that can be prepped quickly.  And many (if not most) of the recipes use common pantry ingredients. You'll likely have everything you need already on hand for several meals.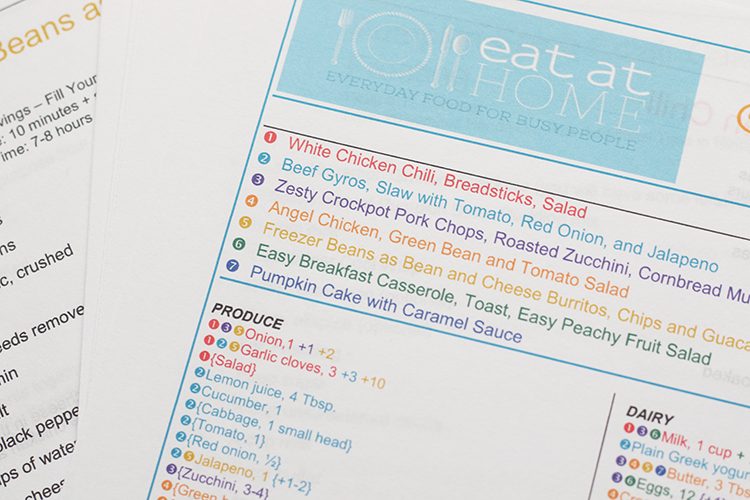 It's so convenient because all the work is done for you!  You just choose which menu plan you'll use, print the grocery list, go shopping, and then spend a few minutes prepping food each day and dinner is D-O-N-E!
Then there are the No Flour No Sugar plans and the Whole Food plans for those who are striving to eat healthier!  You can rotate different menu plans on different weeks, depending upon what you feel like cooking or how much time you have!  Personally, I usually choose some meals from the Traditional Plan and some from the Slow Cooker Plan.
I also love that there are occassional Instant Pot meals included because ya'll know I love my Instant Pot!
Get the Eat at Home Menu-Planning Service!
If you struggle to make menu plans and would love for someone to make them for you + make a grocery list for you, it's well worth spending a couple of bucks every week to let Eat at Home Meal Plans do the work for you.
When you purchase, you'll get access to all four done-for-you menu plans and the freezer cooking plans, plus grocery shopping lists! It's SO easy!
Monthly is $9.80 –> less than $2.45 per week
Quarterly is $21.70 –> $1.67 per week
Annual is $58.50 –> $1.13 per week
Ya'll.  $58.50 for AN ENTIRE YEAR of meal plans (all FOUR meal plans), plus shopping lists, printable menus, access to the whole month at once, and more.  
Here's how to sign up:
Start HERE.
Sign up for a 1-month, 3-month, or 1 year subscription.  You can cancel anytime! The best price is definitely on the annual plan, but try it out for just a month and see what you think if you're unsure!
Once you've signed up, you'll have access to ALL of Tiffany's menu plans including her No Flour, No Sugar Plan, her Slow Cooker Plan, her Traditional Plan AND her Wholesome Traditional Plan.
Pay as little as $1.63 per week ~ I promise this will change dinnertime in your home!