Do you shop on Amazon?  Do you watch television and movies?   If so, you might want to have a look at
Amazon Prime
. Right now you can get a
FREE 30 Day Trial of Amazon Prime
 and watch 
Watch Over 40,000 Movies for FREE
!
In addition to the movies, there are also thousands of TV episodes and you can watch them all on your laptop, phone, tablet, or gaming console.

I've been a paid member of Amazon Prime for a couple of years now and I absolutely love it!   We watched the entire 24 Series on Amazon (we never watched it when it was on television as a current hit), we've caught up on Downton Abbey (we were late to that fad as well) and my kids love to watch How It's Made and Dinosaur Train and lots of PBS shows that are FREE!
But originally, I didn't sign up for Amazon Prime because of the movies or shows…  I signed up so I could get stuff delivered in a hurry!
I order lots of cake supplies on Amazon, almost all of our birthday and Christmas gifts,  and with the Subscribe & Save program, we also get diapers, wipes and toilet tissue!
I love that the prime service includes Free 2-Day Shipping on millions of products and I've even taken advantage of the $3.99 per item One-Day shipping in emergency situations (such as forgetting that my child's birthday was just 2 days away and having not shopped at all… hanging my head in shame!).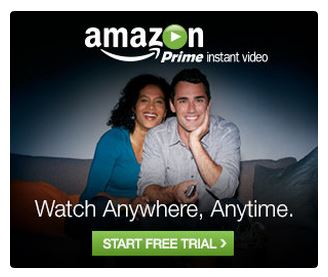 Anywho – the point is – there are lots of benefits to the Amazon Prime program and it's well worth the $79.99 per year fee!    Even if you got it for the movies/shows alone, that's less than $7 a month and you'd get the added bonus of the free shipping with no minimum!
So… are you ready to give it a try?  You can sign up for a Free 30 Day Trial right here and see if you think it's worth keeping!