Have you guys heard of Kiwi Crate?  I've been seeing info about them here and there and today, I finally decided to order one and see what all the fuss is about!
My son Christian is celebrating a birthday later this month and he loves crafty projects so I thought this might be a perfect time to order him a box and get him an inexpensive & fun gift!
Right now you can try Kiwi Crate for free! Enjoy a free sample-size project from one of their most popular crates – the Pom Pom Pets Crate and only pay $3.95 shipping. You will be automatically enrolled in a Kiwi Crate monthly subscription*, and may cancel at anytime.
Kiwi Crate's Family Brands provide monthly subscription services for kids ages 3 – 16+. Each month, subscribers receive boxes filled with fun and engaging hands-on kids' projects. Each box includes plenty of materials and inspiration for 2-3 projects in arts & crafts, science activities or imaginative play. Each project is designed by moms, reviewed by child development experts, and, of course, tested by kids.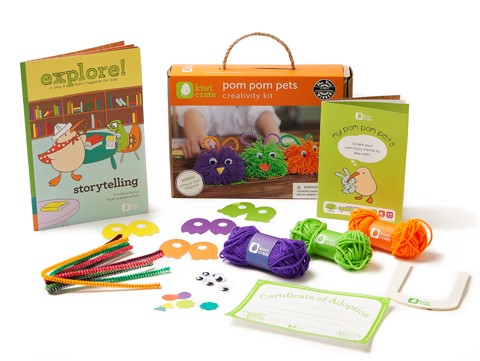 The crate you will receive will include:
Three skeins of colorful yarn
Custom pom pom winder
Pipe cleaners, googly eyes and stickers to decorate your pom pom pets
Certificate of adoption for your pets 16 page explore!
Magazine filled with puzzles, DIY activities and a bonus finger puppet project
* Your free trial project will ship within two business days. You will have 14 days after your trial project ships to cancel your subscription. If you choose to not cancel, you will be charged $19.95/month (see the FAQs on the website for details) and receive 2-3 new projects per month with your Kiwi Crate monthly subscription. You may cancel at any time. Offer only available to U.S. residents.
So, after getting the crate, I'll get back to you and let you know how it worked out!
Have any of you tried Kiwi Crate?  I'd love to hear about your experience with them!