So here's the deal.  We bought a house and lots of land.  And while it might be a bit cheesy, we want to name our new place.  But we need help.  Will you help us name our property?
At some point in the future, we hope to have a business (or businesses) here so we want to come up with a fitting name that will work for any/all of our ideas.   But even before those ideas or dreams come to life, we'd like to start calling our place something… our baby needs a name 😉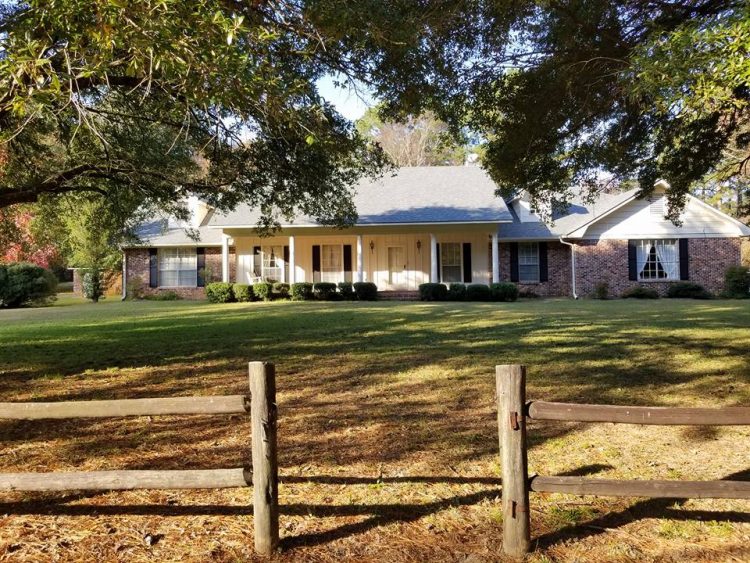 You can go here to see more pictures of the property and below I'm going to list some ideas we have, features of our property, etc.
Things that we want to keep in mind…
Our house is on a hill at the end of a dead-end road.  It's quiet and remote and hidden from the closest big road.  It was listed as the "Hilltop Hideaway" with the real estate company, but that doesn't really feel right for us.
When you drive up our long driveaway, there's an open area with some huge pine trees (see them in this post).
Our last name is Atwater.
We have lots of acreage (we've thought of "Atwater Acres" but aren't really in love with it).
We're considering maybe hosting weddings and events here in the future (as a business).
A Christmas Tree Farm might be in our future.  Or a Pumpkin Patch.  Or both.  We're also considering a huge light display around the holidays and inviting the public to come see.
We have a pond (easily visible) but also part of a lake and creeks on the property (not easily visible).
There's an 80 year old house on the property that is not usable at the moment but is repairable.  Someday we might turn it into a studio, boutique cake shop or teaching area for cake/baking classes.  The actual shop would likely fall under Rose Bakes LLC.  But when I invite people, I'd love for the location name to be pretty/fitting.  Example:  A Christmas Cupcakes Class will be hosted at Atwater Acres… you get the idea.
Or we might turn it into a cottage Bed & Breakfast (not likely, but another dream we've had… to own a B&B).
We're a fun, easy-going, relaxed family!  We don't want the name to be too formal or stuffy (no "Estates").  But also we don't want the name to be plain.  Alternately, we don't want it to be too "out there" either.  Nobody is going to want to print their wedding location as "The Funny Farm."
We do like the idea of something "Farm" or "Farms" best, but aren't locked into it.  Our concern is it might feel weird to have our place named that before we actually have any type of farming going on.  Thoughts?
Trees and plants and ivy and flowers fill the backyard (in spring) and also a waterfall feature and a fountain (if we keep it) plus the arbor and gazebo (see pics here).
So that's everything I can think of.  Now I'd love to hear your ideas!  Leave me comments please 🙂