Does your house need decluttering?  Do you want to be more organized?  Have more peace in your home (and in your head)?
When I answer those questions, the answer is a resounding, very loud, YES!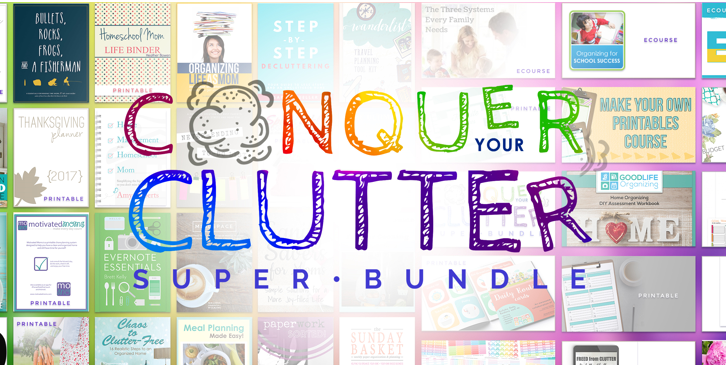 If I could wave a magic wand and accomplish one thing in my home, it would be to instantly be rid of all the books, clothes, shoes, toys, paper, dishes, etc. that we don't need.   With eight of us living in a small (1500 sq. ft.) home, we're already challenged for space.
Add to that that this Mommy is not at all organized or a neat-freak by nature and our house is a mess pretty much all of the time.  It's cluttered, it's overflowing and it's not always my happy place.
I'm ready for a change.  A big change!
Last year I read this book.  It was a little strange at times, but overall had some great tips for decluttering.  Currently I'm reading this book.  I'm only on chapter 3, but I'm already finding it to be a great resource for inspiration to get my stuff in order (or rather, get my stuff narrowed down to less stuff).
But I don't just need books – I need real help.  I need step by step guidance to get my home, our closets, my photos and files, everything organized once and for all.
Probably the number one thing I need to do is get rid of a huge pile of things.  My kids have too many clothes.  When you have five boys and things get handed down again and again…. plus you have older boy cousins who also offer hand-me downs… let's just say my boys could clothe an entire army.
But it's not just the kids – I really think the hubby and I could stand to cut our wardrobes in half as well.
In addition to that, I also need to pare down my kitchen supplies and our bookshelves, just to name a couple of things.
Anyway – why am I telling you this?  Because if you're in the same boat as me, then I have some help for you: The Conquer Your Clutter Super Bundle from the Ultimate Bundles team.
This bundle is a collection of 38 eBooks, eCourses, and printable planners to help you organize your life.  These resources were created by people who've learned how to conquer all the different types of clutter (physical, mental, digital) in their life – and win!
The combined value of the resources in the toolkit is over $650, but you get EVERYTHING for 95% off!
Worried you won't know where to start with all the resources in the bundle? Don't be!
Inside the bundle you'll find a handy Getting Started Guide so you can take action right away.  I bought this bundle a few weeks ago to preview it for you and I can say with confidence that it's worth every penny – even if you only use a small portion of the resources.
P.S. Remember to buy The Conquer Your Clutter before it expires on Monday, January 30th at 11:59 PM EST!