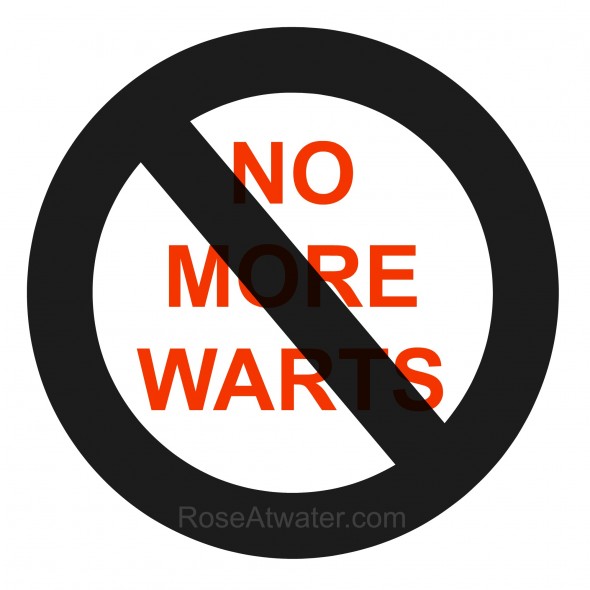 I cannot believe I'm about to blog about warts.  But ya'll.  I've got to vent.  I'm just about to lose my mind.
Here's the deal.  Three of my kids have warts right now… on their hands, their feet, their knees, their elbows.  It's not pretty, we're not proud of it, but it's just a fact.  Our pediatrician assures me that they're normal for kids and okay and will pass eventually… we hope.
So, we have warts… no big deal, right?  WRONG.
My kids are completely and totally obsessed with their warts.  They talk about them.  They look at them.  They worry over them.  You'd think they were a BIG DEAL or something.
You think I'm kidding?  Here's what I hear every.single.day… from THREE kids… over and over and over….
"Mommy, can you look at my wart?"
"Mommy, do you think this wart is growing bigger?"
"Can I get some more wart medicine painted on this wart?"
"MOMMYYYYYYYY – I think I scraped my wart off!!!!!!!!!!!!!!!!!!!!!!!!!!"
"My wart is bleeding Mommy"
"Hey – do we have any more of those wart bandaids?"
"Mommy, I think my wart is growing back!!"
"Mommy, do you think this is a new wart?"
"Hey Mommy – does this wart look okay?"
"Mommy, can you look at my wart?"  Oh wait.  I've already told you that.  But seriously… I hear it several times a day.
I AM OVER THE WARTS.
Here's my question for any of you who have children who have survived warts:  are my children normal?  is their complete and total obsession okay?  or should we go to some sort of wart trauma therapy?
Or even better… how do we get rid of warts… please???
I really really wish I could take them all in and get all the warts removed, but we tried that once and it ended up costing $160 per wart (for some dumb reason, our insurance considers wart removal 'in office surgery' and it's not covered under our copay)… #RIPOFF.
According to my math, if we got them all removed from all the kids, we'd have spent enough to buy a small island in the Pacific.  SO instead, we deal with them.  We use the over-the-counter stuff, and we pray that they will disappear eventually.
In the meantime, I hear the word "wart" more times in a day than any human should be subjected to.
FYI:  If any of the warts actually start to hurt my children physically or emotionally  (like being on top of their foot so they can't wear shoes or on their nose so that they die of embarrassment), I will happily pay to have them removed – but for now, they're just a reason to drive.me.nuts.
Until then, if you see me running down the street, pulling my hair out and screaming, "NO MORE WARTS!!!!!!!!!!!!!!!!!!!!!", just know that I finally snapped.
ps.  Never, ever, never-never-ever, NEVER do a Google search for a 'funny wart picture' to use in a blog post.  If you do, and then you can't sleep from all the horrid, horrid images, don't say I didn't warn you.