I'm popping in this morning just to let you know that I'll be back next week!
Over the weekend I was in New Orleans and I had no time for writing.  I was in sessions for 12+hours on Saturday, then driving home on Sunday and spending time with the family.
Yesterday I worked 9 hours at my brother's shop and came home to pack, clean, bake, decorate… and a million other things before heading to San Diego – then Mexico for several days.
It has been and will continue to be a whirlwind for as far as I can see.
Anyway… I wanted to leave you with a (very) quick update before I go.
SO – Saturday I didn't even attempt to follow my fasting schedule.  I was a food conference – a FOOD conference – and boy was there some food.
Omelet bar for breakfast, beignets for snack, seafood and seafood and more seafood for lunch, then more snacks (cheese and meat trays), then the most amazing dinner I've ever eaten at Calcasieu.  It was rare opportunity for me that I couldn't pass up.
Anyway – so I ate and went to meetings and mostly ate some more.  I have a bunch of pics but I don't have time to upload them before I go, so you'll just have to trust me 🙂  Or you can see a few of them on my Instagram here.  I will share one pic with you – another huge highlight of my weekend.
My blog Rose Bakes is my full-time income earning blog and a huge part of that is due to the amazing peeps over at Adthrive – my ad management company (best company EVER!!). I was beyond blessed to get to spend a lot of face-to-face time with 4 members of the Adthrive team at the Plenty Retreat!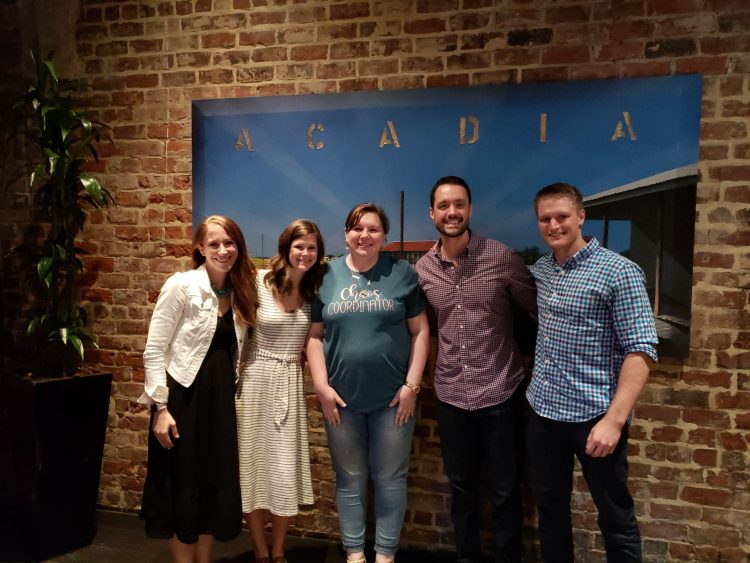 Ya'll… they were the nicest, kindest and sweetest group and they really made my weekend perfect!
Anyway… back to the topic at hand. I thought I might return to a fasting schedule on Sunday, but no. Another amazing breakfast and lunch at the conference, then I came home to a Taco Lasagna that my hubby made.  So yeah – wow.
On the upside, I was down another 2 pounds this morning. I have no idea how that science works, but I'll take it 🙂
Today I really really intended to fast properly and I did great, until I had a late-night treat when watching a movie with the husband before leaving for my trip. Oh well… it's probably just as well.
I have no idea what I'll feel like or how I'll deal with fasting on this mission trip. I'll be 110% out of my comfort zone and I'll likely just have to go with the flow. Besides, I'll probably be working my butt off and hungrier than EVER.  So for now, I'm tentively planning to pick back up the day after I get home.