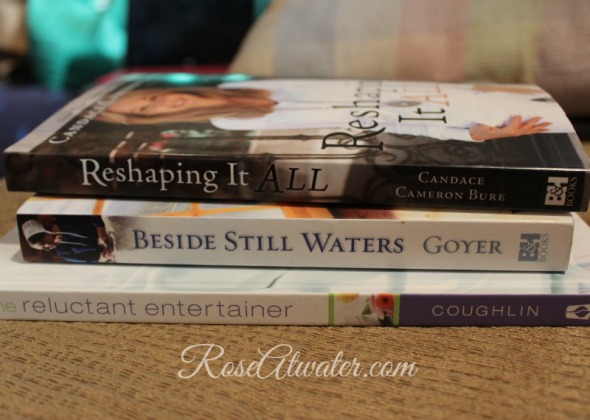 Today Amazon put out another code to get a discount… 25% off any ONE book on Amazon!!  I absolutely love to read and always have one or two or ten books on my night stand plus a wish list a mile long.  Keep reading – the code is below!
Soooo, just in case any of you love to read as much as I do, I thought I'd tell you what I'm reading right now, share with you my list of favorite cookbooks and cake books that I posted on RoseBakes.com, and encourage you to take advantage of this discount… maybe snag a new book for yourself or snag a book to give as a Christmas gift!?
So, those 3 books up top there are the three books I'm reading right now (plus a 4th on my Kindle phone app  – just keep in mind that Kindle books don't qualify for the coupon).
The one I've made the most progress in is Beside Still Waters by Tricia Goyer.  This fiction novel delves into the world of the Amish and I'm completely fascinated.   Tricia Goyer is a really great author and I can't wait to see where this story takes me!  I've read one of her other books (although I can't find it right now to tell you the name), but I enjoyed it enough to add her others to my wish list!
I just got Reshaping It All in the mail a few days ago.  I saw Candace Cameron Bure do an interview about this book and I really wanted to read it – she seem so real and down to earth about her life and struggles.  I only started reading it this week but I've managed to get into chapter 2 and I'm reading a few pages each day.     So far, she's funny and genuine and I'm enjoying her writing style a lot!
And last – The Reluctant Entertainer.  I'm not really a "reluctant entertainer" – I actually love to have people over, throw parties, have game nights, etc.  BUT, the reason I got this book (off of Paperbackswap by the way) is because I read a blurb about it and it just spoke to me:
Hospitality can be a blessing to both the host and her guests, but for many women today, it simply doesn't happen. Feelings of inadequacy, unrealistic expectations, fear of failure, lack of time–all conspire to steal the joy that comes from opening one's home and sharing fellowship with others. In The Reluctant Entertainer, Sandy Coughlin relates to people in real ways about real meals that mortals cook, during which real conversations draw people together. Would-be hostesses will discover that true hospitality is not about being perfect, cooking a fancy meal, or spending a lot of money. Rather, it's about an open door and an open heart.
While we have people over at least once a month – I'd love to do it more often!!  What stops me?   Our messy house, feeling inadequate, not having enough time, etc.  All of the things mentioned above.  SO, I knew I wanted to take a peak into this book.  I put it on my wish list on Paperbackswap a few months ago and last week – it showed up in my mailbox!  LOVE IT!
If you want to order one of the books mentioned – or any single print book on Amazon – use code  BOOKDEAL25 (up to $10 promotional credit).   The promotion is valid only from December 11, 2014 at 5pm PST toDecember 14, 2014 at 11:59pm PST.   Amazon reserves the right to modify or cancel this offer at any time.  Oh, and you can only use it once per account – choose wisely 😉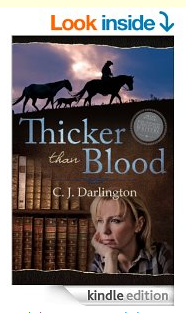 And last… Thicker Than Blood is what I'm reading on my phone.  I have the Kindle app and I always have a dozen or more books downloaded on my phone and my Surface – just in case I have a few minutes to read in a doctors office, waiting on a customer, etc.
The free books aren't always quality but sometimes they're great and I fall in love with a new series or a new author!    I'm only in chapter 2 of Thicker Than Blood but I'm pretty hooked already, so I think it's going to be a good one!    PS – it's still FREE on Amazon (for Kindle) so go grab it if you want!
Do you love to read?  What are you reading?  If you plan to use the code – what will you buy??   Today I used it to order Artisan Cake Company's Visual Guide to Cake Decorating.   I actually thought I ordered this when it came out a couple of weeks ago but when it never showed up, I checked my Amazon cart to find that I had never actually completed the purchase.  Good thing… today I got it 25% OFF!