As of yesterday, I was reading three books.   Two God books – relating to Christianity and spirituality.  And one fiction novel – just a really good, can't-put-it-down adventure.  I know better than to get my head into three books at once but I absolutely love to read and sometimes I just do it anyway.
I suppose I should wait and write this post after I actually finish all of the books so I can give you my full opinion, but why do things the normal way when I can just do things the odd-ball way… aka my way?
So this afternoon I'm sitting around waiting for the rain to pass and catching up on email and blogging and I thought I'd just tell you about the books I'm reading.
Please note that the links in this email are affiliate links.  If you click through and make a purchase, I might make a small commission (at no additional cost to you).  Thanks for your support.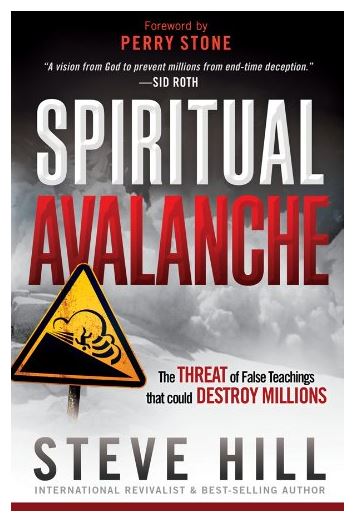 So, the first book I started reading was Spiritual Avalanche.    I'm more than halfway through it and it's a sobering book.   Steve Hill brings to light many of the false teachings that are destroying the modern church and it's a scary realization.
I haven't finished the book and I rarely recommend books that I haven't read cover-to-cover but with this one, I'm confident in saying that it's a book I can recommend.  Both my Mama and my best friend and her husband highly recommend the book and there are few people I trust as much as I trust them.
If it's something that you'd like to read, the Kindle edition of Spiritual Avalanche is only $3.99 right now.  Here's a summary from Amazon:
This is a wake up call and vivid warning to readers through a vision of an avalanche that God gave Steve Hill, which represents the false and heretical teachings from pastors and teachers that are spreading to Christians worldwide.   Hill shares how every aspect of his vision relates to Christians today. The snow represents the false teaching that is steadily falling on the ears of many Christ followers, covering with many layers the solid foundational truth of Christ. Heresies including universalism, the deification of man, overemphasized grace, and many more that will ultimately destroy the spiritual lives of many.  What happens when snow keeps falling, creating the dangerous threat of an avalanche? Those who heed the warnings are saved, but those who fail to listen are caught in a deadly trap.  Readers will be challenged to understand these dangers and what they can do to help tear down these false teachings in order to secure a layer of solid, biblical instruction that will establish truthin the work of the Gospel, and help us avoid spiritual destruction.
The next book I started was Saved Without a Doubt: Being Sure of Your Salvation.
Writing about this book is probably a blog post all on it's own, but I'll try to be brief.   I've been a Christian – saved – since I was 9 years old.  But in those nearly 30 years, I've spent many many days and nights in torment, questioning my salvation.  Wondering if I was really saved – if it was real.
A couple of years ago I requested this book for free from Grace to You Ministries (you can still request it for free if you've never requested it from them before).   I started reading it then, but never finished.  I felt like there was a wall in my mind and no matter how much effort I put into reading the book – I wasn't "getting it".
Well for reasons I can't explain or go into right now, I've really been struggling with this doubt about my faith again over the past few months.  And by struggling, I mean laying awake at night with a million thoughts and questions.
On a whim, or maybe not on a whim, I decided to pick the book up again (it was never out of my sight) and start over.   All I can say is WoW – God knew I needed this and needed it now.  It's like the blinders have been taken off and suddenly my faith is really making sense to me – maybe for the first time in my life…. or at least in a very long time.
I guess that probably sounds crazy – but I'm just being honest.  I've devoured several chapters – looking up every scripture reference and it's like reading my Bible for the first time all over again.  God is bringing so much peace and reassurance in my heart and spirit.
Having said that – you might wonder why I haven't finished it already.  I guess the answer is that I don't always make it my priority to read.  And I can only process so much at one time.  And it's also hard to find quiet time to read – where I can truly absorb all that God is showing me.
For me – reading has to be early in the morning or late at night.  Usually, late night wins and that's really when I prefer to be awake, but then it's hard to read anything where I really need to focus and dig in… and this book needs focus.
It seems like every time I do have a few quiet minutes where I'm good and awake… things just don't work out.   Exhibit A:  In an effort to make finishing this book a priority, I got up early one day last week, very early for me (I'm not a morning person) and within 10 minutes my baby boy was awake and driving his tractor across my Bible.
I didn't get up early again any other day.  :-/
That said… I can't wait to finish this book.  I'm craving more God, more of His Word, and mostly – more of His reassurance and peace.    As I said before, you can request Saved Without a Doubt for free from Grace to You Ministries or get it on Amazon here (paperback or Kindle edition).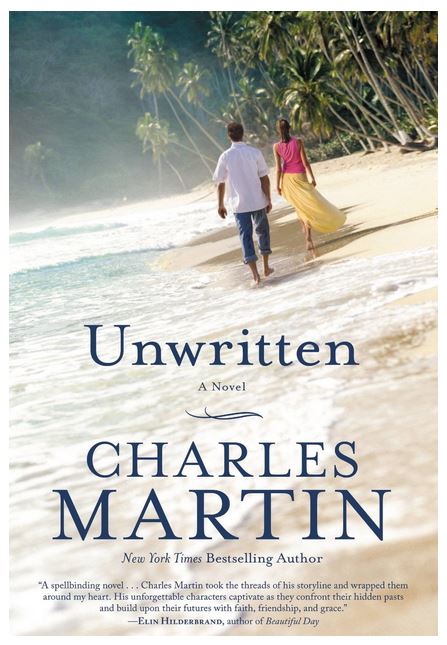 This last book, Unwritten … well, I finished it at nearly 2am this morning.  I told you I like to read late at night 😉   I'm a huge fan of Charles Martin and this novel might be my favorite of his to date (I think I have them all).
This is not like the first two books I'm reading… this one is fiction.  But I love fiction and this one did not disappoint.  The story was gripping and beautiful and  I could not put it down.
Well, initially, I did put it down for a few days – reading a chapter or two at night as I nodded off to sleep.  But then yesterday the cakes were delivered and we had no plans for the rest of the day except to stock up on groceries, so I started reading while we drove to and from delivering the cakes and to and from shopping, then when I went to bed to read just a little more…  but by that time I was two-thirds of the way through and I had to know how it ended.
Unwritten is an escape into a story of faith and redemption and love and adventure.    I cried a lot and had my stomach in knots and I was just totally drawn into the lives of the characters.
My favorite line of the novel:  "Man or woman, is not made to be worshipped.  We are not physically cut out for it.  Life in the spotlight, on the pedestal, at the top of the world was a lonely, singular, desolate, soul-killing place."
I guess that's a pretty depressing favorite line, but it's pivotal to the novel and it really struck me.
So that's it… what I'm reading right now.  Very soon I'll be starting The Longest Ride by Nicholas Sparks.  He's another of my favorite authors and my hubby surprised me with this new book this week!
So, what are you reading right now?  Any terrific books you'd recommend?  Leave me a comment!