Kitchen Remodel : Before Pictures.  Over the next few months we're going to be getting a brand new kitchen.  So today I wanted to share some "before pictures." Then over the next few weeks, I hope to bring you regular updates until it's finished.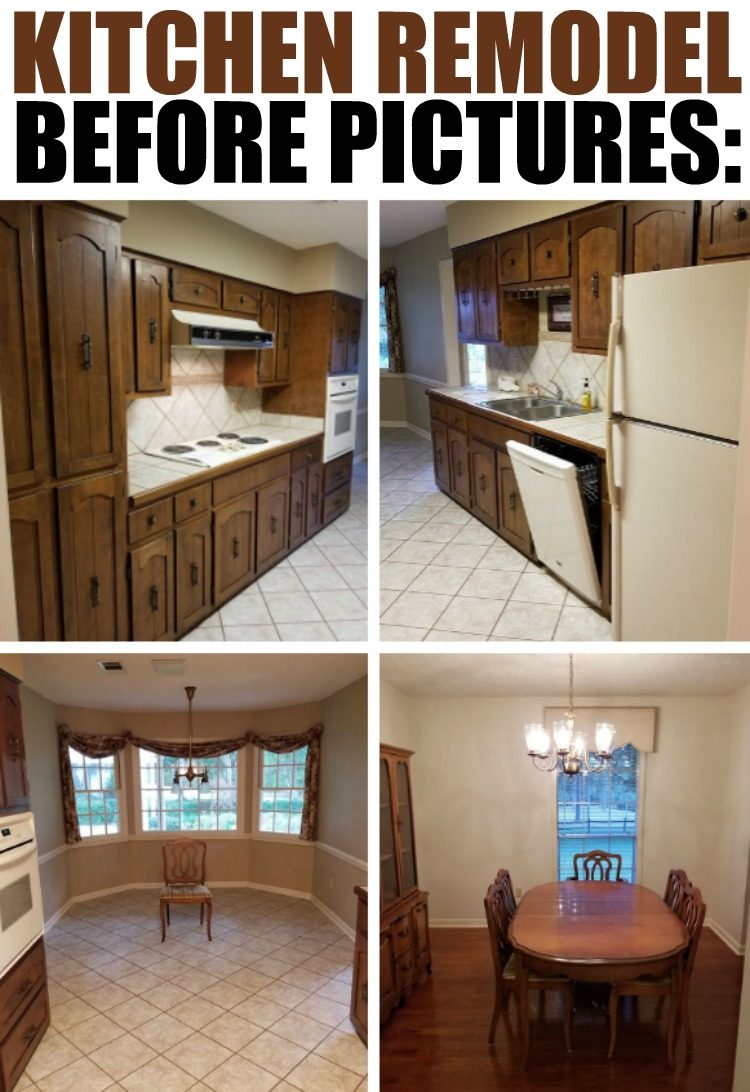 A little backstory first. Last year we bought our dream home… except the kitchen wasn't a dream. Haha. With a large family and busy cake business and cake blog, my biggest hesitation with buying the home was the kitchen.
It was in great condition, but very very outdated and small.  It has almost no counter space and the little space it has was covered in large tiles (with grout lines). There's not a single place in the kitchen to roll out fondant or stack big cakes.
To say this past year has been hard for me to work in would be a gross understatement.  A lot of tears have been shed. I've built cakes on wobbly fold-out tables. I've bent over our dining room table until my back killed me.  It's been tough.
But even without a cake business, I constantly find myself running out of counter space to cook for our family.  The microwave is in the laundry/utility room because there's no room for it on the kitchen counter. I can't have a dish drain because again… no counter space.
I couldn't even bring my new refrigerator from my old house because the old refrigerator space was too small.  So for almost a year, we lived with a crazy-small fridge in the kitchen and my newer, larger fridge in the garage.
Original Kitchen Sketches:
So from the get-go, we planned to gut and redo the kitchen.  It's taken longer than we hoped to get started, but finally, we are starting!  So let me show you some before pictures.
This is a sketch of our house (from the original owners):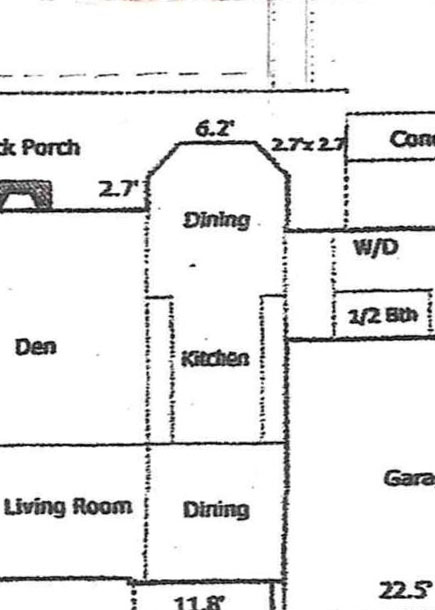 The top of that drawing is north.  We use the dining area at the top of the drawing (in the bay window).  The dining room on the bottom of the drawing is a "formal" dining room that we never use.  We don't do "formal" anything, so we knew immediately we wanted that to be more kitchen!
You can also see the "formal" living room to the left of the formal dining.  Another room we've repurposed… but that's another post for another day. I will say though that there's a wide doorway between the two rooms that we planned to close.  You'll see it in a picture below.
Here's another sketch that I made for the cabinet guy – so I could show him what we have and what I wanted: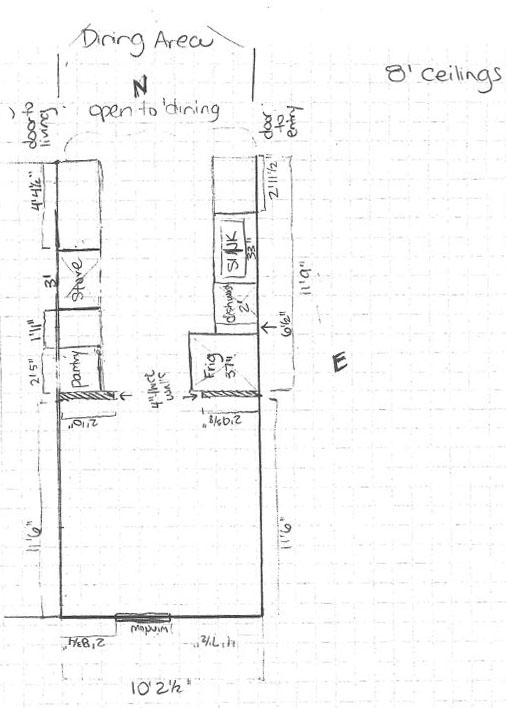 Kitchen Remodel : Before Pictures
Now that you see that… here are some photos: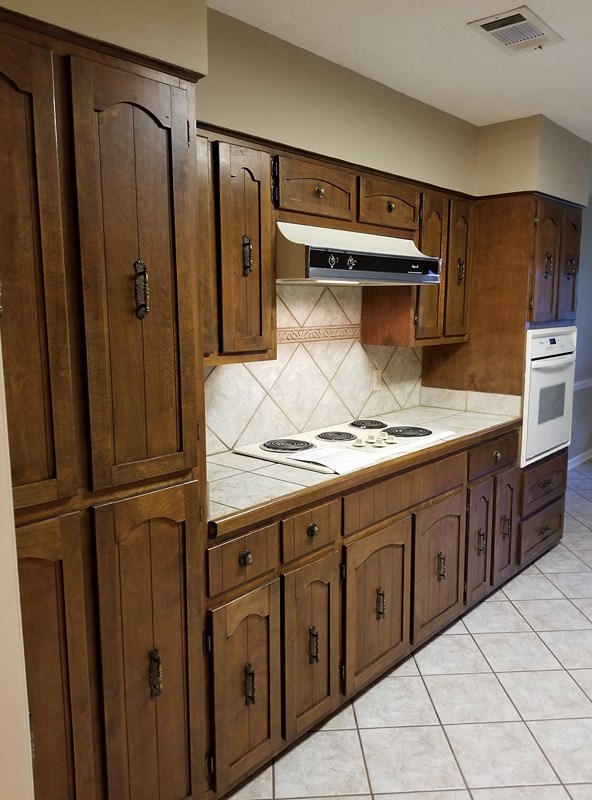 These were taken before we moved in and as you can see… very outdated, very little counter space.  Those two pictures are my entire kitchen workspace.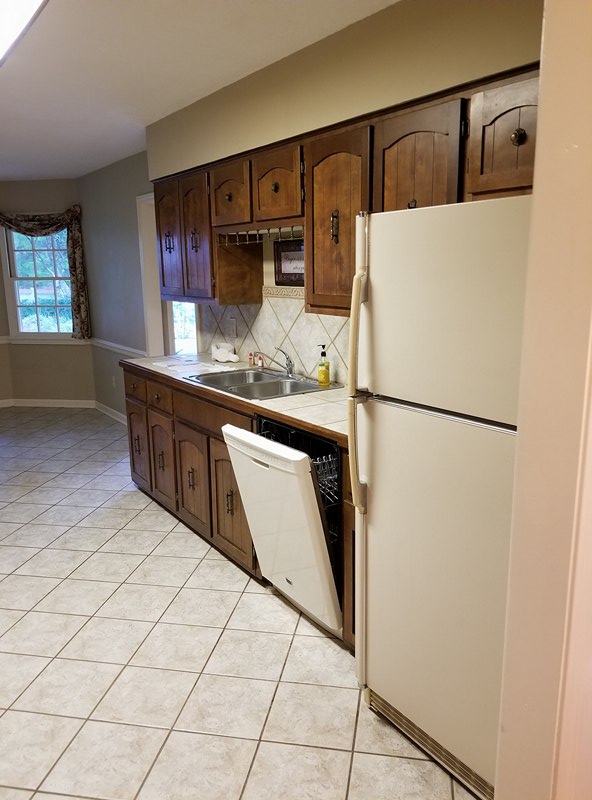 There is 2-3 feet of counter on either side of the sink and the same on either side of the cooktop.  With cabinets above, and grout lines present, it was practically zero "cake" workspace. Also, that little wall oven was my only oven.  When I had large wedding cake orders, I had to go bake at someone else's house.
This next picture was taken also before we moved in – at the end of the kitchen (on the north end) is a bay window where we have our dining room table.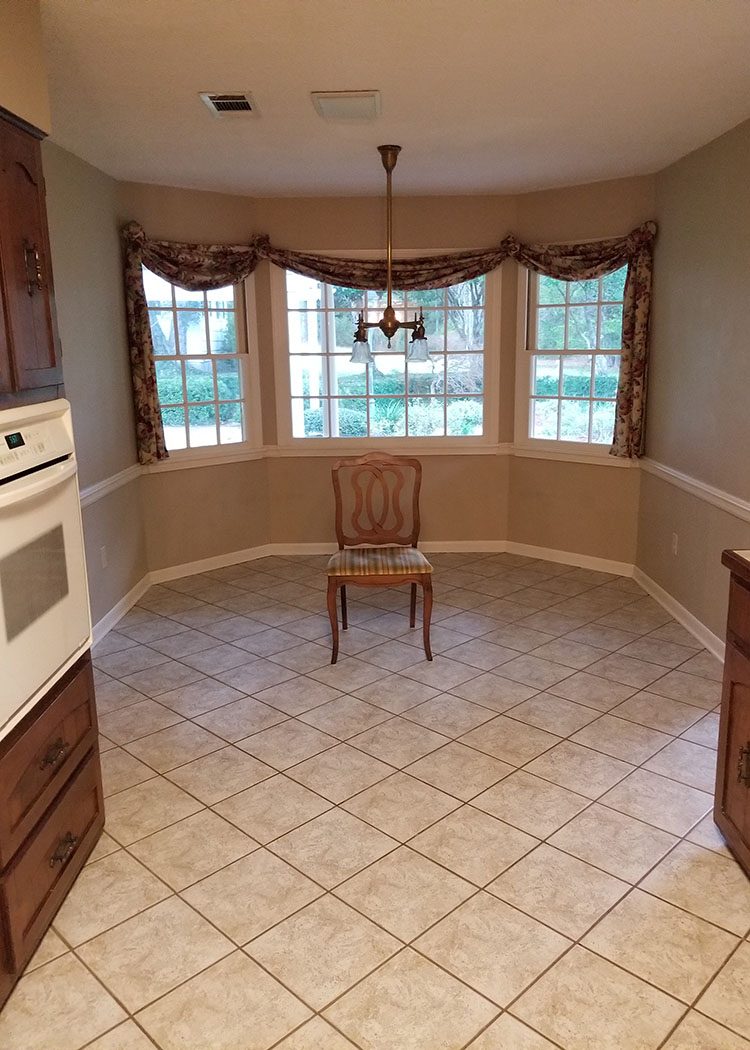 And this is the formal dining room, looking south out into our front yard from the kitchen area (before the previous owners took the last of their furniture):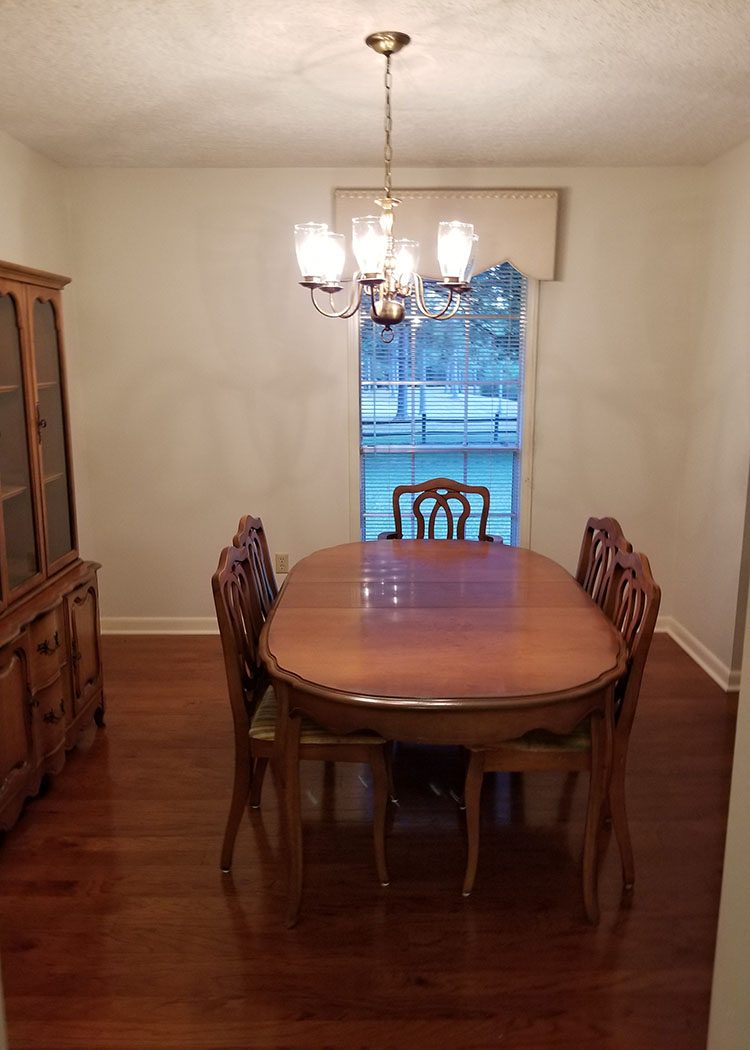 This next one is blurry, but again – I'm hoping to give you a good idea of our previous situation. Looking east from the formal living room into the formal dining (and you can see the kitchen there on the left):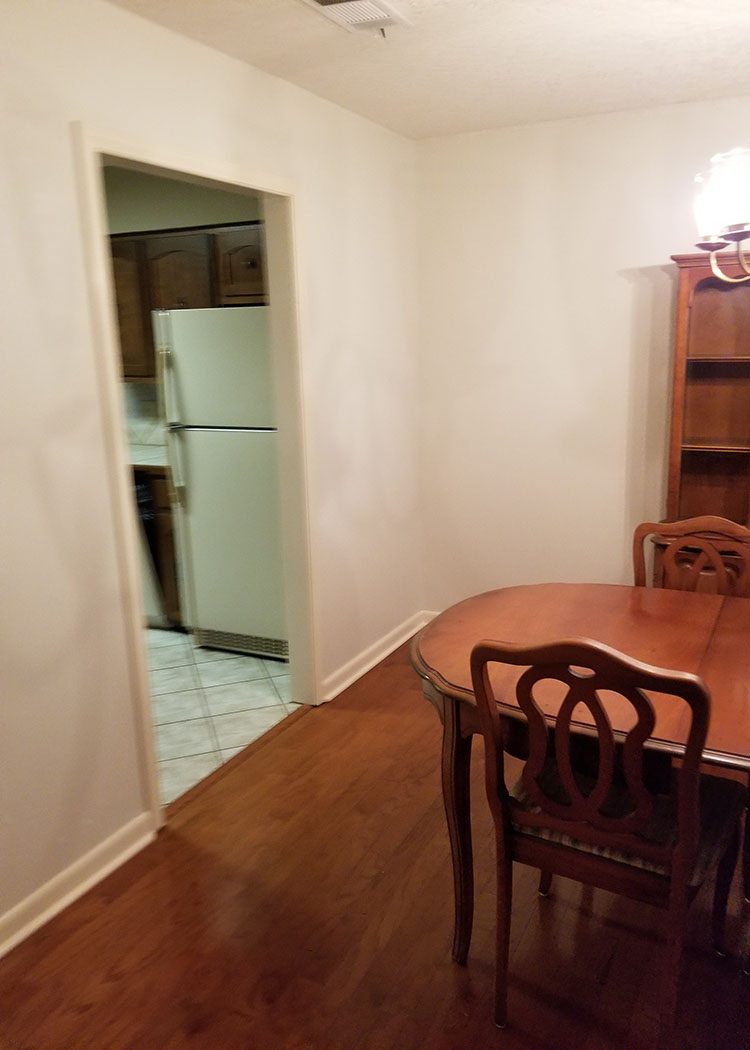 And here's one last shot looking through the formal living into the formal dining. This photo is looking east, so the kitchen is to the left of the formal dining and to the right is the window looking out into the front yard. That big doorway will be walled up: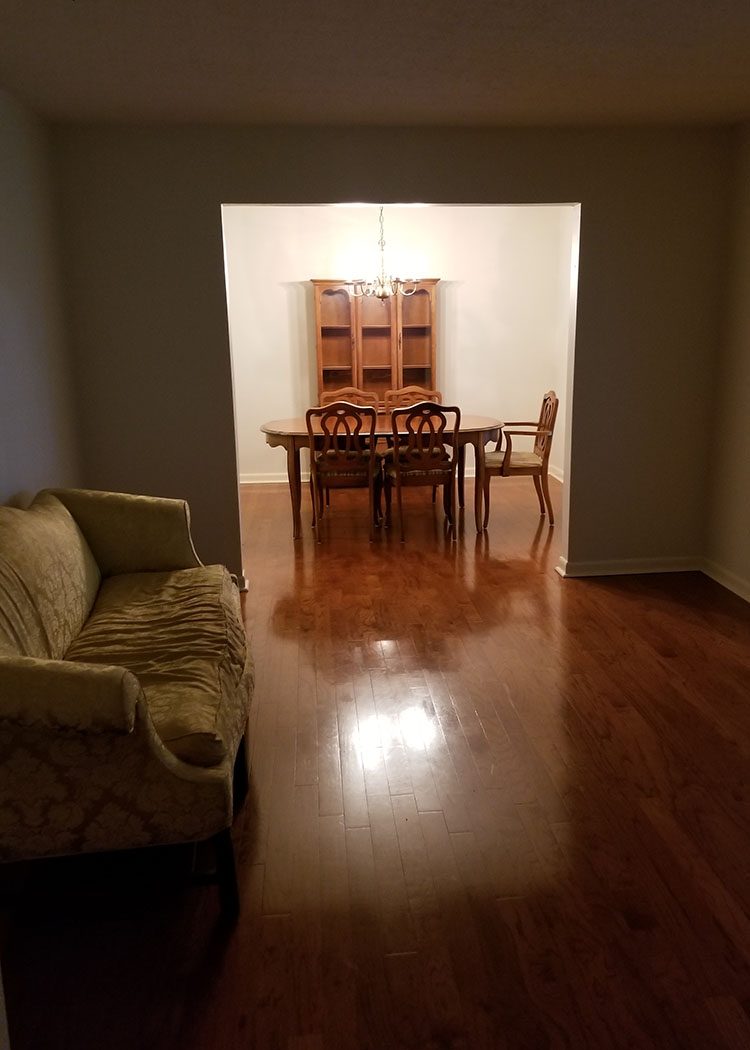 So that's that… my Kitchen Remodel : Before Pictures.
Stay tuned for progress….