A few weeks ago I shared our kitchen "before" pictures.  We've made some significant progress since then (more than I'll be sharing today), but I thought today I'd show you the next step of our Kitchen Remodel : The Gutting.
Our original kitchen was a small-ish galley style kitchen with very little counter space and what we did have was tiled.  And if you didn't know – tiled, small counters do not work for cake decorating.  At all!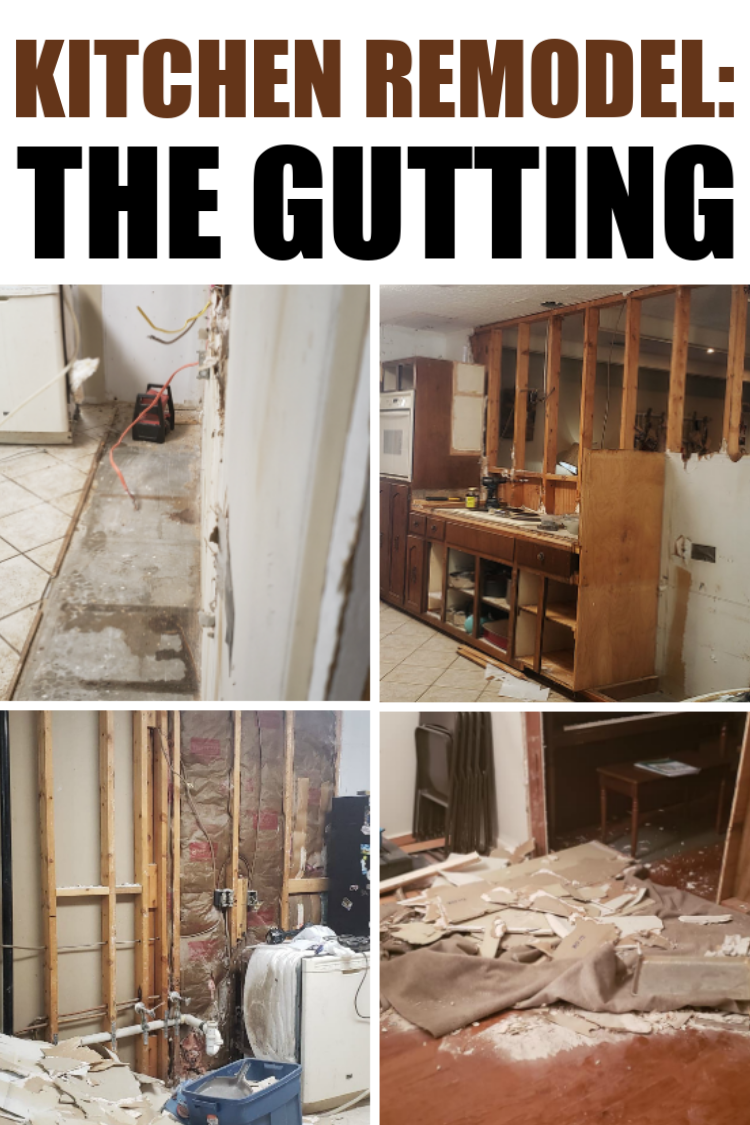 So we decided to completely gut the kitchen and while leaving some of the layout the same. We're also making a few changes and expanding the kitchen into our formal dining for what will become my "cake room".
I won't ramble on too much, but here are some pictures of the process of tearing everything out. I'm going to go one section at a time.
The original kitchen.
Here's what the right side of our kitchen looked like before: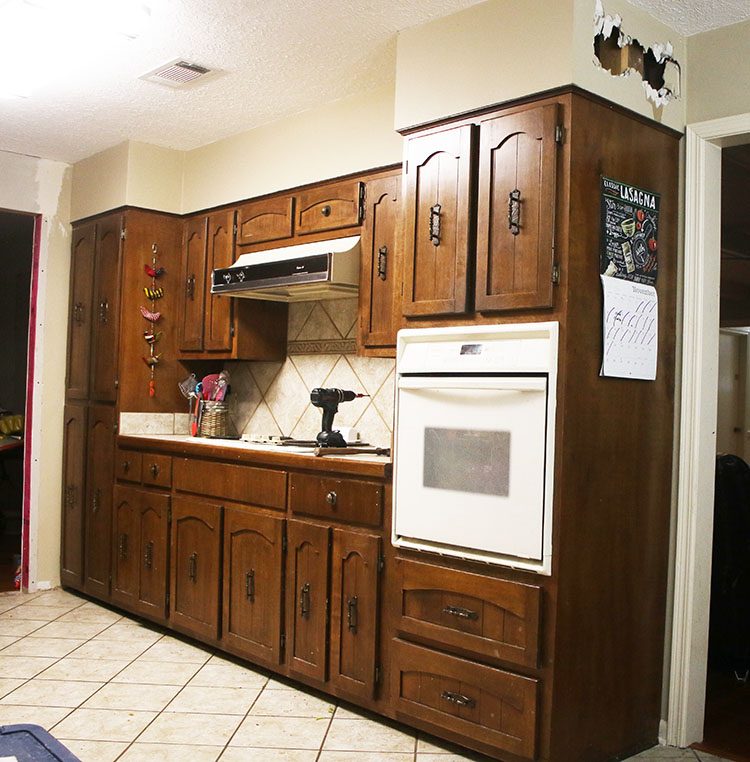 And here's the process of tearing it all out:
Note… it's nasty ya'll. And my house hasn't been truly clean since all this began. But I'm going to share all the pics anyway 🙂
Richy started by tearing down the soffit above the cabinets – then also the upper cabinets.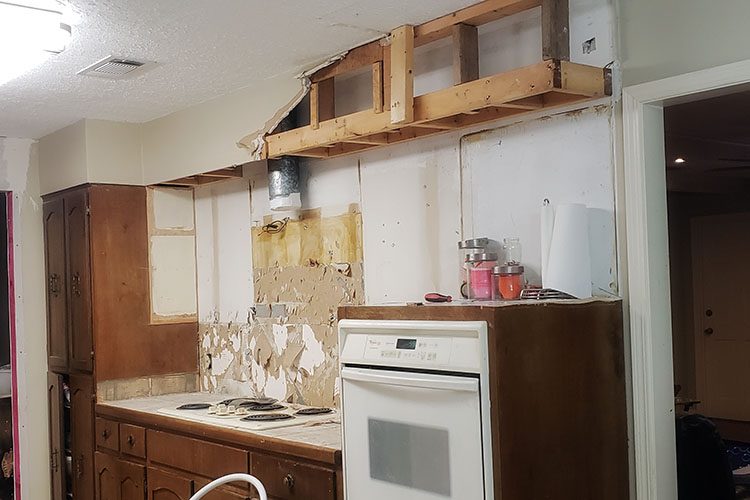 I was really glad to see that the ceiling had been finished inside the soffit – although it will require some touching up.  Granted, the ideal would be to scrape down all that ugly texture but I don't have the mental energy to think about that just yet.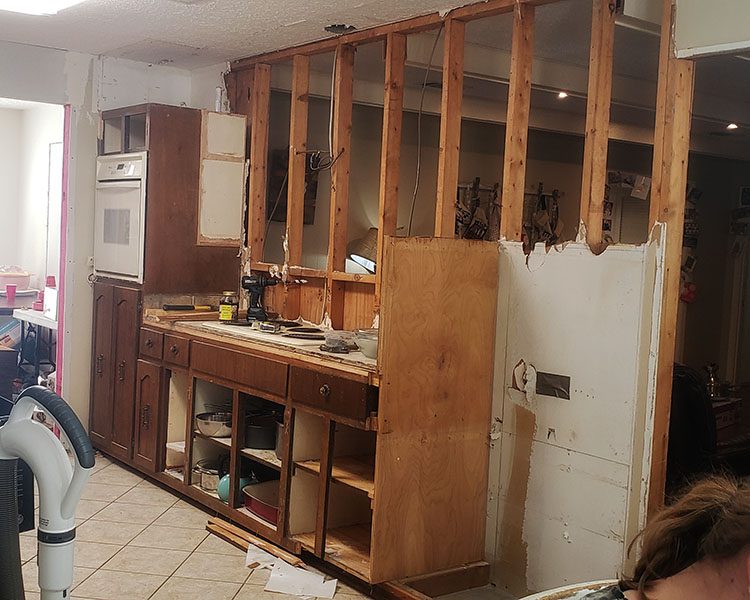 Since we're opening the kitchen up to the living room, he continued to tear out cabinets and the wall and removing cabinet doors. He knocked out some shelves on the end and moved my oven down there so I could continue to bake through this stage.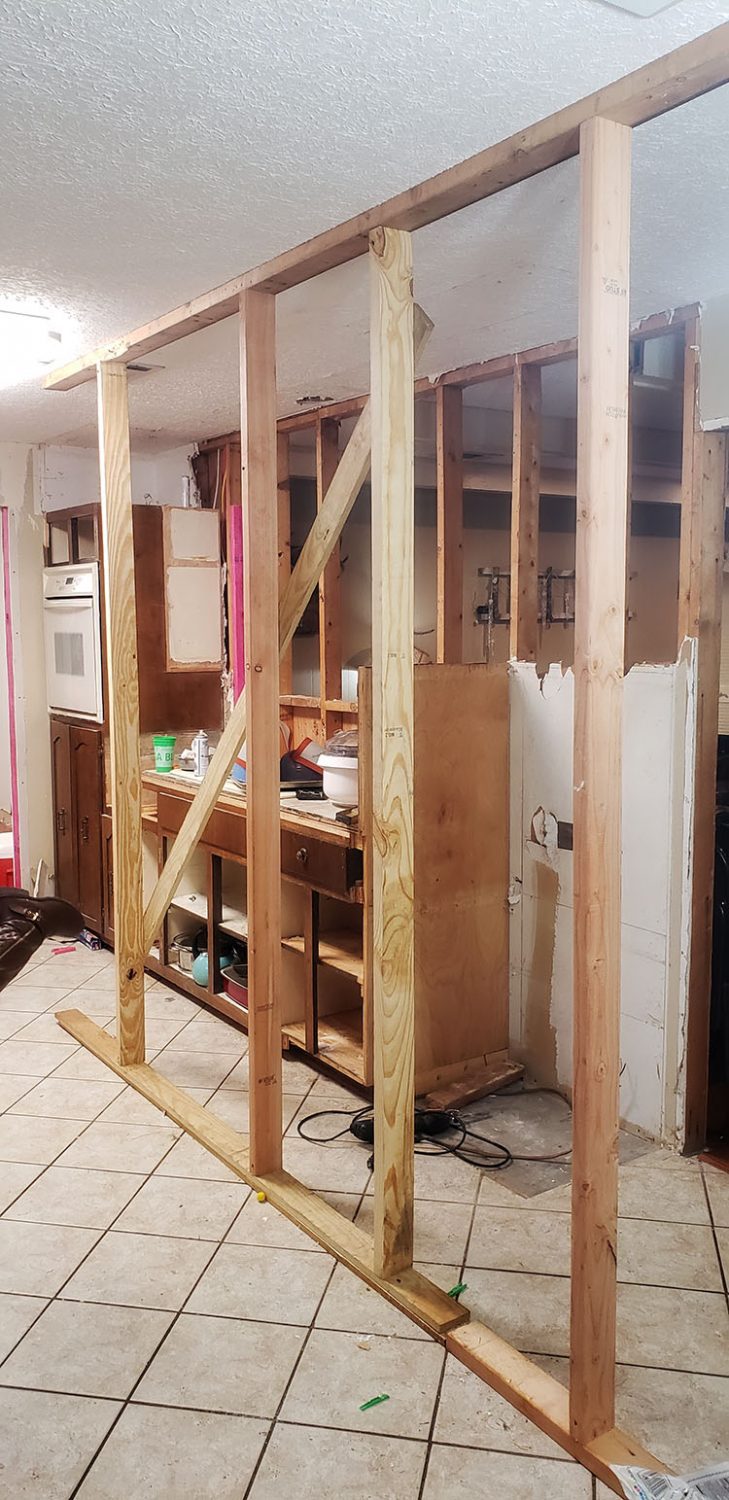 He threw up a temporary wall for support when he got ready to cut off the studs.  When it was ready, he put a beam across the opening to support the ceiling.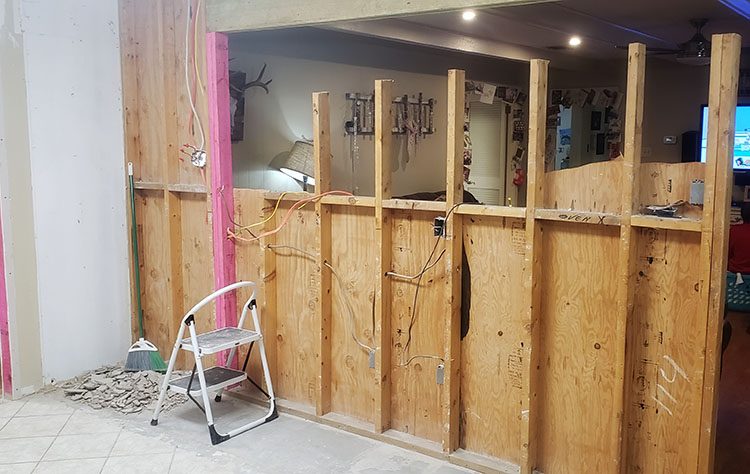 I didn't get a good pic of the beam at this point, but a couple of weeks later, the cabinet maker came and ripped out everything else and cleaned up the area.  Oh and after they left – Richy put the oven back for me so I could still bake.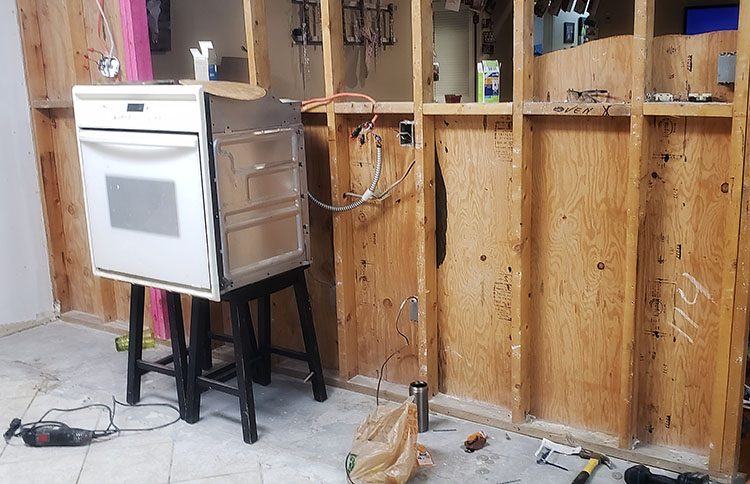 I'm not lying when I tell you that's how I baked this cake and this cake and this one (and a few others!). It was an adventure for sure!
A couple of days after the pic above, we started thinking about our design and decided to just take the wall out altogether. Originally we were going to leave a the wall and have it come up behind the counter 6-8″. But then we realized we'd rather it be completely open… so we took the wall down!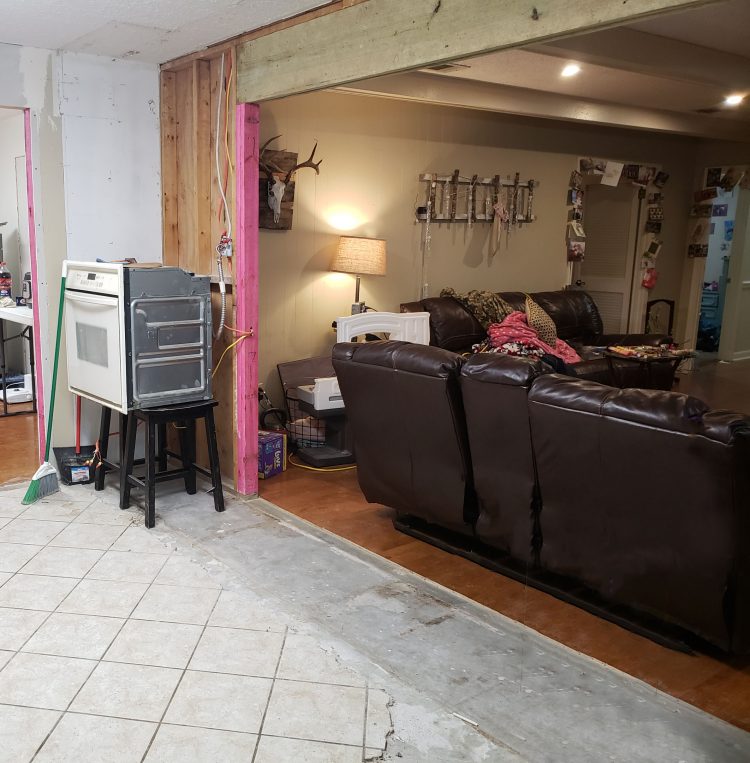 That also allowed the cabinets to push back a few more inches toward the living room giving us a tiny bit more room in the narrow kitchen.  I love it!!
The other side.
Now, for the left side of the kitchen.  I don't have the step-by-step photos because the cabinet makers actually cleared it all out in just a couple of hours.  I wasn't there to take pics 🙁
Here's the before: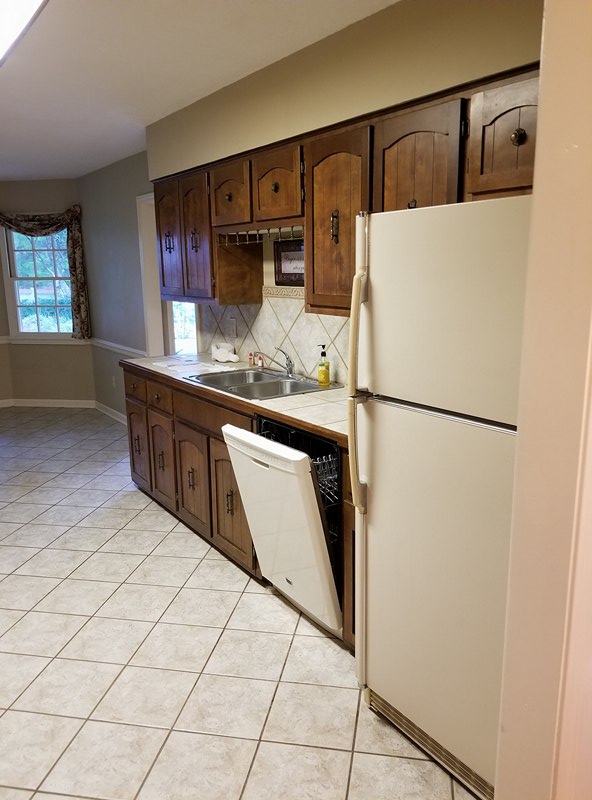 And here's a couple of after pictures.  Oh and they're super yucky – I guess that's what happens behind 40+ years of cabinets.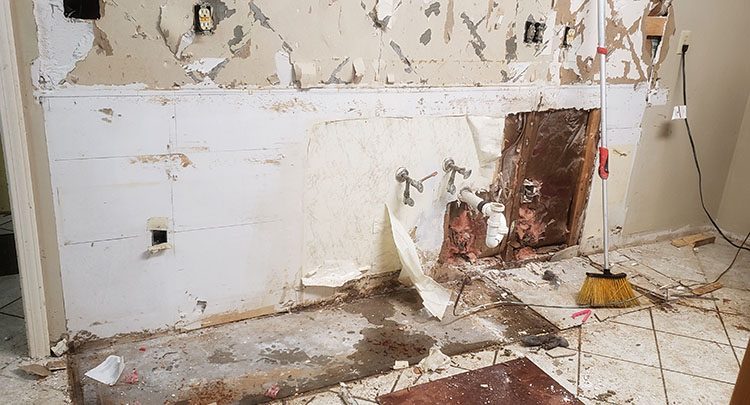 The cabinet crew took down everything, then my hubby took down the sheetrock and cleaned up a couple of days later: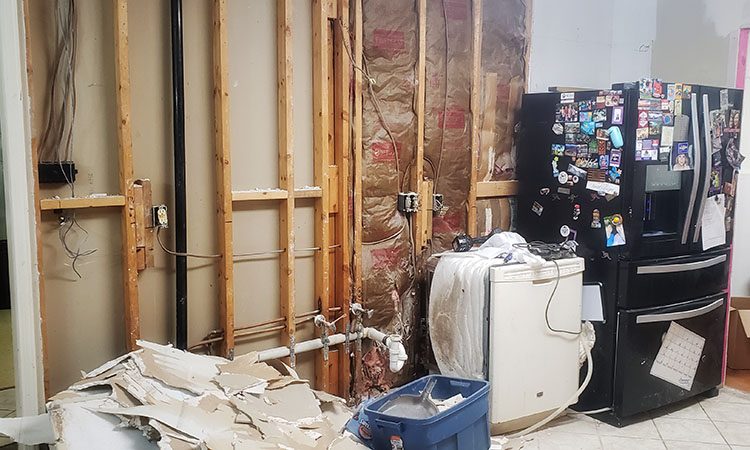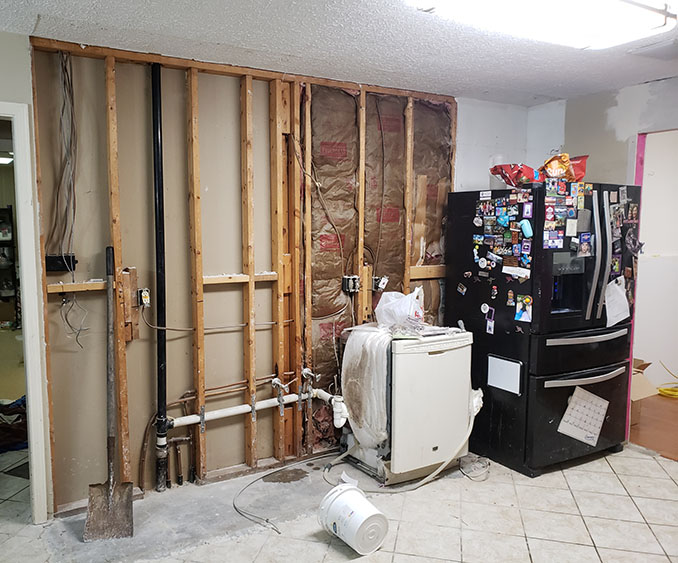 At this point, I no longer have a sink or dishwasher or cooktop (still present, but unhooked). Only my refrigerator and oven were available.  This is when things got really challenging – eight people to cook for.  And all the dishes having to be done in bathroom sinks.  Not. Fun.
The formal dining room doorways.
Then there are the doorways in the formal dining room.  We didn't so much "gut" or "demo" these rooms but we did make some changes to the original home.
First, we widened the doorway between the kitchen and dining room.
Here are the before pictures: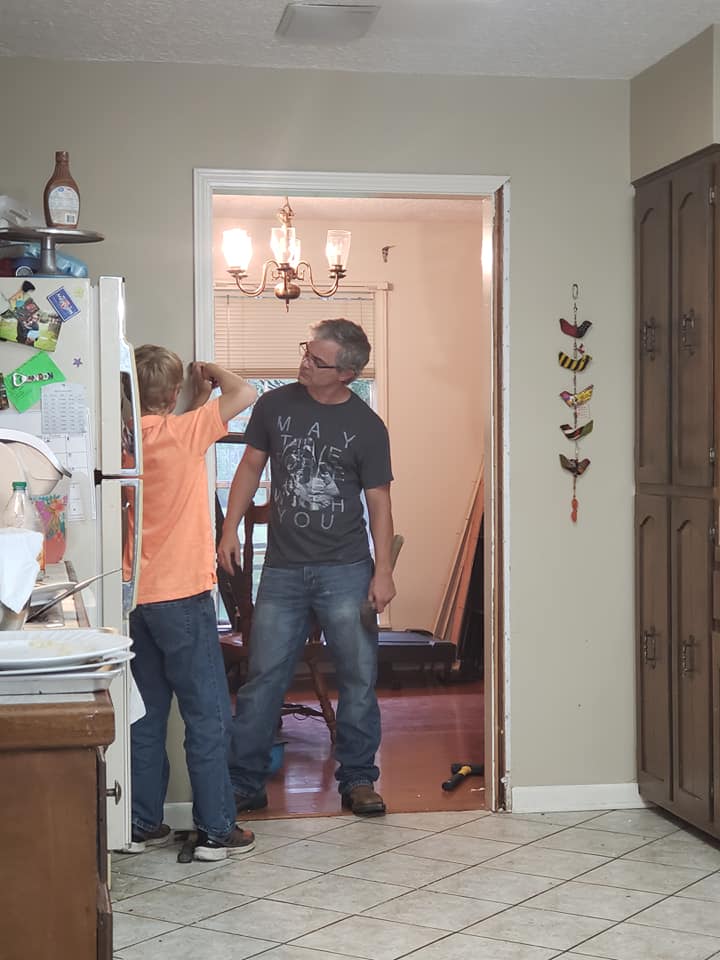 And here's a messy "after" picture: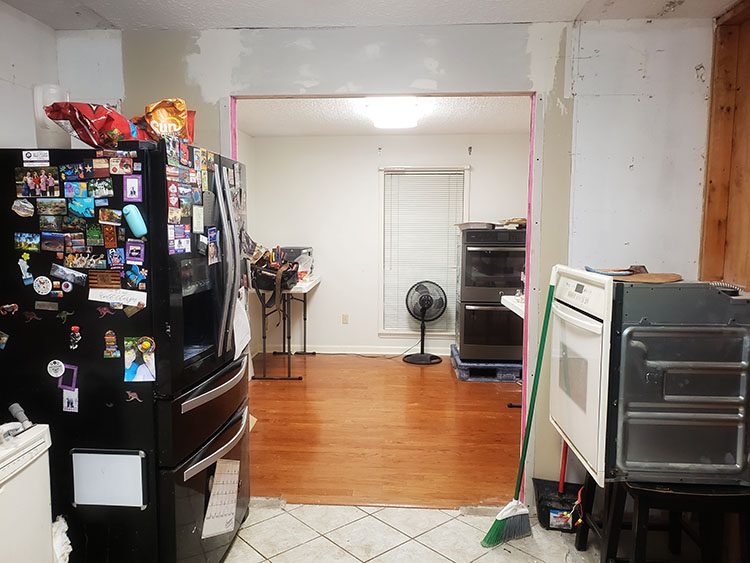 We also closed the doorway between the formal dining and formal living (known as our "piano room").   Here's the before picture (looking from the formal living into the formal dining):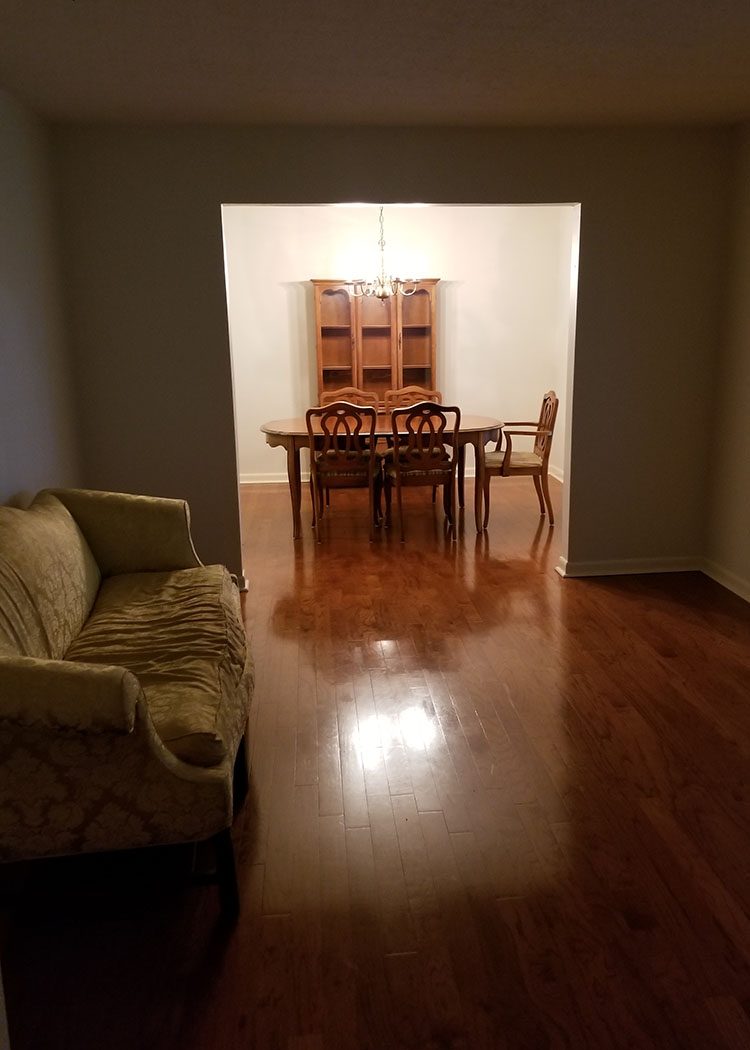 For whatever reason, I can't find a single picture of that doorway from the other direction so I don't have a great "before" picture.
But not long after Richy started working on it, I remembered to take a picture and got this.  It's just after we started closing the wall (because I'm going to have an entire wall of storage there!):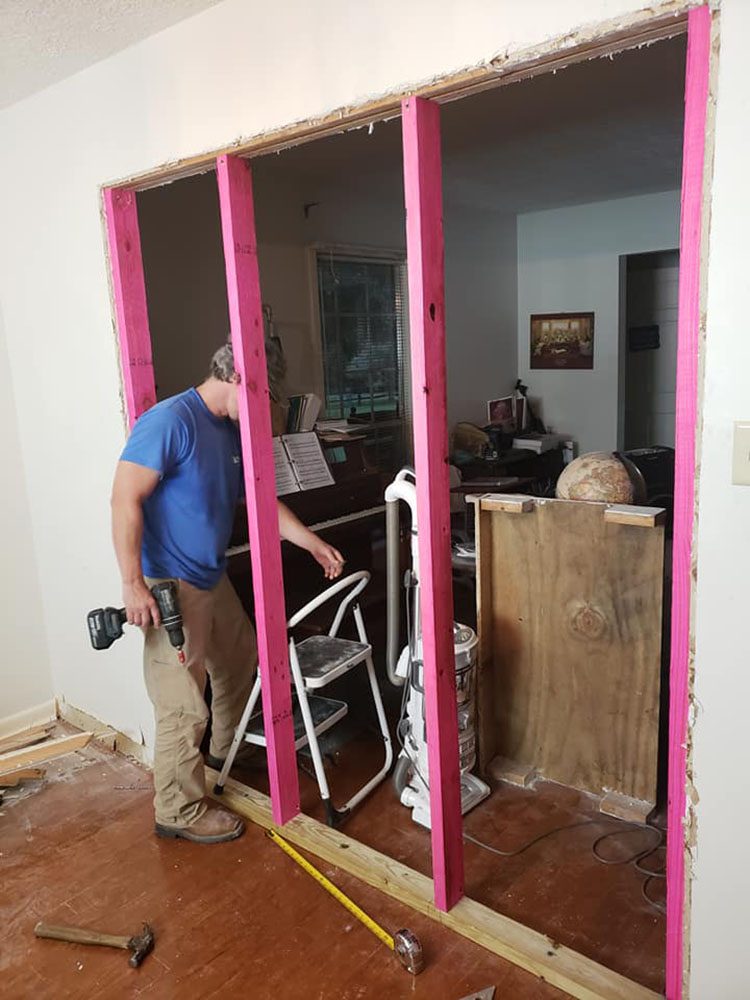 And here's the finished wall all closed up and when we were using the room as a make-shift kitchen (new stove in the back corner):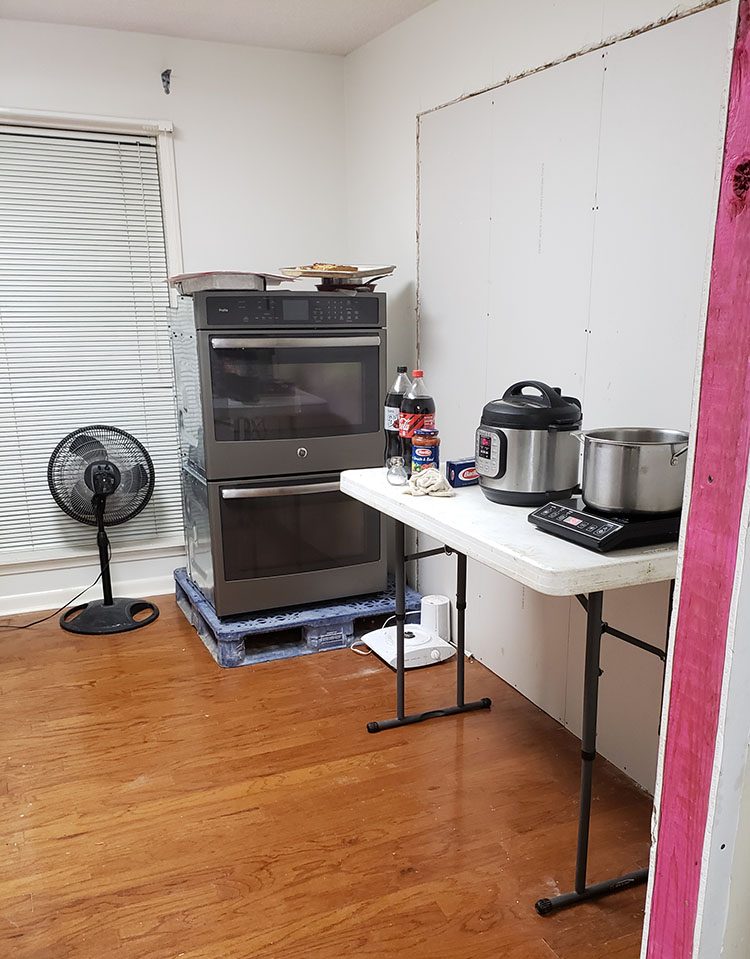 So that's that!  Our demo is complete and we're ready to start on the new stuff!  As I write this, the cabinets are about 90% done. We're still waiting on countertops, finished paint, then new floors and backplash.  Oh, then painting all the walls/trim again.
It feels like it'll never end, but I hope to share more pics soon.
Stay tuned for progress….