So today I'm sharing an incredible deal with you!  You can get a Long-Sleeve Swing Dress Just $21.95 with FREE Shipping!!  And this post is a new thing for me.  You know how it's hard to step out of your comfort zone?  Like, sometimes really hard?   Well today I'm not just stepping out of my comfort zone – I'm stepping out of my comfort universe.
I love Cents of Style and often order their weekly specials.  They have the most adorable clothes, accessories and even shoes.  One of my most favorite pair of boots are some I ordered from Cents of Style a couple of years ago (here!).  I also talked about them again here.  And I'm still wearing them (see the pic below).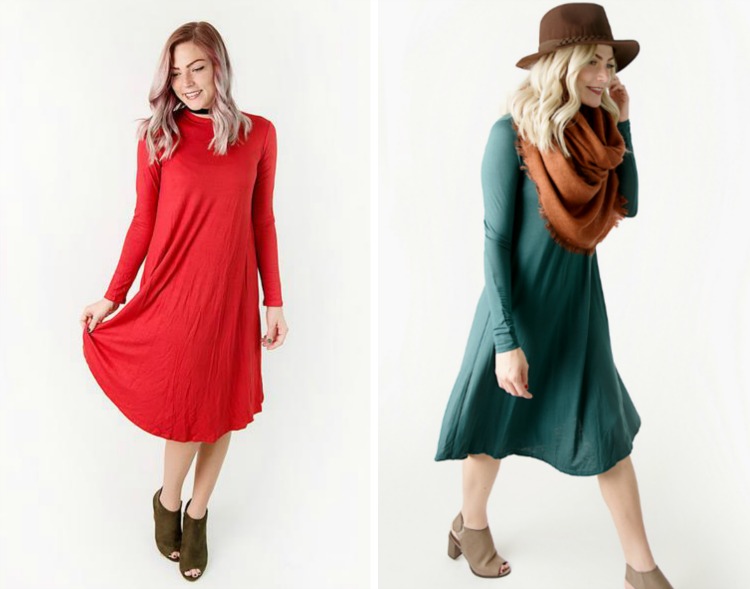 Anyway, a couple of weeks ago they offered me one of their super popular Long-Sleeve Remi Swing Dresses and an accessory in exchange for me talking about their sale today.  The catch?  I had to actually share how I would style the dress with a picture!  Ha!  Me?  Style something?  And model it?  Bigger HA!!
And taking a picture of myself in it?  I did it and it didn't kill me 🙂
Thank goodness, this dress is so versatile and so easy to "style".  I chose a Dark Gray Dress and a beautiful Dana Tree Print Scarf to share with you today: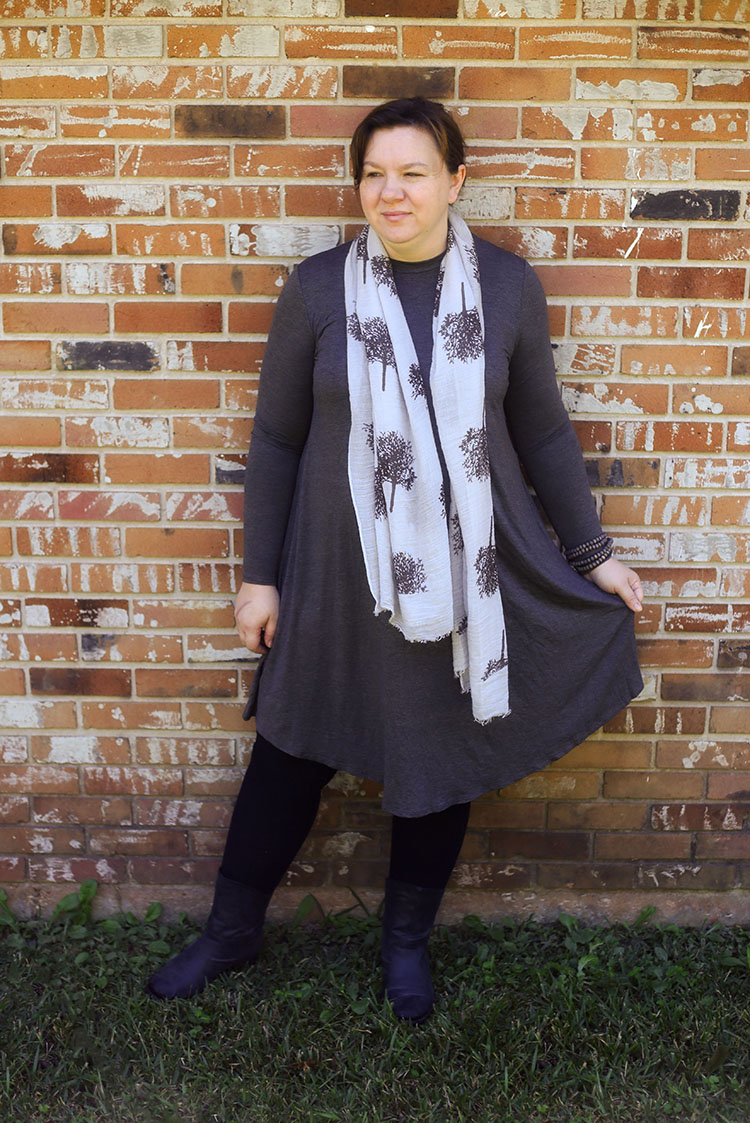 This is exactly an outfit I'd wear and I'm thrilled to have it!  The dress is so comfortable and soft and I'm certain I'll wear the scarf again and again.   I could easily wear it with any of a dozen scarves I own.  Or long necklaces.  It would also be cute with tall boots and maybe a hat?!
Oh and here's one more thing I love about this dress…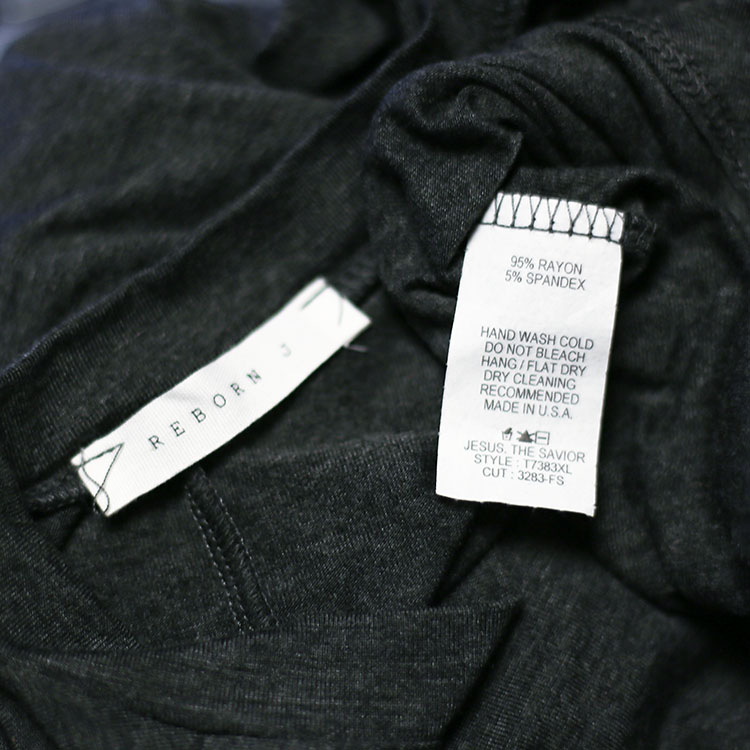 The brand is Reborn J and on the tag it reads… Jesus.  The Savior.  And it's made in the USA!!  Woot-Woot!!!  I love that!
Check out this fun video for more ways to wear it: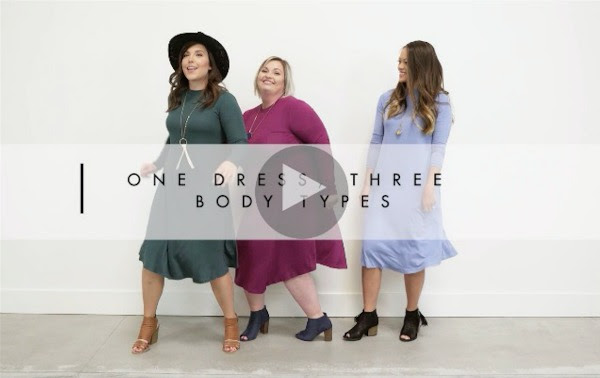 You also have 17 different colors to choose from in sizes sizes S through 3XL.  I want a blue one and maybe the fuchsia too!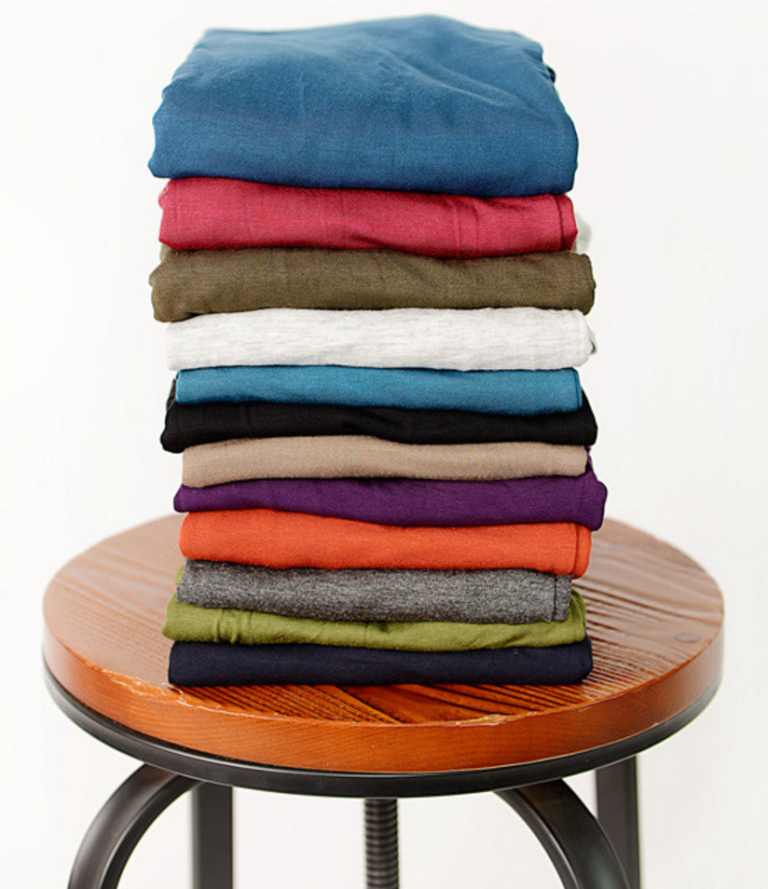 I love that this dress works for almost all body sizes and types and it's just beautiful!  So anyway… hurry and order one (or more!!) today!   Their Fashion Friday deals often sell out quickly so you don't want to wait!