Today I'm sharing my March 2016 Blog Income Report.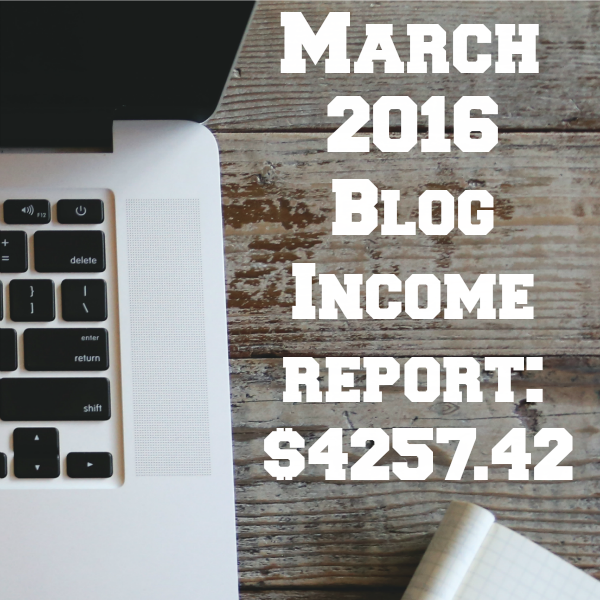 Scroll to the bottom for links to my previous month's income.  Why am I sharing?  Well, several months ago, over on Rose Bakes, I wrote a post about how to make money blogging (specifically with a food blog, but most of my info would apply to any blog).  Then back in January, I wrote a post on how I made almost $37,000 blogging in 2015.   Both of those posts got a lot of attention.
In addition to that, I'm always talking about finances with someone.   I love to talk about budgeting, saving, making money online, paying off debt, blogging, etc.  And ya'll… when I say I love it, I mean I love it.  I get as excited about that stuff  as I do about cake.  Haha!
Yes, I am a nerd.  (I do have a math degree afterall 😉 )
Anyway, since my previous posts about blogging and money and income have been popular and I absolutely love reading other blogger's income reports, I figured I'd jump on that bandwagon and start sharing my income reports.  My hope is to inspire, encourage and help other bloggers increase their income… or help someone else jumpstart a blog so they can start earning online as well!
And maybe… just maybe, I'll start blogging about all the other money related stuff that I love too… like how to budget, how to stay out of debt, how to plan for emergencies, etc.  What do you think?
Okay, so without further delay… here is my March 2016 Blog Income Report (this includes both of my blogs most of it comes from Rose Bakes).
Before I get into it, I have to say I was really shocked at the growth from February to March.
January is always a low month for bloggers but I didn't expect to see such dramatic increase over 3 months.  I've read that ad income increases at the end of each quarter, so maybe that's what happened, but gosh, no complaining here!   I'm reaching my goals and all of my hard work is paying off, so I'll take it!
And here's the breakdown…. March 2016 Blog Income Report
INCOME:
Adthrive                                 $ 2469.19
Shareasale**                          $ 631.93
Amazon                                   $ 609.53
Doz                                          $ 310.40
Collective Bias                       $ 175.00
Linqia                                      $ 173.60
Adsense                                   $ 172.27
Blogher/Sheknows                $150.00
Swoop                                      $ 141.97
Sovrn                                       $ 23.22
Rhythm One                          $ 17.71
Gourmet Ads                         $ 10.99
Ebay Partner Network        $ .78
Bluehost                                  $ 0

Pinch of Yum                         $ 0

Commission Junction          $ 0

Shopher Media                      $ 0

Rakuten                                   $ 0
TOTAL INCOME:                        $4886.59
**The Shareasale income includes income from Craftsy, Flirty Aprons, Pretty Witty Cakes, Zulily, Easy Canvas Prints, Food Blogger Pro, Brown Cookie, PicMonkey and York Photo. Join Shareasale  HERE!
EXPENSES:
Virtual Assistant Work        $307.00
Website Designer                    $45.00
Office Supplies                       $103.43
Education                                $75.00
BigScoots (Hosting)               $69.95
Madmimi + Google                $65.15
Advertising                              $29.00
Domain Registration             $25.86
Adobe CC                                  $21.39
Inventory (Food)                     $12.65
Paypal Fees                               $2.25
Website Expenses                    $1.99
TOTAL EXPENSES:               $629.17
NET INCOME:     $4257.42
So that's that… my net blogging income for March 2016 was over $4200.  That's SO exciting!
On last month's post, someone asked about traffic, so I'll add my pageviews below next to income.  It's not a detailed report, but it'll give you an idea:
Here are my previous month's posts with monthly pageviews for Rose Bakes:
* February had less traffic but more income than January, I'm pretty sure most of this is due to some amazing changes at Adthrive, my ad managing company.  That might also be a contributing factor for the February to March ad income increase.
Do you have any questions?   Leave me a comment!
Also, check out the related posts below (and I'd love for you to Pin them!):