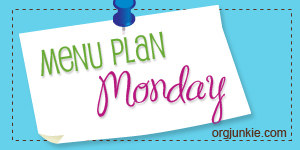 It's Meal Plan Monday! Be sure to hop over to I'm an Organizing Junkie to see what everyone else is having and you can view my previous menus here.
Well, with the new baby in the house, my meals planning sort of went out the window for awhile. But boy have I missed it, so I'm going to try really hard to get back into the swing of things!
Breakfast
Scrambled Eggs with Cheese, sliced apples x2
Oatmeal and/or Yogurt x2
Pancakes, Fruit x3
Lunch:
Pepperoni Tortilla Pizzas
Pasta with Cheese & Broccoli
Chicken Tenders, Baked Potatoes
PB&J Sandwiches, Sliced Cucumbers
Cream of Broccoli Soup, Crackers
Leftovers x2
Supper:
Pizza, Macaroni & Cheese (Noah's Birthday is Monday night and these are his favorite foods!)
Spaghetti, Garlic Cheese Biscuits
Red Beans & Rice
Chicken Vegetable Casserole (recipe coming this week!)
Ham, Sweet Potatoes, Green Beans
Eat Out
So…there's my plan for the week. Do you meal plan? Leave a comment and tell me how you do it!
New to Adventures In Savings? Subscribe to Adventures in Savings by email for a daily update of all the deals or follow me on Facebook or Twitter to get all the latest updates faster!