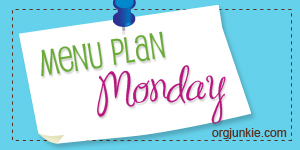 It's Meal Plan Monday! Be sure to hop over to I'm an Organizing Junkie to see what everyone else is having and you can view my previous menus here.
I've been so slacking about meal plans lately, but this week is gonna be tough, so I need to get a (simple, easy, fast meals) plan written down! So, here goes…
Breakfast
and/or Yogurt x2
Oatmeal with Fresh Fruit x2
Cereal with fruit x3
Lunch:
Tomato Sandwiches, Fresh Peaches
Pasta with Cheese & Broccoli
Bologna Sandwiches, Oranges
Tortilla Pizza, Apples
Lunch on Saturday at Church
Leftovers x2
Supper:
Homemade Sloppy Joes, Tater Tots
Pizza (Take-Out) for Joshua's 14th Birthday (his request!!)
Broiled Tilapia, Rice, Green Beans
Tacos, Refried Beans, Homemade Salsa (YUMMY!!)
Bacon & Tomato Sandwiches, Cucumbers
Thursday & Friday Night: Supper at Church (Bible School Week)
So…there's my plan for the week. Do you meal plan? Leave a comment and tell me how you do it!
New to Adventures In Savings? Subscribe to Adventures in Savings by email for a daily update of all the deals or follow me on Facebook or Twitter to get all the latest updates faster!