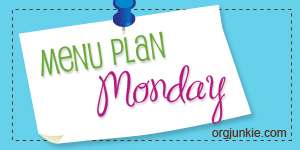 It's Meal Plan Monday! Be sure to hop over to I'm an Organizing Junkie to see what everyone else is having and you can view my previous menus here.
I haven't done a meal plan in about a month, but I have lots of things I need to "use up" this week before they go bad, so I wanted to write down my ideas and not let any food go bad!
The main thing I have on hand is buttermilk that is at it's expiration date. Therefore, I made a chocolate sheet cake for church today (it uses buttermilk) and also the pancakes and pasta Salad on this weeks plan! I also have lots of leftovers in the frig that we'll eat up for lunch!
Breakfast
Super Fluffy Buttermilk Pancakes, Sausage x2
Scrambled Eggs with Rice and Cheese, fruit
Oatmeal and/or Yogurt x2
Cereal with fruit x2
Lunch:
Black-eyed Peas & Cornbread
Mac & Cheese with Broccoli
Turkey Sandwiches, Oranges
PB&J,Apples
Leftovers x3
Supper:
Buttermilk Crab Pasta Salad, Fruit
Rotisserie Chicken, Sweet Potatoes, Green Beans
Broiled Tilapia, Rice, Green Beans
Grilled Chicken & Corn, Potato Salad
Sandwich Night
Homemade Pizza, Salad
So…there's my plan for the week. Do you meal plan? Leave a comment and tell me how you do it!
New to Adventures In Savings? Subscribe to Adventures in Savings by email for a daily update of all the deals or follow me on Facebook or Twitter to get all the latest updates faster!