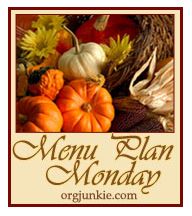 It's Meal Plan Monday! Be sure to hop over to I'm an Organizing Junkie to see what everyone else is having and you can view my previous menus here. My Mama is having surgery today, it's Thanksgiving week, and my husband has 4 days off, so I'm going to relax about our meal plan. I copied a lot from last week, but we may or may not stick to it all! Flexibility will be key in this busy season!!
Breakfast
Oatmeal and Apples x2
Cereal, Fruit x2
Cheese Toast, Yogurt x2
Scrambled Eggs, Sausage
Lunch:
Turkey Sandwiches, Fruit and/or Carrots x2
Tortilla Pizzas
Beans, Cheese & Rice with Salsa
Hot Dogs & Fries, Apples
Leftovers x2
Supper:
Baked Chicken, Mashed Potatoes, Broccoli
Potato Soup
Chicken Vegetable Casserole from Taste of Home "Ultimate Chicken Cookbook"
Spaghetti and Garlic Cheese Biscuits
Thanksgiving Supper with Family
Eat Out
So…there's my plan for the week. Do you meal plan? Leave a comment and tell me how you do it!
New to Adventures In Savings? Subscribe to Adventures in Savings by email for a daily update of all the deals or follow me on Facebook or Twitter to get all the latest updates faster!
This post contains affiliate links – which means I might earn a few cents (or even dollars) if you click on them. However, ALL opinions and recommendations are my own and are not affected by the use of these links. I won't tell you I like something unless I really like it!