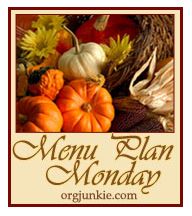 It's Meal Plan Monday! I missed planning last week and I immediately noticed a difference. It's so easy to be able to look at a list and think "aha" I have everything on hand to make this or that and just do it…rather than…"honey…what do you want to eat tonight?…oh, we don't have that, but maybe this?" That's the sort of conversation we had more than once this past week, and honestly, I like a plan much better!
Be sure to hop over to I'm an Organizing Junkie to see what everyone else is having and you can view my previous menus here.
Breakfast
Baked Oatmeal, Fruit x2
Cream Cheese Danish x2 (from Angel Food)
Cereal, Fruit x2
Cinnamon Creme Crunch Cake
(won at the cake walk at church Saturday)
Lunch:
PB&J Sandwiches, Fruit
Fish Sticks, Fries (from Angel Food)
Tortilla Pizzas
Beans, Cheese & Rice with Salsa
Hot Dogs & Baked Beans
Leftovers x2
Supper:
Chili with Rice & Corn Chips
Soft Tacos (meat from the freezer), Refried Beans, Rice
Chicken Vegetable Casserole from Taste of Home "Ultimate Chicken Cookbook"
Crock Pot Roast, Potatoes, Carrots
Homemade Pizza
BBQ Sandwiches, Corn on the Cob
So…there's my plan for the week. Do you meal plan? Leave a comment and tell me how you do it!
New to Adventures In Savings? Subscribe to Adventures in Savings by email for a daily update of all the deals or follow me on Facebook or Twitter to get all the latest updates faster!
This post contains affiliate links – which means I might earn a few cents (or even dollars) if you click on them. However, ALL opinions and recommendations are my own and are not affected by the use of these links. I won't tell you I like something unless I really like it!