I bet you thought I'd bailed on the No Spend Challenge again, huh?  But I didn't!
I'm just running a little behind these days.   But to avoid getting more behind, I am going to throw up a post late tonight and try to keep it short.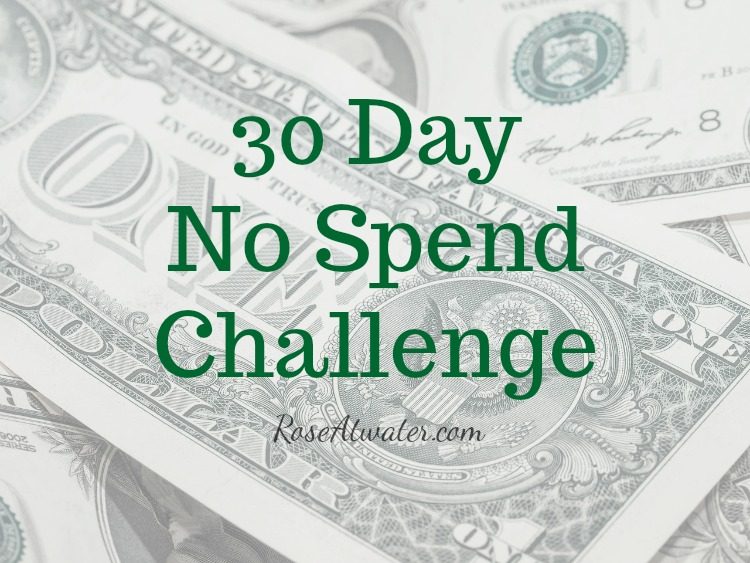 So let's get to it!  I'm going to break it down by the day and include spending and what we've been eating!
Monday
I was sick Monday.  I literally felt like I'd been hit by a truck and I barely accomplished anything.  The kids did some independent school work and I sat in the recliner with a heating pad and ibuprofen and did finishing touches on this sponsored post.
At least until the afternoon.  Noah had piano and Sarah had Girl Scouts.  I did not want to take them but I did.
While in town, I bought some household items that we needed (a mop, AC filters, toilet cleaner, etc.).  But I did NOT buy any food… yay ME!
Breakfast : Powdered Donuts
Lunch : Leftovers (again) from church yesterday
Supper : Tator Tot Casserole (made by the hubby)
Tuesday
Tuesday I was feeling a little better, but still not great.  However, I marked a ton of things off my to-do list and started to get back on track with a routine.
I also had my son run to town for a few errands.  He had to return a trailer to my brother that we borrowed, so I got him to run by the store and get a couple of gallons of milk and lettuce (for taco night).  He spent $14.93.
We had taco night with family and friends tonight.  🙂  This is the only pic I took – some of the kids playing games: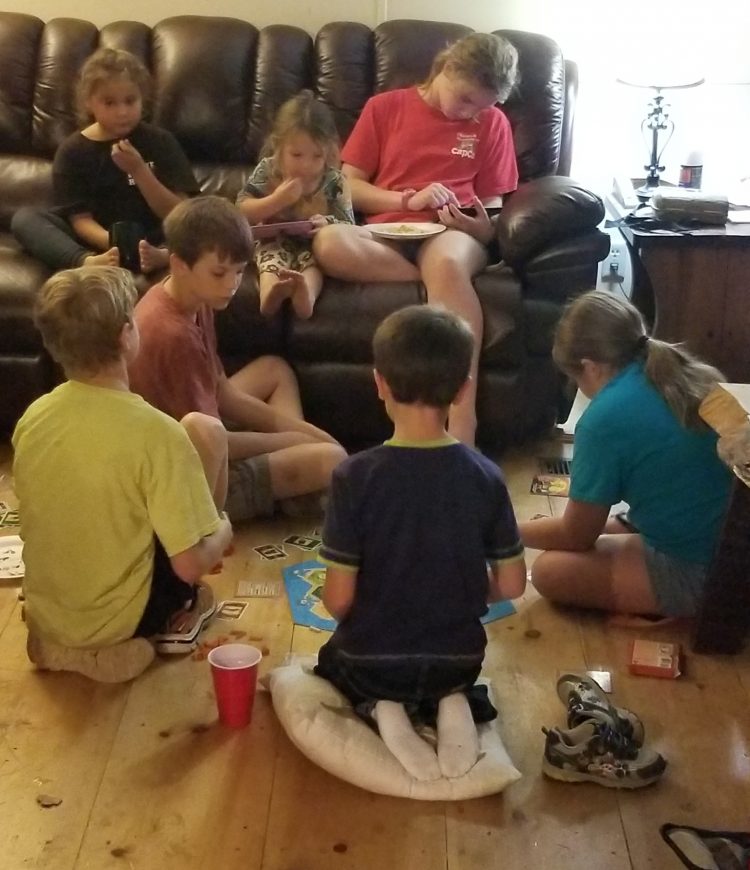 We also had to run by the store after taco night for some personal products but while there, I may or may not have bought some unneccessary junk food…. gum, Butterfingers, ice cream sandwiches, and candy corn. Hmmm….. hormonal much?
Pretend I didn't say that.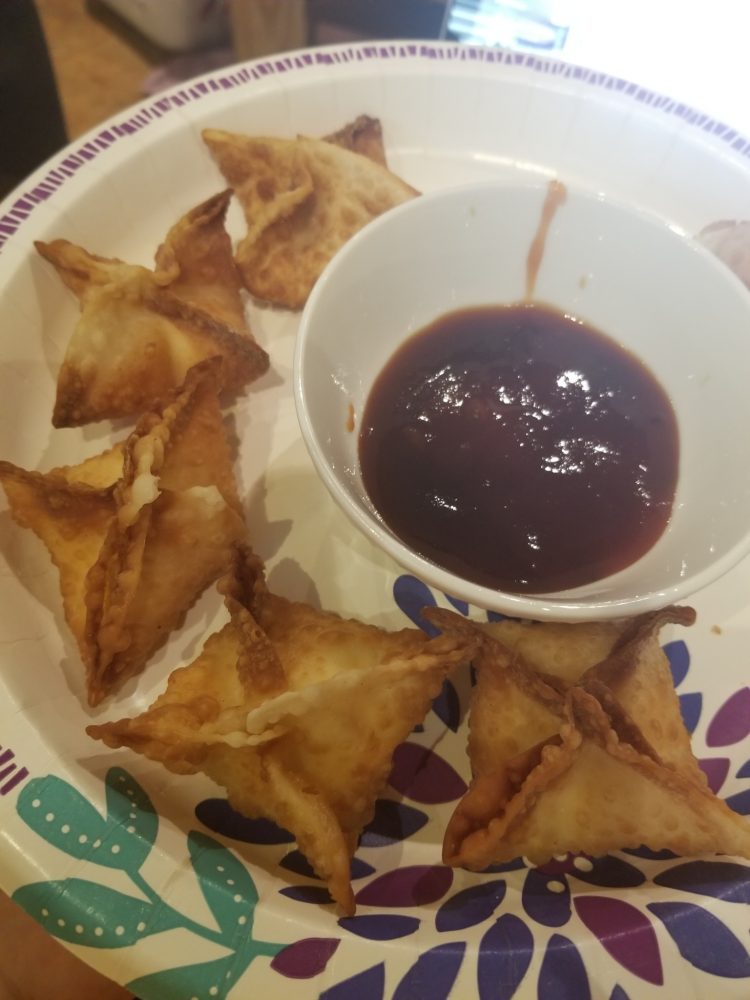 Lunch : Homemade Fried Rangoons (woot-woot!!), Sandwiches, Canned fruit (apples & pineapples)
Supper : Taco night at my brother's house.  We brought Taco Meat (out of the freezer), lettuce (purchased earlier today), homemade salsa (recipe coming soon), and homemade refried beans (used beans out of the freezer).
Wednesday
Today was better.  I'm still not 100% myself but we got all of our schoolwork done.
I also had to run to town today for a cake delivery and I stopped by the dollar store for bread, chips (not necessary), and drinks for work for Richy (to avoid the vending machine & save money).  Total spent $31.62.
Breakfast : Scrambed Eggs, Sliced Apples
Lunch : I cannot remember for the life of me what we ate today for lunch.  Maybe I didn't eat lunch??  Ugh!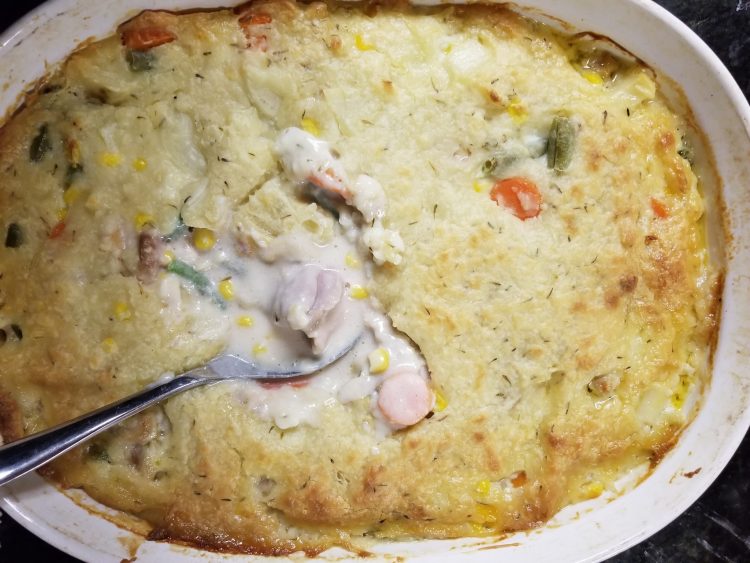 Supper : Homemade Chicken Pot Pie with chicken, green beans, carrots & corn from the freezer!
Alrighty – that's it!   With only 5 days left of the 30 day no spend challenge, I'm so excited with how well we're doing!!
I've been saying we average $1400 per month on groceries.  I realized today that that's not entirely true.
I actually call that category our "grocery & toiletries & cleaning" category.  I buy everything consumable for home in that category… cleaning supplies, toiletries, food, etc.  SO, I don't actually know the exact percentage of that $1400 that is food.
Either way, we've only spent $312.24 on FOOD this month and that is phenomenal.   That works out to about $.52 per meal per person for our family of 8 for 25 days straight.
Ya'll.  That's $1.56 per person per day.  For 3 meals!!
That's CRAZY-SAUCE!!  Okay – it's 1:40am.  I should not still be awake.
Night-night!
Total spent to-date: $312.24