The no-spend grocery challenge continues to go really well!!  As of yesterday, we're officially halfway through the month of February and we've only spent $172.81 on groceries.  That's dramatic ya'll.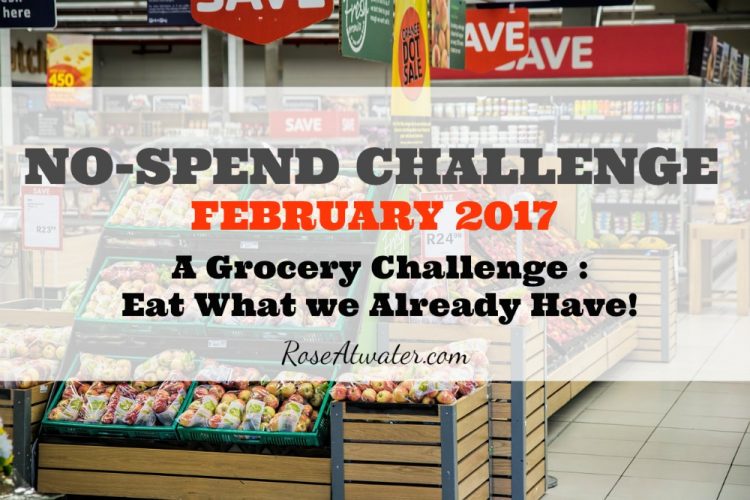 Saturday, February 11.  Richy got up this morning and made cinnamon toast and cheese toast for everybody.  Then most of the family went to my nieces' and nephew's birthday party where they had lunch.  Joshua and I stayed home – I was really feeling terrible and he… well he is 19 and the he's not much into little kids' birthday parties.  🙁  He had cereal for lunch and I had leftovers.
For supper, we had a Valentine's banquet at church – lasagna, salad, bread and dessert.   No shopping today 🙂
Sunday, February 12.  Everybody was on their own for breakfast (as I mentioned last Sunday, we all get up and leave at different times), but I know the kids ate the rest of the yogurt we had in the frig and probably some cereal for the other kids.  For lunch, we had dressed up sandwiches (lots of meat, sliced cheese, pickles, lettuce, etc.).  For supper, my 15 year old son make Crab Pasta Salad.  Richy and I had to attend a funeral wake, so we ate out supper with some other adults who attended the funeral.
The only grocery money spent was for Diet Dr. Pepper and 2 bags of apples for the kids … $13.44
Monday, February 13.  For breakfast we had scrambled eggs and toast.  Lunch was leftover Crab Pasta Salad from last night.
I've really been craving tacos for a few days but we didn't have enough taco shells or tortillas in the pantry, so I did some brainstorming and remembered years ago we used to eat Indian Fry Bread with taco toppings.  I couldn't find the recipe, so I messaged my friend Patti who gave it to me almost 20 years ago and she almost immediately replied and shared 🙂
SO – we had Indian Fry Bread with Taco Meat and Beans (from the freezer) plus lettuce, tomato, cheese, salsa & sour cream.
Since I had been thinking ahead for this recipe tonight, I stopped at the grocery store today while in town taking my daughter to Girl Scouts and I got some fresh lettuce & tomato.  I also grabbed some  yogurt cups since the kids love it for breakfast and we were completely out.
Grocery Money Spent: $7.17
Tuesday, February 14.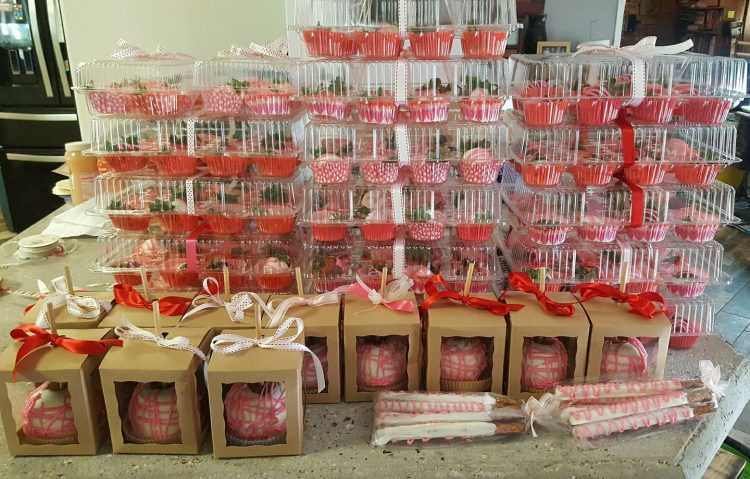 Today I was SLAMMED for Valentine's Day.  I woke up and immediately got busy in the kitchen.  I didn't even eat breakfast.  The kids scrambled eggs and had yogurt, but I just dipped apples, dipped strawberries, dipped more apples, dipped more strawberries… and on and on and on.  Before it was over, I dipped more than 200 strawberries and almost 2 dozen apples.
It was after 4pm before I realized I hadn't eaten a single thing all day and I was starving!  I grabbed a the last of the crab pasta salad from two nights before, inhaled it, and got right back to work.  Somewhere in there the kids had Mac & Cheese (they made fresh) and leftover Tacos from last night.
For supper, my husband spoiled me big time.  My back was killing me from standing all day and my feet were swollen.  So I sat in my recliner with my heating pad and he cooked steak, scalloped potatoes, streamed broccoli and salad.  It was ah-mazing!!  Better than any meal we could've gone out for on this love holiday.
I went to town twice today making deliveries and while there one of those times, I flew into the grocery store for bread and bananas.    The kids probably ate 2 pounds of (too-small-to-dip) strawberries today and there were a few leftover apples from my apple-dipping, but otherwise, we were once again, low on fruit and out of bread.
And that was it.
Grocery money spent today: $7.76
Total spent so far: $172.81
Ya'll – that's a fraction of what we normally spend ($1400 per month), so I'm super excited to have kept it to under 13% of our normal budget and we're halfway through the month!