Hey… so yeah.  I've been slacking again here.  I have the best of intentions but then life.  And cake.  However, one thing I've managed to do every single month this year is an income report and God help me, I will finish out the year.  So here it is : October 2016 Blog Income Report.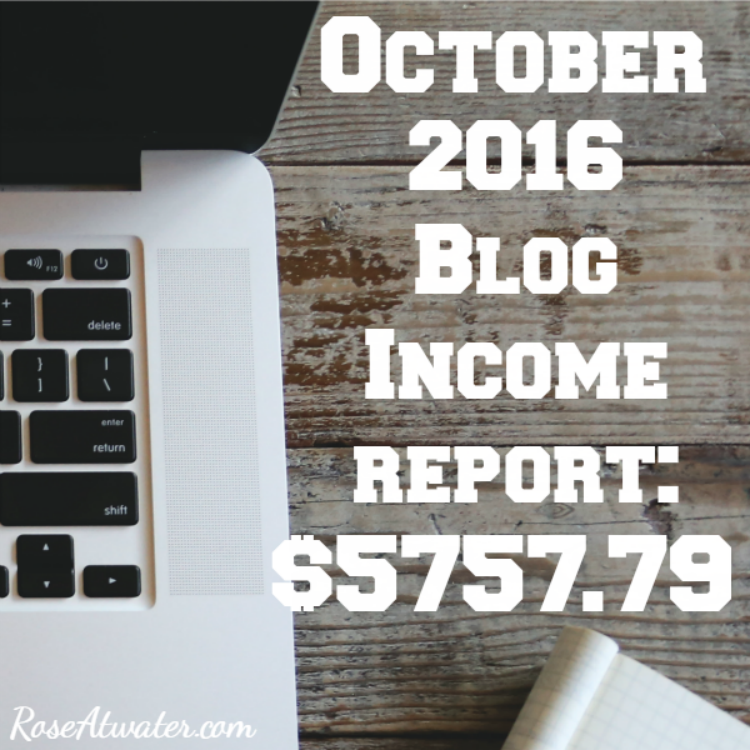 So let's talk for a minute about my traffic.  Remember back in August when I did the chart showing my increasing income, yet decreasing traffic?  I actually mentioned my declining traffic a few times and it was really, really bothering me, but not enough to make me do anything about it.
Until my friend Rebekah gave me a little shove (in the right direction) and said… "Hey – you need to wake up and figure this out!"  Okay – she didn't say that exactly, but she did express concern and encourage me to really look into what was going on.  She even offered to help me and I'm so glad she did!
Within a day or two, we (mostly she) was able to pinpoint the exact date my traffic started tanking and after investigating more, I realized it was related to some changes/updates on my site.   My traffic wasn't dropping after all – but rather my tracking codes were conflicting and/or broken and my traffic simply wasn't being counted properly.
I was able to correct the problems fairly easily (or so I thought) and almost instantly, my traffic jumped back up to a level that made sense compared with my income.
But then…
There's always a "but", right?  Just under 3 weeks after I got everything fixed, one of the companies I do sponsored work for contacted me and said their code was no longer active on my site.  I assumed it had been deleted accidentally while fixing the other errors so I added it back and BAM… my traffic tanked again and once again, my traffic tracking code was malfunctioning.
I contacted the companies/plugins involved and I could not get a definite answer about what was wrong or how to fix it.  One was saying it was working, the other was saying it wasn't and because I'm technically challenged, I had no idea who/what was right.
At this point, I wanted to throw my hands up and quit.  It's so incredibly frustrating to have something broken that you don't know how to fix and have different experts telling you opposite advice on how to fix it or if it's fixed.   I know – that's vague – but it was a mess, to say the least.
As a last ditch effort, I decided to contact my hosting company and get their input.  They didn't have anything invested in this plugin or that code, so they were sort of like an unbiased outside party that I thought might give me some good advice.
Gosh – why didn't I do that sooner?  After explaining the very long story, Justin (my contact there) was nothing short of amazing at getting it all fixed and up and running correctly within an hour. What a relief! By the way, Rose Bakes is hosted at BigScoots and I highly recommend them to anyone who'll listen!
There's no way I'll ever know what my actual traffic was for those months in between (which makes me really sad, but I took the days that I know my code was working in October (18 out of 31 days) and did a little math to figure out an average/estimate on what I think my October traffic was.
Tracked October pageviews including accurate and inaccurate days: 404,753
Estimated October pageviews based on my accurate tracking days: 508,503
Ya'll… there might have been 100,000 pageviews missing. for more than 4 months! I know that numbers and traffic aren't everything, but that's one of the major ways that I can track and know if my blog is growing and it also effects how much advertisers are willing to pay for sponsored posts and things like that.  I need those numbers to be right!
2016 Income & Traffic Chart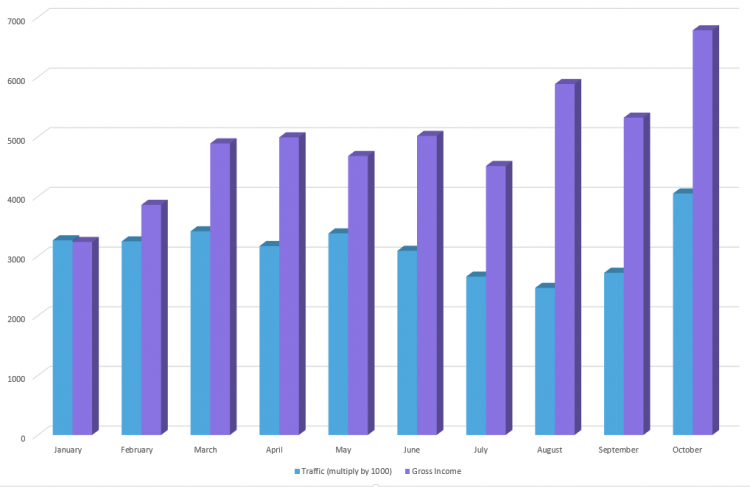 I know it's vain, but I love seeing that blue bar trending back UP for October and I can't wait to see November & December!
So, here are my traffic reports for the year and I've marked the ones that are not accurate (due to my code malfunctioning at the time):
January 2016 – $2019.68   | 326,229 pageviews
Feburary 2016 – $3223.67 | 324,460 pageviews
March 2016 – $4257.42  | 341,411 pageviews
April 2016 – $4068.26 | 316, 593 pageviews
May 2016 – $3286.01 | 337,854 pageviews
June 2016 – $4321.78 | 308,670 pageviews 

(partially incorrect)

July 2016 – $3878.32 | 265,438 pageviews 

(incorrect)

August 2016 – $5028.55 | 246,526 pageviews 

(incorrect)

September 2016 – $4088.47 |271,838 pageviews 

(incorrect)

October 2016 – $ | 404,753 pageviews 

(partially correct)
Now that all of that is out of the way (have I bored you to death yet?), let's talk about my income!
It grew… AGAIN!! In the past, October has been a really good month for me due to my candy apples post, but I really wasn't sure what to expect for my overall income.  On one hand, I did quite a bit of sponsored work that I was proud of, so I knew that income would be good this month (over $1000) and there was the Ultimate Bundles sale that did well, but I also struggled with promoting Craftsy (they have a new website and things were wonky for awhile) and that income was looking really bleak until the last week of the month.
But when I sat down and added it all up – October turned out to be my highest month of income EVER… yippee!!  Here's the breakdown:
October 2016 Blog Income Report
INCOME:
Adthrive                                $ 3553.01
Amazon                                  $ 650.46
Shareasale**                          $ 594.85
Linqia                                     $ 311.20
Bluehost                                 $ 300.00
Influence Central                 $ 275.00
Collective Bias                      $ 275.00
Ultimate Bundles:               $272.80
Adsense                                  $ 257.24
BlogHer/SheKnows            $ 150.00
Swoop                                    $ 76.48
Angel Foods                          $ 44.77
Meridian Sovrn                    $ 10.46
Centerpoint Media              $ 9.00
Rhythm One                         $ 1.65
Ebay Partner Network        $ 0
IZEA                                       $ 0
Shopher Media                     $ 0
Pinch of Yum                        $ 0
Commission Junction         $ 0
Blog Coaching                       $ 0
Elite Blogging Academy      $ 0
DOZ:                                       $ 0
Rakuten                                  $ 0
TOTAL INCOME:                     $ 6781.92
**The Shareasale income includes income from Craftsy, Flirty Aprons, Pretty Witty Cakes, Zulily, Easy Canvas Prints, Food Blogger Pro, Brown Cookie, PicMonkey and York Photo. Join Shareasale  HERE!
EXPENSES:
Virtual Assistant                    $ 261.80

Contract Work                       $ 28.26

Office Supplies                       $ 48.76

Education                                $ 0

BigScoots (Hosting)               $ 69.95

Madmimi + Google               $ 63.16

Photography Equip/Props    $ 100.82

Plugins, Apps, Software        $ 255.18*

Paypal + Bank Fees               $ 3.82

Advertising                              $ 18.36

Inventory                                 $174.02
*includes $119.88 for one year of Tailwind; will not be a monthly expense
TOTAL EXPENSES:               $ 1024.13
NET INCOME:     $ 5757.79