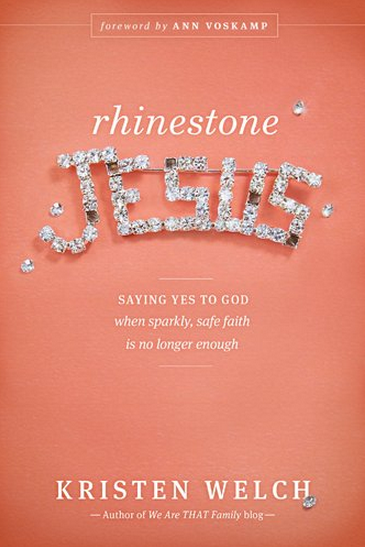 When I was asked about getting an early copy of
Rhinestone Jesus
to read and review – I immediately jumped at the opportunity. I've been reading
Kristen's blog
 for years and while I felt like I knew a lot about her and
Mercy House
, I wanted to know more!
I was excited to read the whole story – her whole story – in one place.  And after letting the book sink in for a couple of weeks (I read the whole thing in a single day!), I still can't seem to summarize what it has meant to me in the form of a blog post.
Kristen's story is raw and honest and funny.  I cried happy tears and sad tears – all within a single chapter.    Over and over again.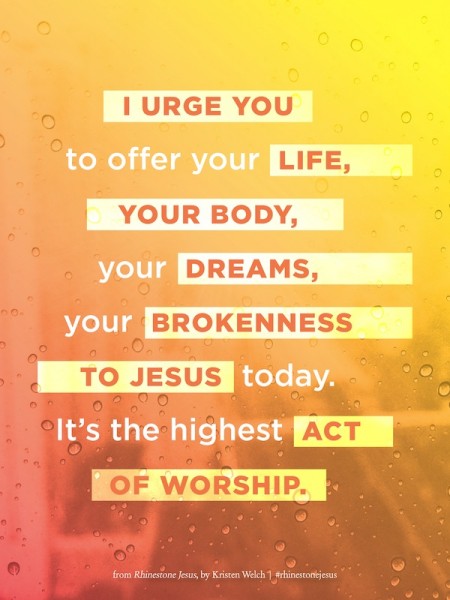 As I read through the book, I dog-eared page after page and underlined so many quotes that really struck a chord with me. The day after I read it, I had to go back through and re-read all of the things I marked just to try and absorb them again.
Since I've struggled with how to talk about this book, I thought maybe the best way would be to share a few quotes from the book and tell you how they've impacted my life.  These are pages I marked so that I'd remember them and how they impacted me:
Instead of asking myself, Is her room clean? Did he ace that test? I'm asking, Did I connect with them in a way that I will remember twenty years from now? Did I listen when she called my name four times? Did our hearts meet for a brief moment? Did he know that even when I couldn't fix the problem, I was there for him?  (p. 21)
It's so easy – too easy – to become disconnected with our kids these days.   We struggle to truly build relationships because our lives are too busy with technology and social networks and television.  Just  busy, busy, busy.
As the days have passed since reading Rhinestone Jesus, I've tried to be more conscious of my interactions with my kids – making sure that our time is meaningful and lasting.  I really want to connect with my kids in a way that they will remember 20 years from now!  Even if everything around me is a mess and I fell like I don't have time to slow down and look them in the eyes… I have to make myself do it.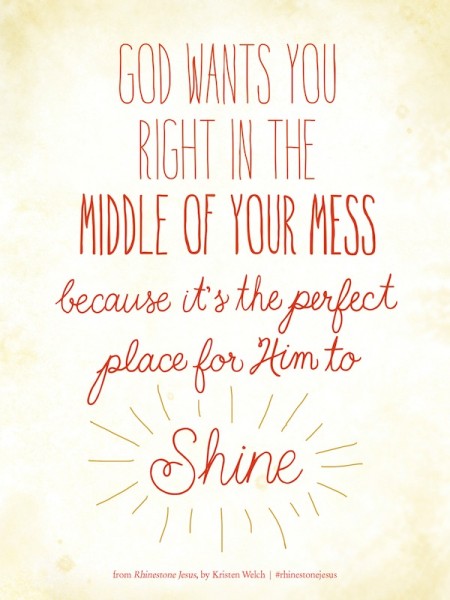 "'Lord, I ask You to take my words and use them for Your glory.  I pray that I would say what You want me to and that it will touch others.'"  (p.51)
This prayer that Kristen included in her book jolted me.   I know this won't apply to everyone in the same way, but for me, it was about  my blog.
I've prayed about my blog in the past.  I've prayed that it would be successful and that I could use the income from it to support my family and others.   I've prayed about using my time wisely and not being on the computer too much.  But I can't, until now, ever remember praying that God would take my words and use them for His glory.  Why didn't I think to give my work to Him in this way?
For the most part, I blog about cake, and I guess I just didn't see how God could use that.  But now – I'm earnestly seeking Him using anything I do to touch others.  In small ways or big ways… I want to point others to Christ.
God wanted me desperate.  He wanted me depending on Him, not only for direction, wisdom, and protection, but for every breath I took.  Because really I am. (p. 149)
Over the past few years, we have gone through some rough times.  And so often it's easy to try and depend on ourselves instead of depend on Him.  Reading Kristen's story reminded me again and again that we must depend on Him.  For every single breath we take.  Even when things are a big mess or they're hard or even when they seem impossible.
Whenever I'm down in the dumps and whining about the obstacles, I'm almost always reminded that if it were easy, I wouldn't need God.  (p. 149)
Every single time, we must turn to Him.   And that doesn't mean it's always going to work out perfectly or be tied up neatly in a bow.  But that doesn't matter.  If we're relying totally on Jesus Christ, ,we can get through the ugly times just as we get through the wonderful times and we can give  Him glory in the process.
These are just a few of the things I marked… I had moments over and over again through the book where I just had to pause and think about what she was saying and how it applied to me.
One of the taglines of the book was to "Say Yes in my Mess".   I pray that over the next weeks, months and years, I will learn to say "yes" every time God calls me.  No matter how inadequate I feel or how I think my life (or blog) can't be used.  No matter how messy things are (and they are messy!!), I will give it to Him anyway and trust Him to show me the way.   I want to be more and more desperate for His guidance and less dependent on my own way of doing things.
I'm so thankful to Kristen for sharing her story and if you're in a place where your life is a mess and you don't feel like you can be used by God, please read this book.  I pray that you will be encouraged and inspired to say YES in your mess too!
Would you like to win a copy of this book?  Leave me a comment below and you'll be entered to win!
Giveaway will close Friday, May 30 at 11:59pm CST. Open for US residents only!  I will email the winner as soon as they are chosen with Random.org and they will have 48 hours to reply before new winners are chosen.    I was provided a copy of this book for review – all opinions are mine.