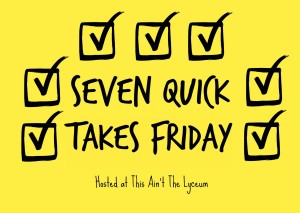 Can I still call it "Seven Quick Takes Friday" if I start it on Friday and finish it on Monday?
I totally and completely flaked out the week before and didn't do 7 Quick Takes… after stating just 7 days before that I would be doing it every Friday.  So goes the life of a blogger.
Then the weekend before last was my biggest weekend of cake orders so far in 2015 and I just got bogged down in baking & decorating and let it slip my mind!
And this weekend?   I wrote most of this post on Friday, then I'm not sure what really happened but I never got around to finishing it.
But I'm back now, so that's what counts, right?   Or maybe not.  As I sit here preparing to write, I'm wondering if I have anything noteworthy to mention this week… it's been mostly quiet around here, which is a very good thing!
I say mostly… but let's see what I can come up with.
1.  The thing that stands out most in my mind this week is that my son was denied the opportunity to try out for the local high school archery team because he's homeschooled.   For some reason I assumed that it wouldn't be a problem; one of my kids is allowed to go to the school for speech therapy and we live and pay taxes in the county and well… I just thought that they would also be permitted to participate in sports and extracurricular activities.
I was wrong… and I was mad.  I blew up and I then apologized and while I'm still not over it, I've accepted the fact that it's not something I can change right now.  In fact, after doing a little reading, maybe it's not something I want changed afterall.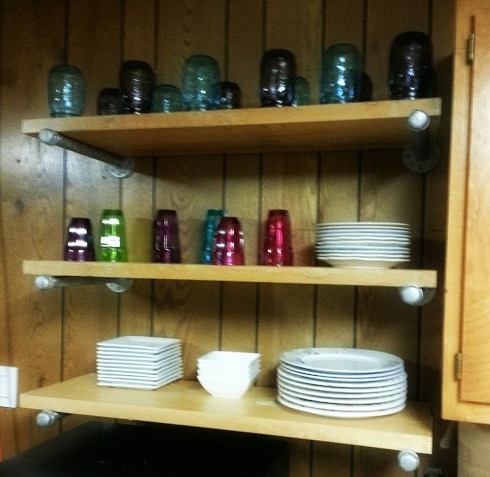 2.  My husband built me an awesome shelf this week in the kitchen where we tore down some cabinets.   We recycled a butcher block and bought some galvanized pipe for the braces/brackets.  This picture is terrible, but it's really cool looking!  The remodeling is going oh-so-slow, but that's to be expected since he works full-time and I don't really do manual labor (other than cake 😉 )
PS.  We will take it back down when we're ready to paint everything, so just ignore the ugly paneling for now!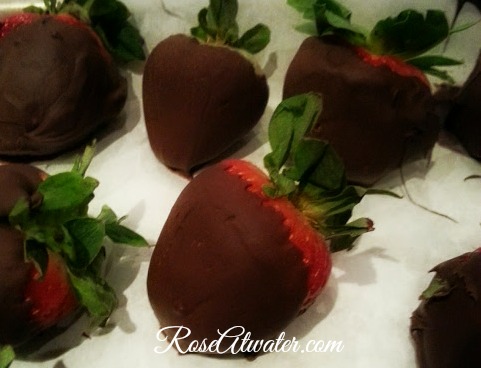 3.  My daughter made me chocolate-covered strawberries the same day the homeschool/sports thing happened.  She wanted to help me feel better.  It worked!!
4.  I only had 2 cake orders this week and I was finished with both by last night (Thursday).   As much as I love what I do, I've also learned that if I don't pace myself and slow down, I easily get overwhelmed and my priorities get out of whack, so it was a nice change from the weekend before.
Besides, having so few orders meant we got lots of schoolwork done, I got caught up on laundry, I finally started a cake contest on Rose Bakes that I've had planned for months, and I (sort of) got my bedroom cleaned up.
5.  We lost another dog last Sunday.  Patch was the 3rd one we've lost in about a year.  We also lost all of our chickens last year  (thanks to raccoons & opossums) and two bunnies last month (cause unknown) and our fish (3 year old over-fed them).   I think we're done with pets for a while.   I'm not much of an animal person, but it's killing my kids and husband, so we're taking a "pet" break!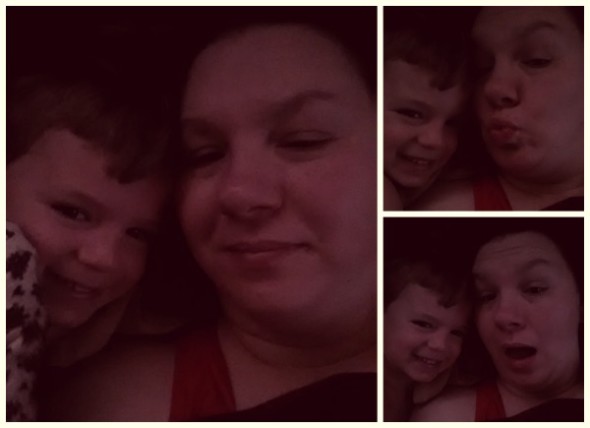 6.  As I was scrolling through pics on my computer and phone trying to remember little things that we did this past week, I found these.  Not every morning, but many mornings I wake up to snuggles from Asher.   One morning last week I grabbed my phone and was checking email or Facebook or something and Asher says, "take pictures with me Mommy"…. so I did!  I told him to make faces with me but apparently all he did was grin the whole time!  I love this cutie-pie more than I can say.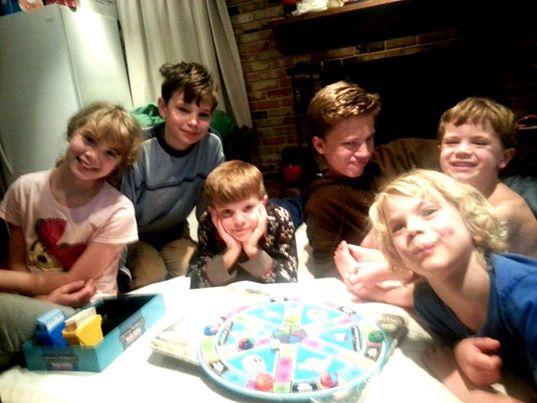 7.  And last… I didn't have a number 7 written on Friday, but I'll add it now!   Since my cakes were all finished (yay!), Friday night we had a game night with the kids.  I heard that the new Trivial Pursuit game was a fun one so I ordered it for us.  Richy and I used to play Trivial Pursuit with each other all the time but since we've had kids and they've gotten old enough to want to play games with us, it sort of disappeared from our life (we have several versions but they were all way too hard for kids).  SO – this Trivial Pursuit Family Edition was perfect!  It's a "Quick Play" version and there's a box of cards for adults and a box for kids… awesome!  They loved it and we loved it!
Until next week…  linked up over at this ain't the lyceum.