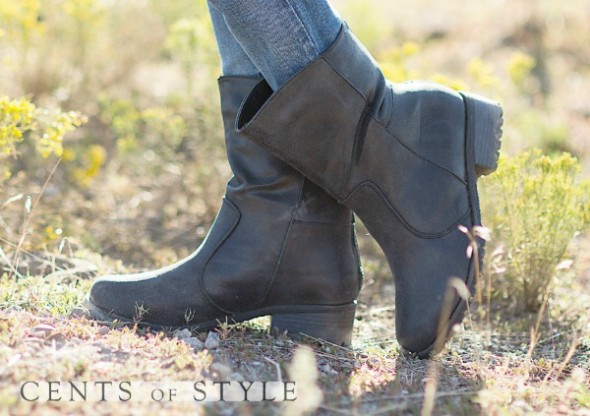 If you know me at all, you know that "style" or "fashion" is not my forte.   Not.at.all.   I'm mostly a yoga pants, jeans & t-shirts, flip-flops and tennis shoes kind of gal.  I own one pair of heels that I never wear and a handful of dresses that I break out on very, very special occasions only.
But once in a while I make a good decision regarding a clothes/shoes purchase and these boots were on of those good decisions.  A few months ago Cents of Style had a really good sale on them and I decided to take a risk and order me a pair.   WOW – I'm so happy I did!
They're comfortable, cute, and they go with so many things!   I just love them!  Soo…. when I saw that they're on sale again today, I had to share.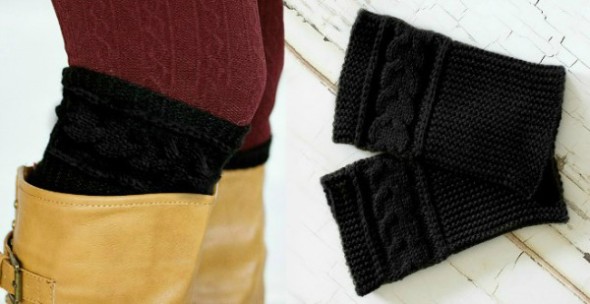 Today's #StyleSteals over at Cents of Style is the same Short Distressed Boots that I got back in November! This short black distressed leather-like boot comes a little higher in front than the back and full decorative and functional zipper up the back.  For this deal, they're including 1 FREE pair of Black Knit Boot Cuffs with your order (you must add them at checkout)!!
Please note that for these boots, they run about a half size big.  So if you normally wear a 7 they suggest going with a size 6.5.  I found this to be true.  I wear a 9.5 or 10 in almost all shoes.  I was actually pretty scared to order a size 9 but it turns out – they fit perfectly!!
Remember #StyleSteals will be first come, first serve and they're already selling out of popular sizes.  This deal is good today only – 2/16/15!    Use code BOOTSTEALS at checkout to get a pair of boots and the free boot cuffs for only $22.50 & FREE SHIPPING!
Go shop now: Short Distressed Boot & FREE Black Knit Boot Cuff – $22.50 & FREE SHIPPING ** w/ code BOOTSTEALS**
**Please note: Only 1 pair of free boot cuffs per pair of boots ordered will be added to your package**