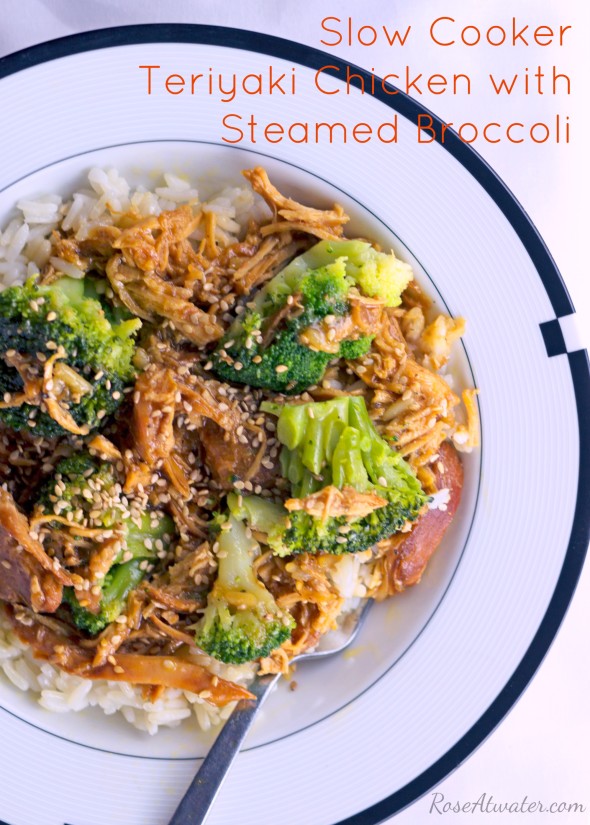 Ya'll… do you ever get a craving that you just can not satisfy?  I hate that feeling.
A few days ago I got this Chicken Teriyaki Skewers recipe in my inbox and I just could not quit thinking about it.
I absolutely love Chinese food but since I live in the sticks and it's forty miles (or more) to a Chinese restaurant, I don't get to eat it often.
So seeing that recipe?  It was torture.  I wanted Chinese so bad.  
But I'm lazy and if I was going to cook something like that – I needed to stretch it into an entire meal.   My usual go-to recipe when I'm craving Chinese at home is Crock Pot Beef & Veggies over Rice but I really wanted the Teriyaki Chicken flavor so I decided to go for it!
I figured if I could do that recipe in the crock pot, I could also do a version Teriyaki Chicken, add in a veggie and serve over rice and voila – a full meal!!
And guess what?  It was so easy and delicious and my family loved it!   I read through a handful of recipes online – including this one and this one and this one and this one and based my recipe on those (adapting based on ingredients I had on hand and our preferences)!
So here you go… I'd love to hear what "eat out" recipes you make at home!

Slow Cooker Teriyaki Chicken with Steamed Broccoli
Prep time:
Cook time:
Total time:
Homemade Chinese food at it's best - easy and delicious and a hit for the whole family
Ingredients
2 - 2.5 lbs boneless skinless chicken breasts
¾ cup honey
¾ cup soy sauce
¼ cup rice wine vinegar vinegar
½ teaspoon ground ginger
3 teaspoons minced garlic (appx 2 cloves?)
⅛ teaspoon pepper
3 tablespoons cornstarch
1 cup cold water
Hot cooked white rice (I made 8 cups for my family)
Fresh Steamed Broccoli
Sesame Seeds for garnish (optional)
Instructions
Place the chicken breasts in the bottom of your slow cooker in a single layer.
In a separate bowl, whisk together the honey, soy sauce, vinegar, ginger, garlic and pepper.
Pour the liquid over the chicken, cover and cook on high for 4-5 hours (until chicken is cooked through and tender).
Remove the chicken from the crock pot and dice it, then pour the liquid/sauce into a boiler. Bring to a boil. While it's heating, in a small bowl, whisk together the corn starch and cold water.
Slowly add the cornstarch mixture to the boiling sauce and reduce to a simmer. Let it cook and thicken for 2-3 minutes, then add the chicken in and stir to coat it (I actually pour it all back into the crock pot!).
Serve over hot rice with steamed broccoli and sprinkle with sesame seeds if you like!