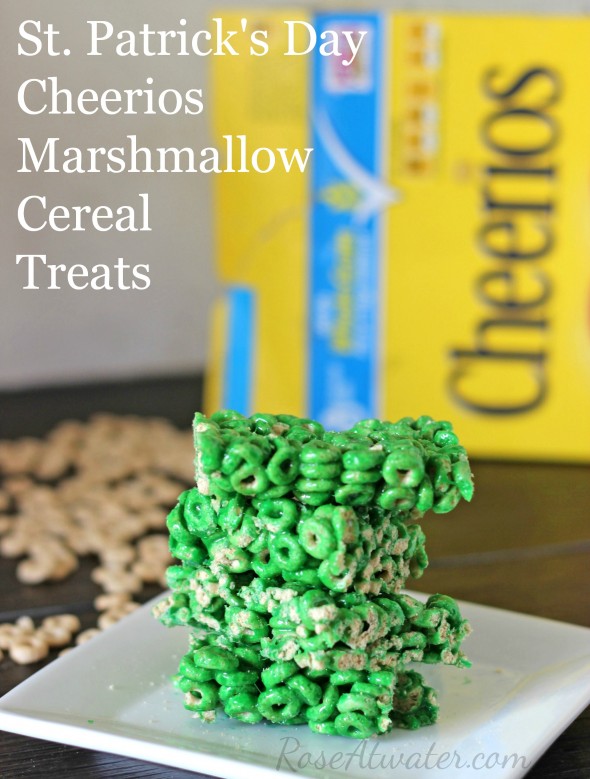 Disclosure: The information and prize pack have been provided by General Mills through Platefull Co-Op.  I was compensated with free cereal and a gift card, but all opinions are mine!
We are a cereal eating family so I was pretty excited when General Mills asked me to share the health benefit of Cheerios with my readers!  While we don't always choose healthy cereal, I usually try to buy cereals that taste great and have some healthy qualities… and Cheerios fit the bill!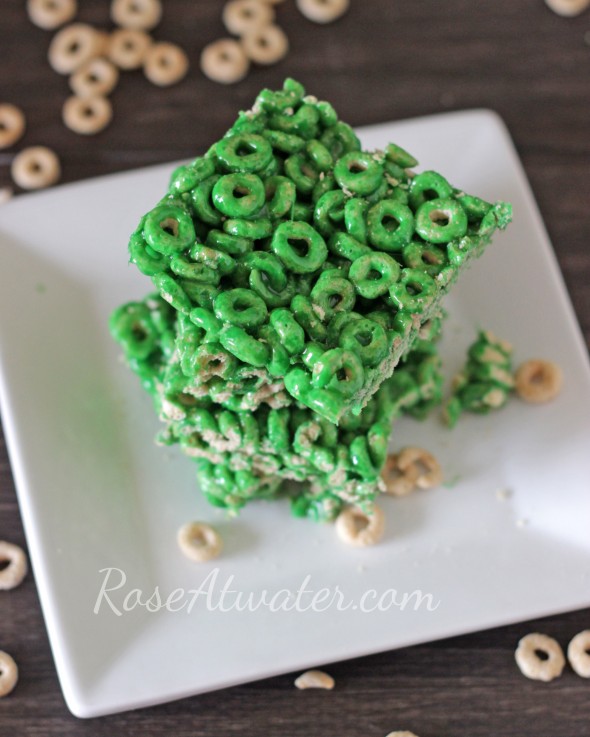 Did you know?
Contains beta-glucan, which can help to lower cholesterol*
Is a 1 Carb Choice product
Has just 1 Gram of Sugar
Has 100% Whole Grain Oats as the first ingredient
I didn't just decide to write about Cheerios – I also wanted to share this fun and easy healthy snack with you.  I've wanted to make these for ages and with St. Patrick's Day just around the corner, I thought it would be fun to make Cheerios Marshmallow Cereal Bars and make them green! 🙂
And here's my confession… I didn't actually make them.   I was super busy working on some other projects, so I had my 16 year old son whip them up.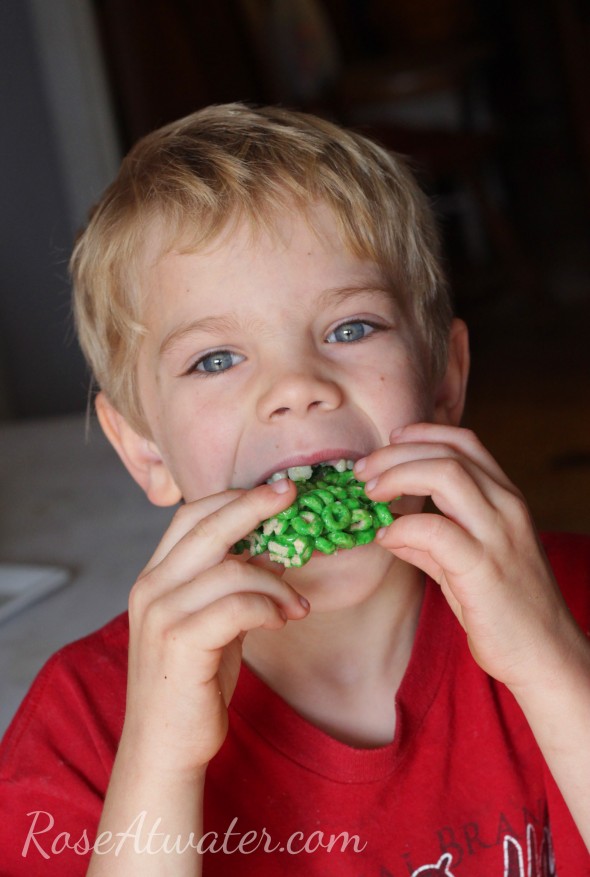 He made them last night and it only took him a few minutes… and this morning – they're all gone!  The last one was eaten up this morning when my 7 year old when he asked if he could eat one for breakfast because "Mommy, it's cereal, right?"  So I let him!  (Because he's super cute and snaggle-toothed!)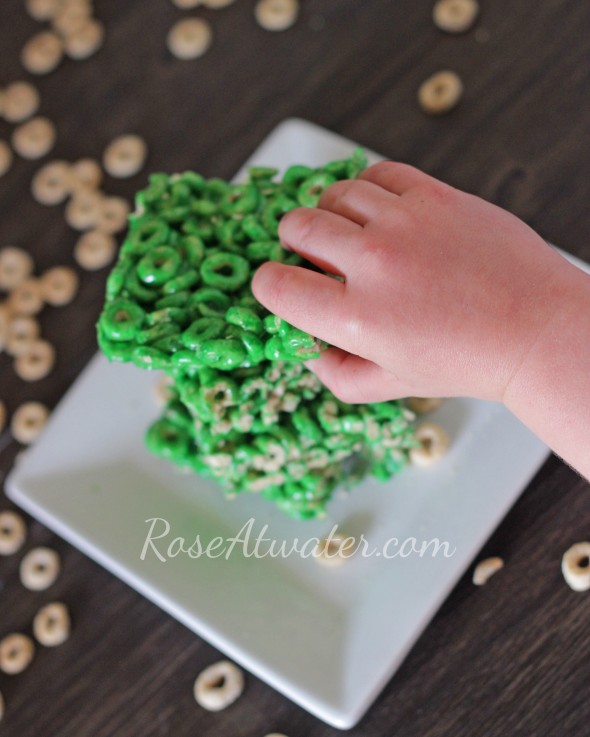 I got Joshua to make another pan this morning to take some pictures and when we were taking pics… my 3 year old also snatched one too – ha!   They really like them a lot!
Here's how to make these easy St. Patrick's Day Cheerios Marshmallow Cereal Bars…

St. Patrick
Ingredients
3 tablespoons of butter
1 10 oz. bag of miniature marshmallows (or 6 cups)
5 cups Cheerios® cereal
Green food coloring
Instructions
Start by buttering a 9x13 inch dish. I like to just spray my dish with butter-flavored non-stick cooking spray!
In large microwavable bowl, melt the butter and marshmallows and stir until smooth. I like to microwave for a minute, stir and microwave for another minute. Stir in a few drops of green food coloring.
Immediately stir in the Cheerios® until evenly coated. Pour the mixture into the 9x13 inch dish, then use the back of a buttered spoon or spatula to press them flat. Let them cool then cut into bars to serve! Store loosely covered.
Smart About Diabetes website: smartaboutdiabetes.com.
*Three grams of soluble fiber daily from whole grain oat foods, like Cheerios cereal, in a diet low in saturated fat and cholesterol, may reduce the risk of heart disease. Cheerios cereal provides 1 gram per serving.