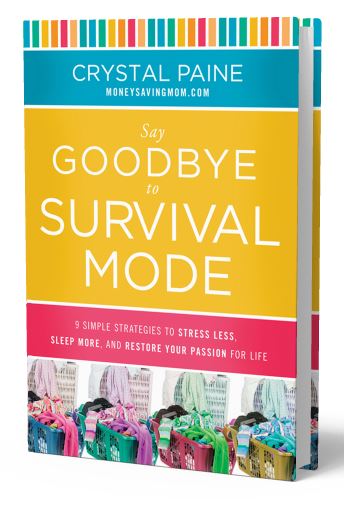 Over the past couple of weeks, I've been reading Say Goodbye to Survival Mode and in working through the chapters and exercises, I was shocked to discover that my cake dreams might not be what I thought they were.  Talk about a wake-up call.
What do I mean you ask?  Well let me explain.   From the time I was 13 years old, I've wanted to decorate cakes.  I don't know where that desire came from, but it was a big dream.  I asked my Mama for a cake decorating set (similar to this Wilton one) for Christmas that year and she got it for me… and I never quit dreaming.
Fast forward to adulthood and when asked what my dream job would be a few years ago, I told someone that I wanted to own a bakery.  Pretty much the same dream… 20+ years later.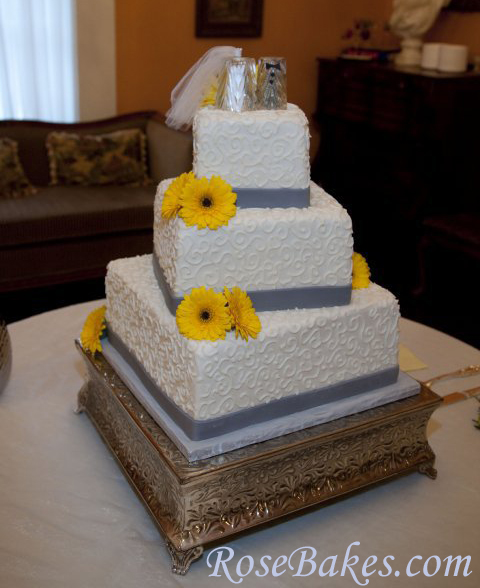 Well… that was true at the time.  But then my dream started happening.  My brother asked me to do his wedding cake (above) and after refusing quite emphatically, he finally talked me into it.  I had never done a tiered cake, or really any cake beyond the occasional birthday cake for one of my kids and even those weren't all that great.
But after finally caving in to his request, I practiced over the next few months, volunteered even, to do cakes for people.  Any cake – for anybody – just to practice.   And then I shared pictures on Facebook.
And then… out of the blue… lots of people started ordering cakes and I had a cake business without even realizing it had happened.  I was thrilled!
It grew rapidly and beyond my wildest dreams.   I started blogging about cakes over at my original frugal website and when I noticed that it wasn't growing very much, but my cake posts were popular, I decided to start RoseBakes.com and again… it grew very fast and it just blew me away.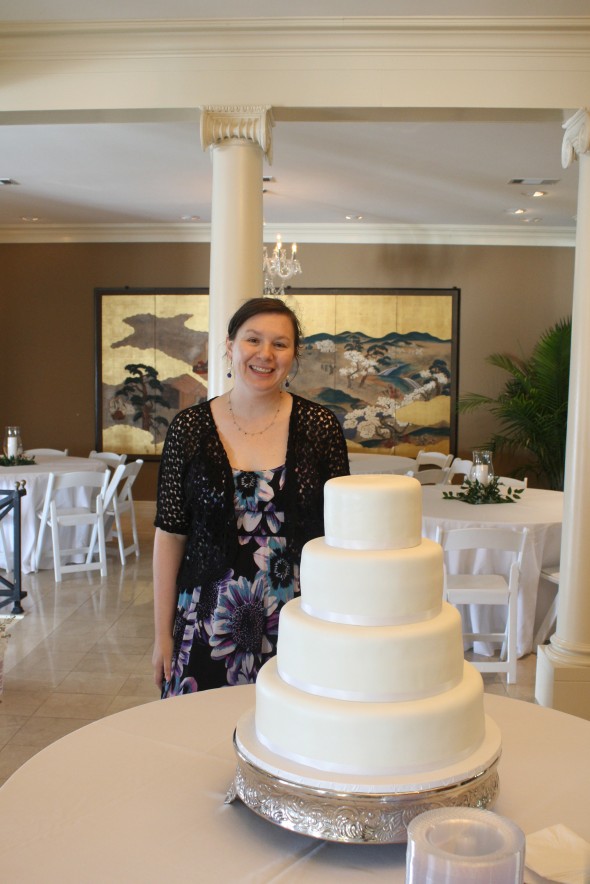 Eventually my real-life cake business (as opposed to my online blog) got so busy that I had to take a big break because it was so overwhelming and my health was suffering and I was just plain tired – all.the.time (see the above pic – that's one exhausted me).   It grew to a place where I turn down more orders than I accepted and had to schedule weekends "off" months in advance just to have a free weekend to breath.
But my dream had (sort of) come true.  Right?
Well maybe not.
In reading Say Goodbye to Survival Mode, one of the exercises was to take 30 minutes in a quiet place and really think about my life and write down 4-6 personal priorities.  Things that I want to look back on at the end of my life and have accomplished.
Well… after pondering and thinking and writing them down, I was shocked when it hit me a couple of hours later that owning a bakery was not on the list.   Nor was having a full-time (from home) cake business.  It actually never crossed my mind as I brainstormed what was most important to me – what I wanted to accomplish.  A booming cake business was not on the list.  At all.
WHAT!?
It actually took me a couple of days of thinking about this to process what it meant.  One of the things that is encouraged early on in the book is to say yes to the "best" things in life – even if that means saying no to "good" things.    Doing cakes is a good thing.  I'm really good at it (or so they tell me) and I actually love it.  A lot.
But the fact is, it takes up a huge portion of my life and the sheer quantity of cakes I'm doing each weekend is not putting me any closer to any of the goals on my list.  If anything, it's making those goals harder to achieve because I'm so busy and/or tired all the time.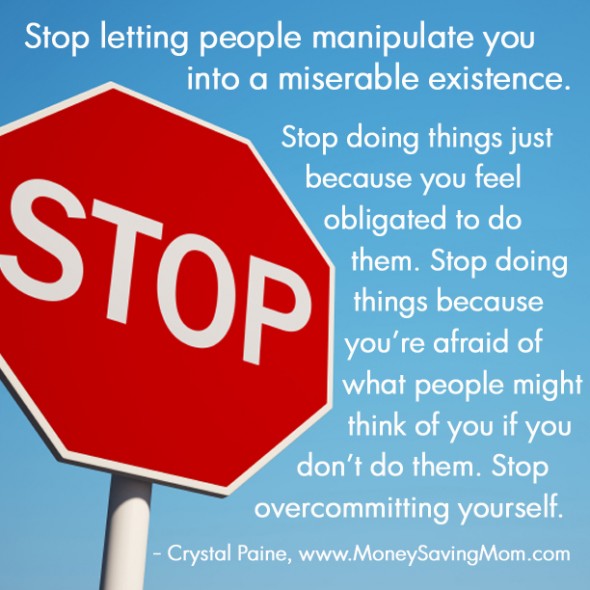 So I have to stop doing so much.  Period.   That makes me sad in a way.  Saying "no" will be hard.  I have faithful, wonderful, loyal customers who rely on me.   I don't want to disappoint them or let them down.   I don't want them (or anyone) to think I'm a failure because I can't do it all anymore.
Does that mean I want to quit decorating cakes?  No.   Not at all.  But I need to re-think my business so that I can pursue the things I'm really passionate about.  My life is far from perfect (click here for proof!), but I can certainly make it better by making better choices.
And while owning a booming bakery is not on my list, one of the goals that did make the cut was to have a successful (income-earning) blog where I can share tutorials and recipes and help other cakers/bakers learn to do cakes.  I am extremely passionate about that and have perfect peace about it – knowing God opened the door for me to do this (to blog) – to have this platform.  So there's that.
Looking back, hand-in-hand with my dream to own a bakery, was also a dream (that I share with my husband) to be self-employed… to be able to work for ourselves and earn enough income to support our family.  That was also on my list.   Initially I thought the cake business might be that thing … but now I'm not so sure.
You see, I've learned in just over 2 years of blogging at RoseBakes.com, that I really only need to write 3 or 4 times a week to have a successful blog. I'm already earning income over there (although it would need to multiply quite a bit to be close to enough to support our family), so I just need to work to keep growing it and posting the things my readers really want (need) to read.
And what do my readers love most?  Tutorials and recipes.  Sure I get a few comments on my straight-up cake posts, but the real traffic comes when I show them how to do what I do.  And truly, I can do that by only actually doing one or two cakes a week… or less.    But doing 3-5 cakes per weekend makes me so busy that I rarely have time to do step-by-step photos and write the really good posts.
That was my light-bulb moment.   Realizing I could still do cake decorating … but instead of doing 3-5 orders per weekend and always being stressed and overwhelmed at making my deadlines, I could do only one or two cakes a weekend (or even only 3-4 a month), take my time and photograph as I go for tutorials… then share those and grow my blog while also still doing what I love (without the stress).   Win-Win!
The added benefit (or truly the more important benefit) would be more time to focus on my husband, my kids, my home… three other things on my list of priorities.  Things that are suffering because of my very busy cake business.
My whole reason for sharing this is to encourage you that you don't have to keep living in "survival mode" (if you happen to be doing that, like I am).  If you really take the time to evaluate your time, your priorities and goals, and your life, you can make changes that will make your life so much better.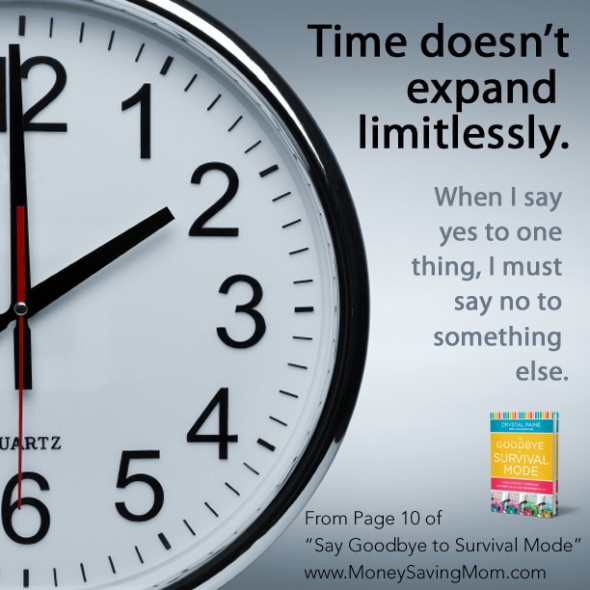 Just think about what's important to you and ask yourself… am I doing things that are taking me closer to my goals?  If not, how can I change that?   Two of my favorite questions/quotes from Say Goodbye to Survival Mode were these:
When I say yes to one thing, I must say no to something else.    and 

What are the consequences if I say yes to this?
For me, saying "yes" to just one cake means 2-4 hours I'm not enjoying a Friday night movie with my husband or to homeschooling my kids on Thursday or Friday afternoon.  Saying "yes" means possibly saying no to cooking supper or folding laundry or reading my kids a story because "Mommy has to do cake".
And when I say "yes" to two cakes or three cakes or sometimes four or five cakes per weekend…  those are big consequences.  Especially when I get myself into that situation week after week, month after month.
So, here's my action plan.  While I had already seriously cut my orders in half after my first big break, I'm planning to drastically reduce the number of cakes I say "yes" to again and spend more time focusing on what matters most to me – my family, my friends, my home, my blog.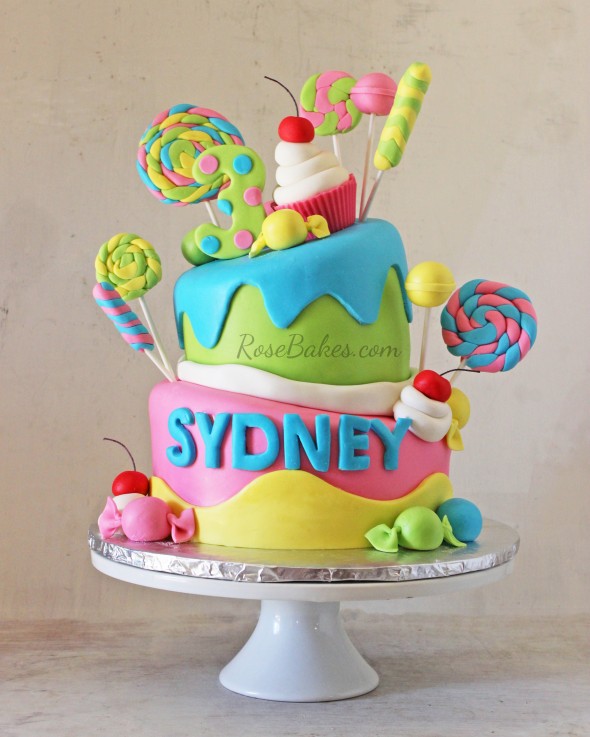 To do that, I need to change my cake business.  I've decided to be more purposeful in what I say yes to – making every cake and every post count.   I'm going to really evaluate every opportunity… am I in love with the cake design (like this one above!)?  Can I blog about it or glean a tutorial from it? How many hours do I need to block out of my day/week/weekend to accomplish this?   Is it worth the time or what I'm saying "no" to?
I know that it's going to be hard and I probably won't get it right every time.  But I also know that by the time I answer all of that, I won't be doing nearly as many cakes, and I'm okay with that.   I truly believe I'll be much happier and healthier and I'll still be chasing my dreams!
Do you feel like I do?  Are you often or always living in survival mode?  If so, maybe reading this book will help you too!
Now… it's your turn to maybe have a light-bulb moment.   Would you like to feel healthier and more energetic, eliminate stress, get more done, and rediscover what is most important to you and  how to accomplish it?  If so, I am confident in recommending Say Goodbye to Survival Mode.

In the book you'll find 9 simple strategies to help you stress less, sleep more, and be inspired to live life on purpose and to pursue the things that mean the most to you!  Order your copy today!

To celebrate the launch week of  Say Goodbye to Survival Mode, starting today and running through Sunday, every person who buys a copy of Say Goodbye to Survival Mode will get a free Daybrightener Flip Calendar from DaySpring — with free shipping, too! That's a $10.99 value.

To get your FREE DaySpring Flip Calendar, just purchase a copy of the book from any retailer, and then fill out the form here —> http://bit.ly/KE2Qa4.