Well, I had really good intentions of continuing to blog straight through the weekend, but it didn't happen.  Susan and I were too busy working on cakes and having fun!   And I'm making up for no pictures on the Friday post, by having lots of pictures today 🙂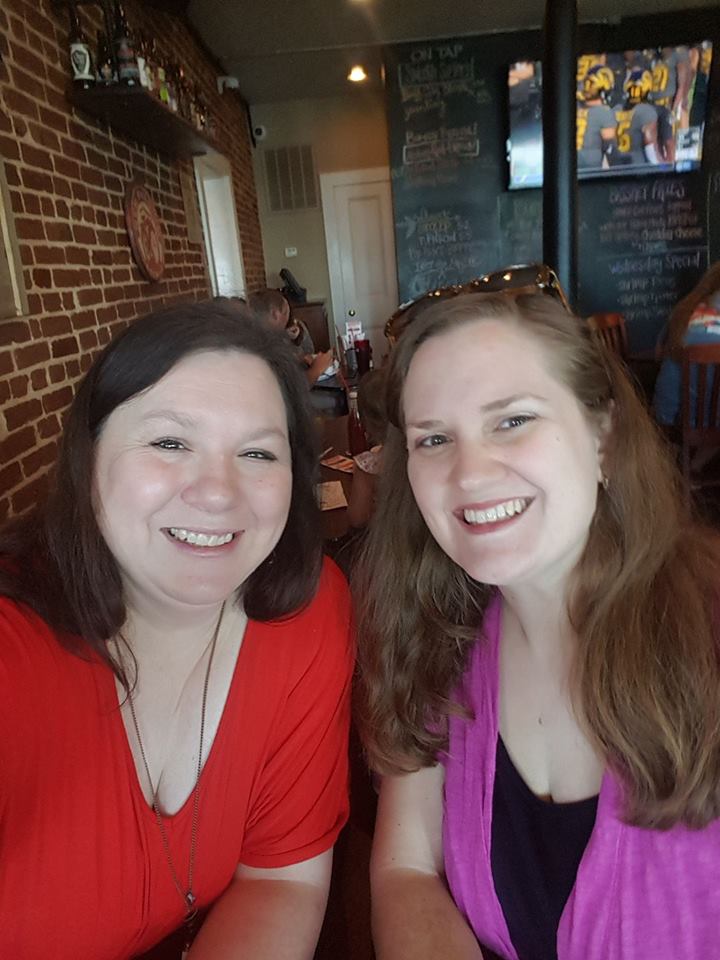 So, let's play catchup!
Saturday
Saturday morning we got up, had some eggs & sausage for breakfast, then got back to work on cakes!   I should mention that 3 of my kids were gone out of town for the day (they left around 4:30am), so we were short  on kids 😉
Susan finished piping the words on the biggest wedding cake (the main reason she came – because I cannot pipe like that with my hand pain).  Then she also worked on white chocolate golf balls while I worked on the last groom's cake.
Here are pics of the 4 cakes we did for Saturday:
Susan was such a huge help to me this weekend!  She did 100% of the piping on the Words Wedding Cake, made the Wood Duck Topper for the Duck Hunting Cake and helped with dozens of other tiny details on the other cakes!
If I had an assistant like her here all the time, I could double my cake business!  She was ah-mazing!!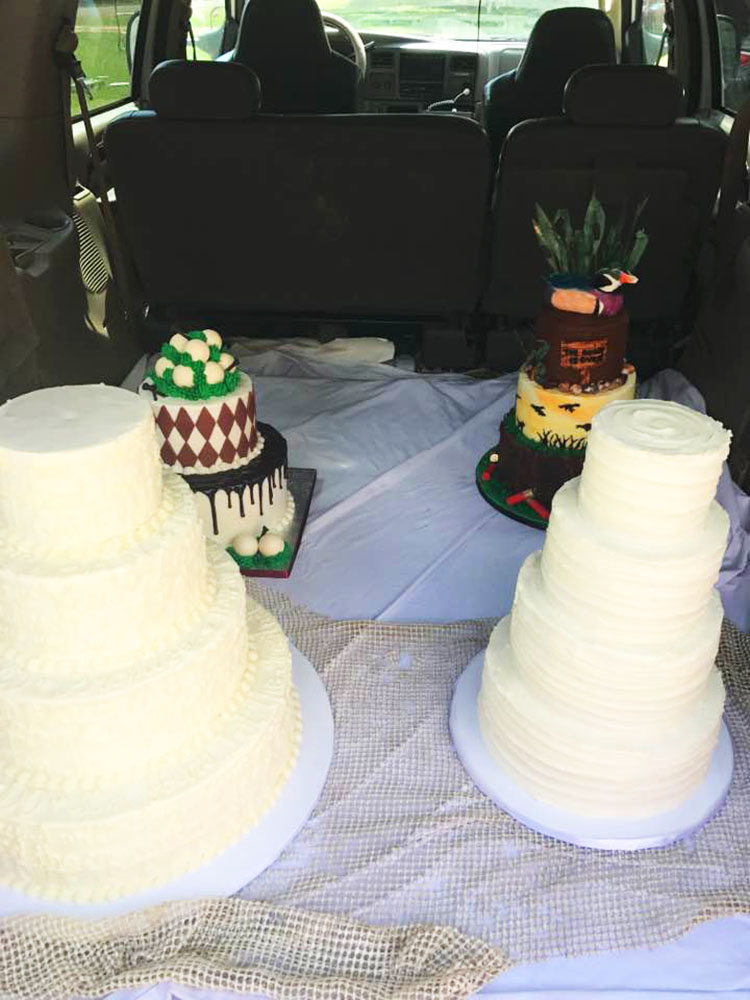 Once we had the cakes all finished, we got ready and loaded up to make the long drive to delivery!  The hubby had to take the back seat out of the Excursion so we could spread out and transport all the cakes.
First, we dropped off the Rustic Wedding Cake and the Golf Balls Groom's Cake – then drove another 20 minutes to drop off the other two cakes over in Louisiana!  The whole trip was pretty uneventful (which is exactly how I like my wedding cake deliveries!!).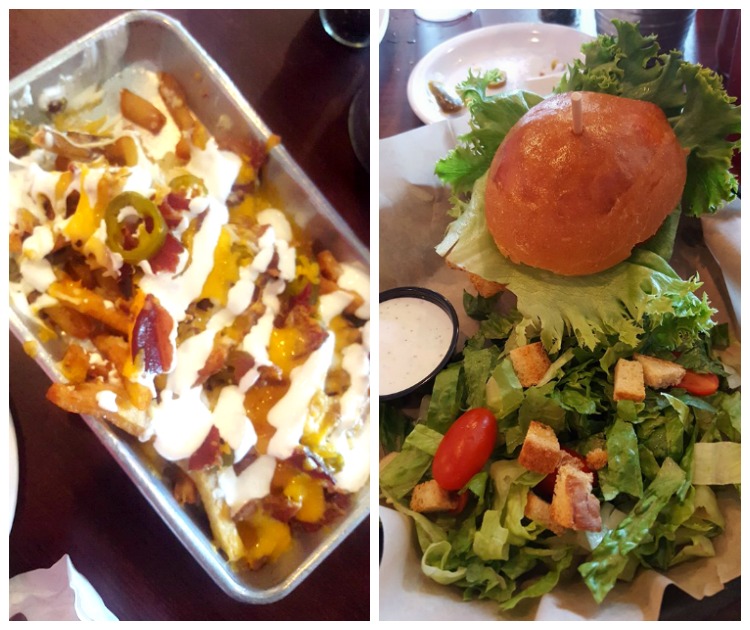 After dropping off the cakes, we went out to eat 🙂   See, the thing is – we were starving!!  By then it was almost 5pm and we hadn't eaten since breakfast.
I'm always entirely too nervous on wedding cake delivery days to eat before they're dropped off.  I actually have to make myself eat breakfast, but then all bets are off until I'm done!
We stopped at a local eatery on the river (The Camp) and enjoyed a fantastic meal!  Then we headed home…
When we got here, I still had one more smaller order to roll out for the weekend!   We worked together to bake cupcakes, color frosting and put this Cupcake Tractor together: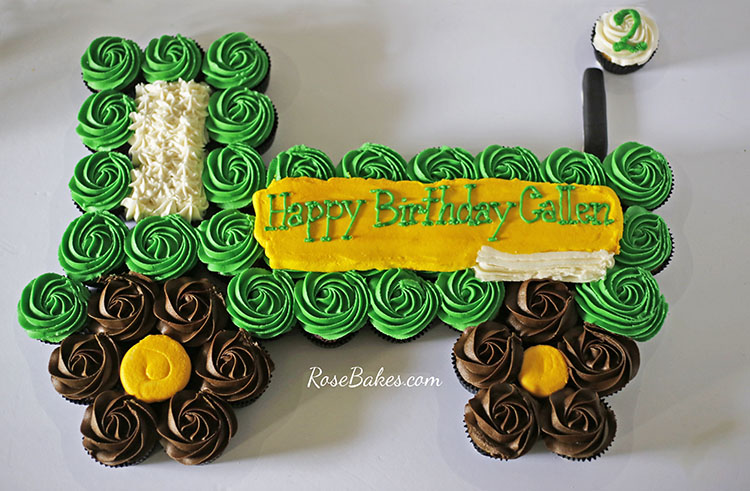 And after that… we did a little behind-the-scenes blog work (or a lot – it took forever with my slow computer), then she got on the road home!  It was really late when she left and we were both so tired!!
Sunday
Sunday morning I got up and delivered the Tractor Cupcake Cake, then went to church.  The rest of the day was pretty uneventful.  We had church, then we came home and had lunch, then rested and before we knew it, back to church!
After church last night, my brother and his wife stopped by to order something for an upcoming event, then we invited them to stay for supper.  They stayed and visited for awhile, then when they left, we went straight to bed.  It was a long, exhausting weekend, but also a really great weekend!
Very quickly – let's talk about our no-spend challenge and what we ate: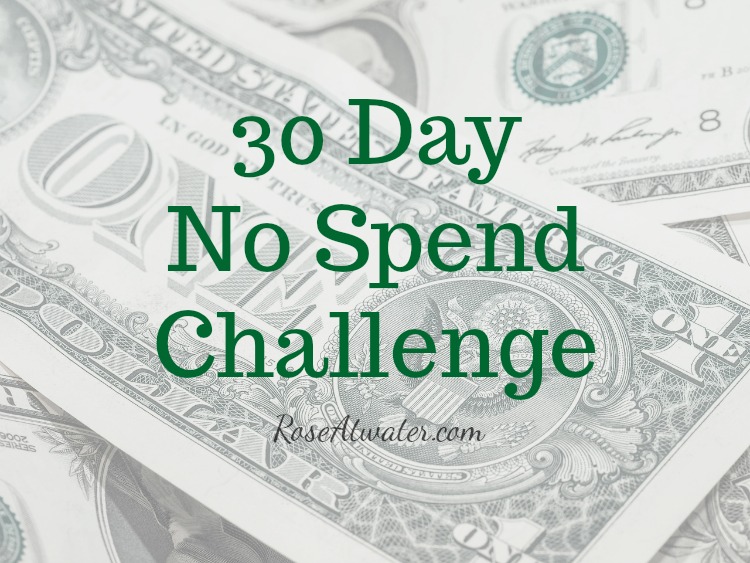 For spending over the weekend, we had a couple of quick stops, but nothing major.   Friday I bought a couple of gallons of milk while Susan and I were in town.   On Saturday, I bought a loaf of bread at the dollar store.  Then yesterday (Sunday), I stopped and bought more milk, Dr. Peppers and Diet Dr. Pepper (for me and Richy).   Total spent : $26.43
To-date grocery money spent : $65.52
Since we average about $300-350 per week usually, that's a fantastic number for the first week of our no-spend challenge!!
What did we eat?
Saturday:
Breakfast : Eggs & Sausage
Lunch :  I skipped lunch but the kids had sandwiches (I think)
Supper : We ate out after cake delivery and the kids ate hot dogs (from the freezer) and sides (again, I think)
That day was such a blur – I may not be remembering that right.
Sunday:
Breakfast : Pop Tarts & Cereal (before church)
Lunch: We had a leftovers buffet… chili, tacos, chili dogs, ham, cheese & crackers, etc.  Anything left in the frig from earlier in the week was available to eat!
Supper :  Fried Chopped Steak, Sweet Potato Casserole (pre-made – I doubled a recipe a few weeks back and had it already made up), and Black Eyed Peas…. ALL from our freezer!!  Yay!!
I'm so excited to see that we're starting to make a dent in our freezer food.  It's really fun to challenge ourselves to keep using stuff up!
Now I'm off to run errands and go to a doctor appointment, but I'll be back tonight with an update for today!  I'm also hoping to have a menu plan for this week!