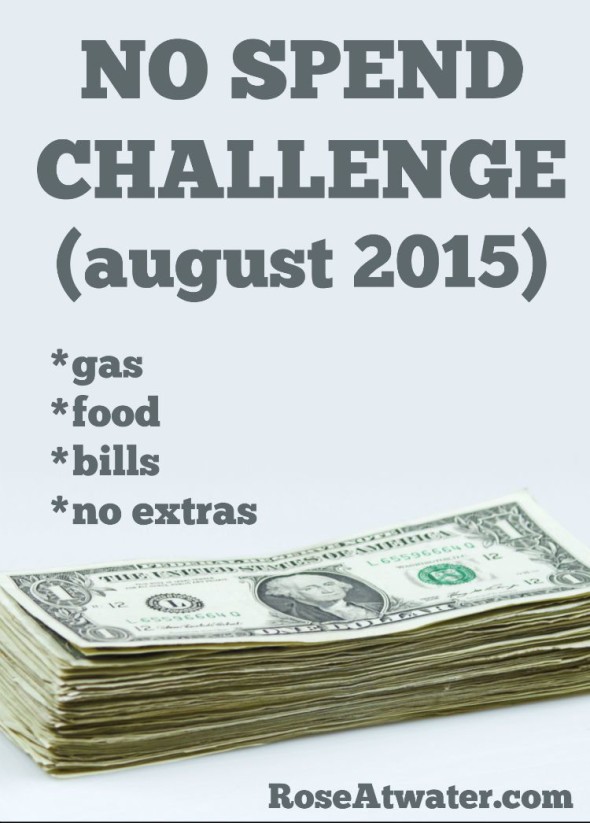 We're not spending any money in August, or I should say, at least on anything *not* necessary.   We're calling it a "No Spend Month" or a "No Spend Challenge"… for ourselves.  Let me give you a little background and tell you what's going on with us!
You may or may not know, but we live a mostly debt-free life.  We have mortgages on our homes and that's it.  We paid cash for and own our vehicles, we carry no credit card debt or student loan debt or any other kind of debt.
Yes, I said homes – plural.  That was not our ideal situation and we tried our best to sell one of them.  But my husband got a job offer that we couldn't pass up so at first we moved, put that house on the market and rented in our new location.
Nearly two years later when it seemed hopeless that we'd ever sell our first home, we opted to buy the house we were renting … it was/is too small, but it the payments fit into our budget and at least that way we were putting our time and money into something we'd have equity in vs. just renting.
We now rent out our other home, so the mortgage and expenses associated with it are mostly covered and we're on a path to have our current (the one we live in) home paid off in just over 5 more years (for 10 years total).   If things continue to go the way they're going right now… we'll own the house we live in long before we own the house that we rent out…. crazy, right?
Anyway.  Back to the this post.  I sort of got off track there.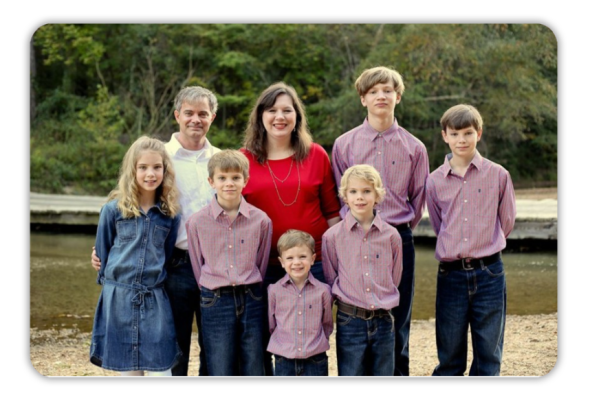 The house we live in now is 1500 square feet.  It has 3 bedrooms and 1.5 baths.  If you didn't know… there are EIGHT of us.  So we have 3 kids in each bedroom and our master bath is the half bath.  And this house is ugly ya'll.  Or at least parts of it still are.
One room is gorgeous (new floors and ceiling – both done on a budget!).  The kitchen is getting there, but not finished.  The rest is still ugly.  Not exactly my dream home.   But we'll own it free and clear in 5 years… OWN IT … I have to keep telling myself that.
To make the house slightly more comfortable for us – and to have a bathroom in our bedroom with an actual BATH… we've been planning to add on a big master bedroom.  And because we only pay cash for things… ALL THINGS… we're saving money to do the add-on instead of borrowing.
But the saving has been going slow.   It seems like every time we'd make real progress toward our savings goal, something would happen that required our money to go elsewhere.
For example, Christian breaking his arm TWICE in the past year, my oldest son graduating and starting an apprenticeship program where he needed books, a car, insurance, a laptop, etc. (he saved and paid HALF for all of those things!), and other unexpected expenses (a broken dryer, lawn mower, new tires on the truck)… and then our big vacation (yeah – still haven't finished writing about that – but NO regrets on that expenditure – we did pay CASH for it)…. you get the idea.
Plus we've also been remodeling the kitchen and the cost of that was also coming out of our "Home Improvement" account – so it just keeps yo-yo-ing.  We save some, we spend some…
On the upside, our diligent saving habits allowed us to pay CASH for all of those things we needed and wanted.   That's alot of things that we (including our son) paid cash for because we save like crazy and don't have debt.   On the downside, our savings took some major hits – some necessary – some because we wanted to and could (read what I mean HERE).
Anywhoooooo – I ramble.  Back to the post.  Again.
So, here's the short version.  We want to build on a master bedroom.  We want to pay cash for it.  And we hoped to do it this year (in 2015) but we're coming up short.  SO – to maybe gain some momentum in the savings department, we decided to spend only on necessary things in August.  Groceries and gas, utility/phone bills, medicines, etc.    We are also going to *try* to cut some of those necessary expenses (eat out of our freezer and not spend our full grocery budget, eat out as little as possible,etc.).
We already know of a couple of things we're going to have to buy that aren't necessarily "needs" because of previous commitments, but we're determined to do our best and I'll talk about those when the time comes.
In the spirit of that – I thought I'd write about it and stay accountable.  And maybe some of you will be inspired to do a no-spend challenge or save more money or become debt-free.  All good things!
I'm going to share the things we spend money on each day (or hopefully NOT every day) – with the exception of regular bills and business expenses.    And I'll also share any extra unexpected income that we're going to add to our savings.
Without anymore rambling, here's my first post and what we spent today – August 1.  At the end of the month – however much we're under our normal budget and money we saved that we'd have normally spent – THAT amount will go into savings in addition to our regularly scheduled savings.
Expenses:

Walmart (groceries and toiletries): $60.99

Walmart (clothing):                            $50.88  (bought 3 pairs of jeans* – 1 or 2 will likely be returned)

Sullivan's Grocery (groceries):         $27.46

Little Tokyo (eating out):                   $10.00 (my Mama took me and my aunt out to eat lunch – I covered the tip)

*I would  normally not consider a new pair of jeans necessary, but I'm down to ONE pair that fits and does not have stains/holes, so really – they are necessary… especially since I wear jeans pretty much all day every day.

Extra/Unexpected Money Gained:

Computer work:                                 +$30.00 (helped one of my Mama's friend with some computer work)

OVERALL TOTALS SO FAR (spent so far / budgeted for the month):

Groceries/Toiletries:                          $88.45 / $1200

Clothing/Home Products:                $50.88 / $240

Entertainment/Eating Out:             $10.00 / $300

Things we said NO to today….

I really, really wanted to buy some new silverware today that was on sale – but I put them back on the shelf.  About 95% of our forks have gone MIA and we really need some.. but I'm going to try to get creative and find a way to buy them without spending out of our budget.. or I'm going to sell something to pay for them 🙂  $80 saved.
Richy and I were tempted to rent a movie on Amazon tonight – we didn't.  $4.99 saved.
I picked up a skirt in Belk that was on clearance and a new ice pack (for my headaches) in Walmart – both things I wanted, but didn't need … so I put them back.  $20 saved!
That's $105 I saved today that I'd have otherwise spent without thinking a lot about it.  YAY!!
One last note – hopefully future posts on this topic will not be so long… and I hope to not be posting daily because I hope to not be spending daily!  Until next time…
Have you ever done a no-spend month or a no-spend challenge?  I'd love to hear about it!