Write 31 Days – Days 20s and 21.  Okay – so first I have to tell you – I did not forget to write yesterday.   Last night was the Doll's House Benefit Dinner where I did a dessert table for 250 guests and I was swamped almost all day.  Even with that, I had every intention of posting when I got home last night.
However, before we got home the kids called and said our electricity had gone out around 8pm.  And it stayed out… til nearly 1am.  I was already fast asleep by then (not having electricity made me go to bed early… silver lining!).  I did wake up briefly when the lights came on, but I did not wake up enough to even think about writing a blog post.
The full night's rest was good for me though!  I woke up feeling so much better than I have for this whole week.
Anyway, let me share some pics of the desert table!  I made 830+ pieces of dessert … including cake pops, petit fours, brownie bites, sugar cookies, dipped Oreos, mini cupcakes, full-size cupakes and more!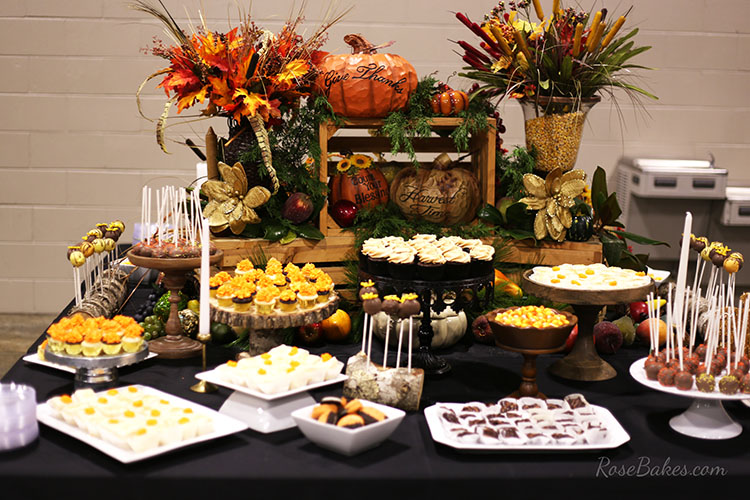 This is the front of the table that was facing the crowd.  Actually, the decor and desserts went all around all four sides so we didn't end up with a line backed up anywhere, but if it had a front, this was it.  And then this would've been the back: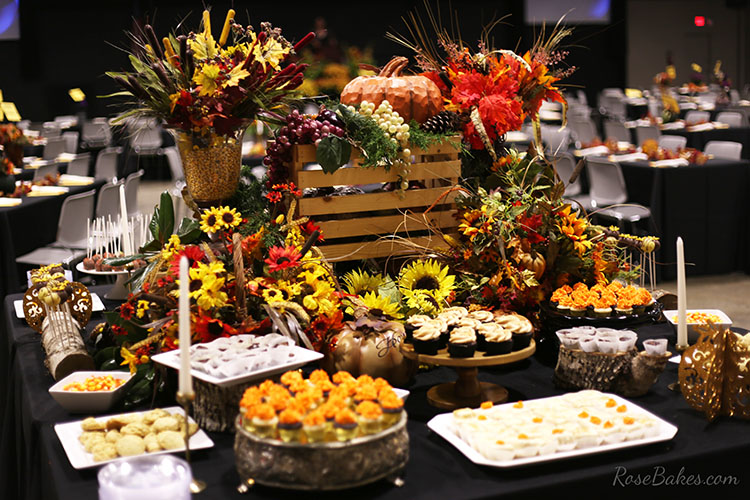 I wasn't able to put everything out all at once, so about halfway through, me and my sister-in-law and brother restocked all the platters and stands.   Oh and Ariel (my SIL) is wholly responsible for the beautiful centerpiece.  I'm not at all gifted with decorating like that but she is a rock star!!
If you want to see all the individual desserts, please click over to Rose Bakes where I've shared more close-up pics and details!
Anyway, today I got up and immediately started baking for a huge wedding cake I have tomorrow!  I spent the day baking, making frosting, filling and crumb-coating and covering in fondant. OH, and writing a blog post to share a sale.. go see HERE – the sale is on all weekend!
Back to the cake… it took nearly the entire day to get this big ole cake to "blank slate" stage:
Tomorrow – I'll make it pretty 🙂
Until then… you can read the previous Write 31 Days Challenge posts here.