So, I failed at the Write 31 Days challenge.   One missed night turned into two, then three.  Well the third night would be tonight, so I guess I only missed two.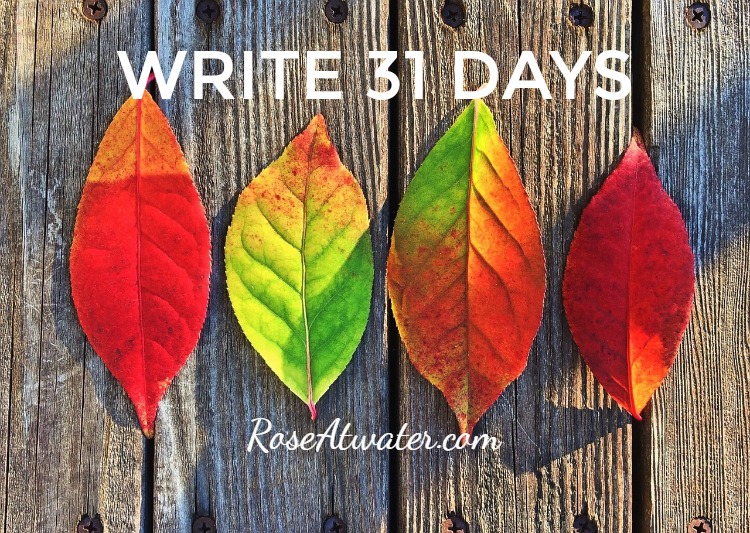 The first night I missed, Monday night, was beyond my control thanks to our rural, country life.  Just minutes before I was to sit down and start writing, our internet quit working.
This is not unusual here, but generally it comes back on within minutes.  I waited and waited – restarted the internet and even my computer… nothing.  No connection to the outside world.  I finally gave up and went to bed.    For the record, I didn't get it back on until around 10am the next morning when I called the telephone company and they told me how to manually reboot the whole thing.
Looking back,  I can tell you one thing about Monday.  I baked a lot of cookies.  Around 250 to be exact.   That was a good thing.  Except I was supposed to bake 400 cookies (for 3 separate orders this week).  What happened you ask?  I ran out of eggs after the stores in my tiny hometown closed.  So I baked all I could bake, then quit.
Tuesday morning, I got up early (for me) and immediately ran to town to buy more eggs.  I came home and baked some more.  Then while the rest of the cookies were cooling, I got the kitchen organized and one of my boys mixed up the royal icing for me so I could start decorating all the cookies.
Only 150 of them were due for Wednesday so the rest were packaged up and put in the freezer for later in the week.   Then I started decorating.  And decorating.  And decorating some more. Around 11pm, I finally finished.   I had every intention of sitting down to write then, but honestly, my hand was aching so bad from all the cookie work,  I just wrapped it in an ice pack, took some ibuprofen and went to bed.
And then there was today.  I woke up, counted the cookies (twice) and boxed them up for delivery.  After that I started homeschool with the kids and working on some blog posts for Rose Bakes.  We did get some school done, but my kids were a handful today.  This is my post from Facebook: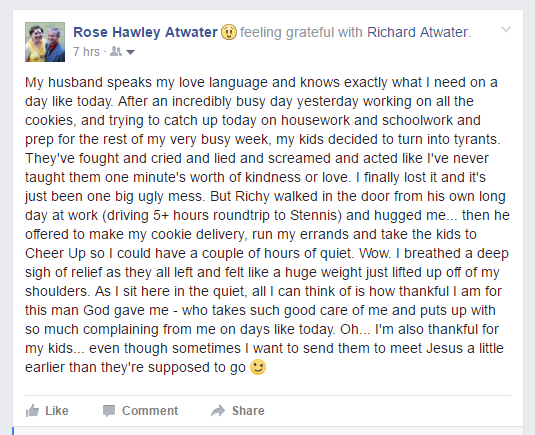 It was bad ya'll.  Just bad.  While Richy was out with the kids, I did manage to almost finish up this Baked Chocolate Chip Oatmeal post and I just sat in the quiet.  No TV.  No radio.  No nothing but quiet.  It was bliss!
The time alone flew by, and when Richy got home I had Sarah make supper (Buttermilk Crab Pasta Salad) and the other kids do a little picking up and before I knew it, it was time for church!
When we got home, we ate, the kids played Spoons for a couple of hours (it's a card game, if you're not familiar) and then it was bedtime.  Now it's bedtime for me.
I'm going to try to do better about posting to finish out this Write 31 Days Challenge but honestly, I have all those other cookies to decorate plus six cakes plus candy and caramel apples for our local OctoberFest and our church Fall Festival.  So yeah.  My next 3 days are going to be hard.  And very, very busy.
Say a prayer for me.
xx, Rose