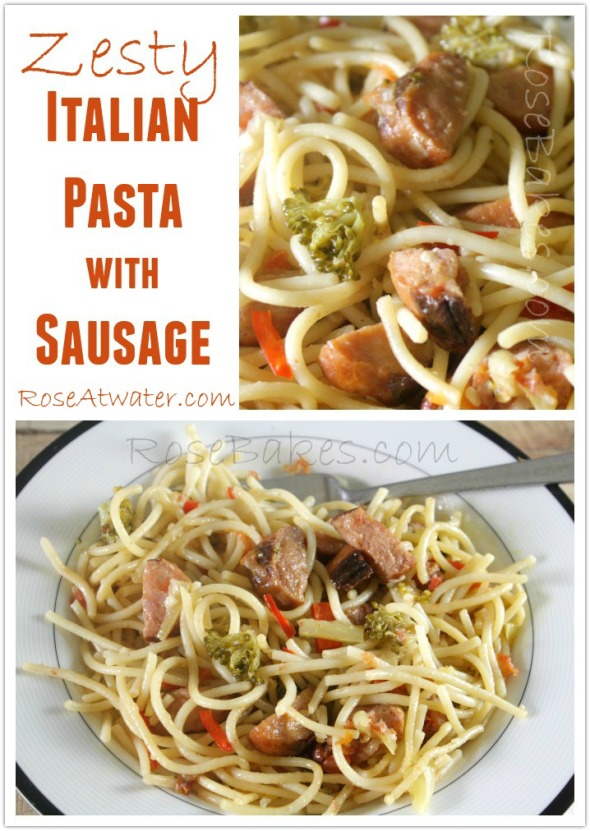 Sometime last year I found some Italian Sausage on sale for a really great price, so I stocked up and put several packages in the freezer.  Not long after that, my sweet hubby decided to cook supper one night using the sausage and try out a new recipe.
Funny thing… I asked him to email the recipe to me the next day (from work) so I could write a blog post about it.  When I got the email, this is the subject line….
Yeah.  He named it "Zesty Mexican/Italian Pasta and Sausage".  Whaaaaat????   And he called me "baby".  Love him!!
I talked to him later and asked about his name choice… he said he couldn't remember the name on the package, but he listed everything he put in and decided it has both a little Italian and a little Mexican flavor.  Haha!
For the purpose of blogging and not being laughed at, I shortened it a little.   And after I made the graphics, entered the recipe into the plugin, edited the picture and saved them all with the current name… I realized I should've put the "Italian" with the "Sausage" somehow or other in the title… since the recipe has "Italian Sausage".
Oh well….  all the work was done except for writing the post and I decided against changing it all.  Forgive me?
Okay – back to the recipe.  When Richy emailed it to me, I also asked him how he came up with the recipe and he said he found a recipe on the back of the Johnsonville Sausage package and he decided to give it ago.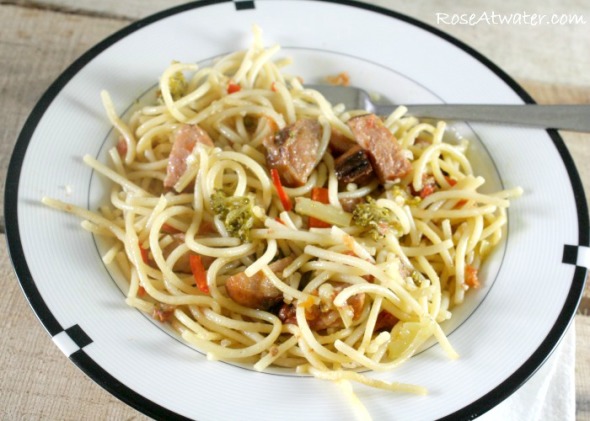 Of course, he changed a few things (added some fresh tomato and peppers that we had on hand) and doubled many of the ingredients (the pasta especially) for our family of 8 .
I should note, the amounts posted are for a single recipe that serves 4.   If you have a big family… double the pasta and anything else that your family loves.  The recipe is pretty forgiving… you could use different vegetables, more or less of the ones listed, etc.
I wasn't quite sure I was going to like it, but the truth is, I loved it!  Plus, it was easy to make and quite the frugal recipe (especially since we got the sausage on sale)!!
And finally, more than a year after he first made it, I finally have pictures ready to share!!  Except most of the broccoli had been picked out by the time I took a few pictures.  So just imagine with me… more broccoli!!

Zesty Italian Pasta with Sausage
Ingredients
1 pkg. (19 oz.) Italian sausage links
1 lb fettuccini/spaghetti pasta
3 tablespoons olive oil
3 tablespoons red wine vinegar
2-3 banana peppers, julienned
2-3 cloves garlic minced
1 mediumfresh tomato, diced small
1 can Rotel tomatoes, drained
10.5 oz can chicken broth
2-3 cups broccoli florets, chopped
Salt to taste
Instructions
In a skillet, prepare the sausage links according to the package directions. Allow the sausage to cool for a few minutes then cut into ¼-in. slices. Also prepare the pasta according to package directions.
In a large saucepan, sauté the onion, peppers and garlic in olive oil and red wine vinegar until tender. Stir in the Rotel tomatoes and chicken broth. Bring to a simmer.
Reduce the heat and add the broccoli,cooked pasta and sausage. Cook for about 5 more minutes. Toss to mix it up, sprinkle with a bit of salt and serve it HOT!