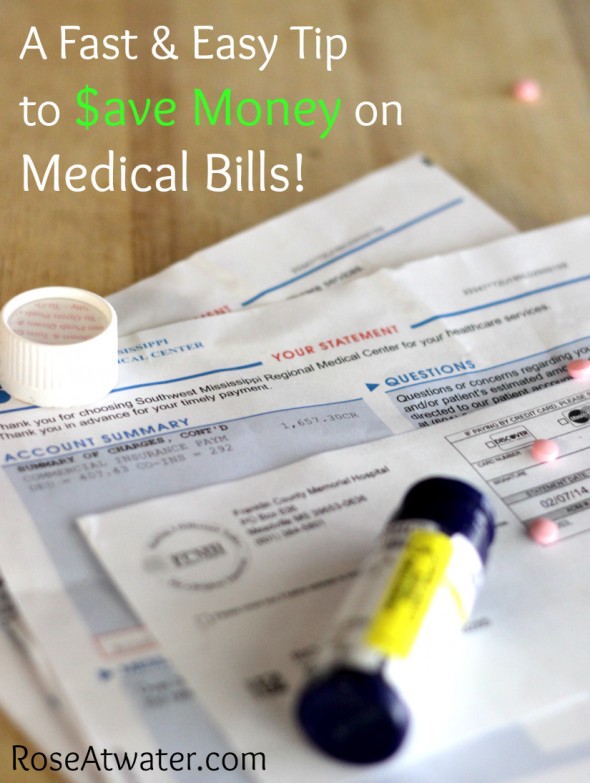 I'm not an expert by any means, but today I wanted to share a tip on how to save money on medical bills.  Are you ready for my ingenious tip?
Ask for a discount!
Now I realize when I spell out the details of this that it will not be possible for everybody (depending on the amount of your medical bills, whether or not you have a savings account, etc.) , but if it is an option, then by all means, don't pass it up!
And if this is obvious to everybody else already… then can we at least pretend that someone else needed to hear this?
So here's the deal… recently my husband has been having some health issues.   In December, January, and February, his medical bills ended up being several thousand dollars (before insurance).
The good news is that we live debt free (except for our home), we have an emergency savings account, and we have pretty good insurance.    When the insurance company had finally come through on some of the bills (they haven't all come in yet), we ended up owing only around $2000 (so far).
I know – it's still ALOT – but we do have enough in savings to cover that, so I breathed a little easier.
But I still don't want to spend any more than absolutely necessary, so I decided if I could get any more discounts by asking, then I wanted to.
I got this idea a few years ago when I had to have an out-patient procedure done and before leaving the hospital, they told me if I could pay our co-insurance part in full that day, then they'd give us a 10% discount.
So when our recent bills started rolling in for all of these tests, I decided to call the billing departments and ask, "If I pay this bill in full, can I get a discount?"  And guess what?   They gave me 10-15% discounts every time!
Just yesterday I had a bill for $699.90 and the insurance had pad all they would pay.  But after three very short phone calls, I had saved some more money.
When I say short calls, I mean it.  There was no haggling or stress… I called and left a message in the billing department, she called me back and I asked her for the discount.   She got off to consult with her manager, then she called me to tell me the results.
And what were those results?  My bill was reduced by 15% with a 3 minute phone call.  Now I only owe $594.92.  That's almost $105 saved with very little effort!
So here's my advice.  If you have medical bills, whether it's several like we have right now or only one, and if you have the ability to pay the bill(s) in full, call first and ask if you can get a discount by paying with cash or paying in full!   Who knows… maybe you'll end up with an extra $100+ in your pocket!
Do you have any other easy tips to save money on medical bills?  I'd love to hear about them!  Leave me a comment 🙂