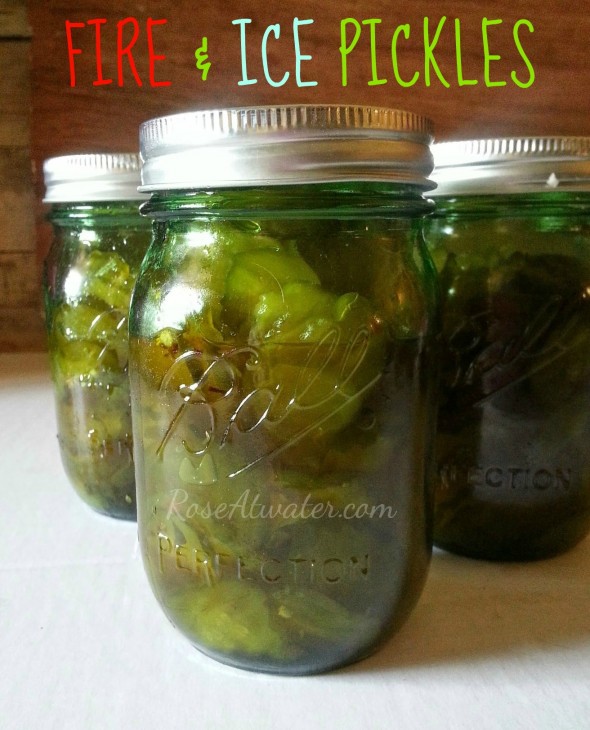 This past Christmas, my Aunt Louinda bought us (and all of her nieces and nephews families) jars of Fire & Ice Pickles for Christmas. They were from a local restaurant and man, oh man, were they fantastic.
In fact, my sister-in-law Ariel was pregnant at the time with sweet Perry Kathryn and she became completely obsessed with them.
I'm not really a "pickle" lover most of the time – I don't mind them on my burgers or ham sandwiches here and there, but generally, I can live without pickles. But these… they kept coming back to me. I'd think of them from time to time and wish I had another jar.
So when this recipe came across my radar, I knew I had to try them! Plus, it looked SO easy – it's not like "real" pickling… it's sort of a short-cut version. I saw this recipe over at Taste of Home and it's just SO easy! I had almost everything I needed already in the frig and pantry!
I jarred my pickles in the new Green Ball Heritage jars (LOVE those and the blue ones from last year!!). I followed the recipe almost exactly from Taste of Home, but somehow I filled almost 5 pints (the recipe said it yielded 3!?). I guess it depends on the volume of your pickles… ha!
Anyway… I shared a few jars of these with family and a few weeks later and I'm already having requests from family to make more! They were definitely a huge hit and something we'll be making again and again!!
These pickles definitely have a good bite of heat at the end, but they're not overwhelmingly hot. But if you're worried, cut back on the hot sauce and/or red pepper flakes and you should be good to go!
So what about you?  Are you a pickle eater?  What's your favorite kind??  Sweet? Dill?  Maybe something sweet and spicy like these?  I'd love for you to leave a comment if you try them!
Fire & Ice Pickles Ingredients
2 jars (32 ounces each) dill pickle slices or spears (I used Mt. Olive Sliced Dill Pickles)
4 cups sugar
1 tablespoon hot pepper sauce
1/2 teaspoon crushed red pepper flakes
3 garlic cloves, peeled and chopped
Instructions
Drain and discard juice from pickles.
In a large bowl, layer the pickles, sugar, pepper sauce, chopped garlic and pepper flakes; mix well. I put about half the pickles and half of all the other ingredients, then did another layer and then stirred. Cover them up (with a lid or plastic wrap) and let them stand for 2 hours at room temperature, stirring occasionally.
The original recipe said it would only fill 3 pints but I had 5 almost full. Maybe my pickles had more volume!? Anyway, spoon the pickle mixture into pint-size jars. Close them up and refrigerate for at least one week before serving. Keep in the refrigerator.