DIY: How to do Brown Paper Floors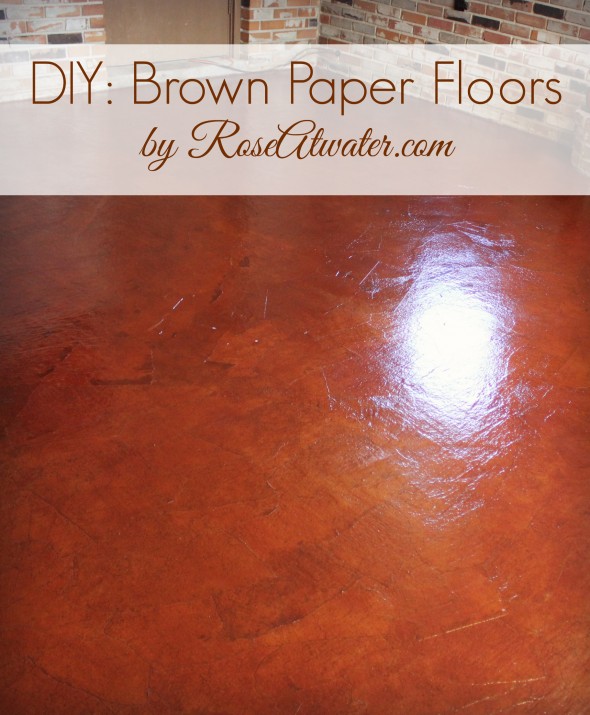 I posted some pics on my personal Facebook profile of our new flooring and I had several friends ask me for more pics  and details about how to do brown paper floors.  Since we took several pictures of the process, I thought I'd tell you about it.
We chose this for a couple of reasons… primarily because we wanted a budget friendly solution.  It cost us less than $115 for the whole room (300 sq ft) and we have supplies left over.  That's like $.39 per square foot plus labor (which is free when you do it yourself!!).
Also, we really like DIY projects and this one definitely seemed doable for us.    I had found the idea more than a year ago and bookmarked it, then read the posts linked below plus the hundreds of comments and suggestions and after researching, I really, really wanted to give it a go!  I figured it's cheap enough that if it doesn't work out, we haven't lost all that much!
I'm going to share our steps and some details and if you have questions, I'll do my best to answer, but I highly recommend checking out the two posts below (and the outgoing links from them) – those are the two major resources we used as guidance for doing this!
Lovely Crafty Home: The Ultimate Brown Paper Flooring Guide
Okay – so a little background.  This room is approximately 300 square foot.  When we moved into the house, it had very old, nasty brown carpet in this room.  We eventually pulled it up (after we transitioned from renters to owners) and for quite some time, we had plain concrete floors.
Thank goodness they didn't have any glue to clean up, so we just scrubbed it down a couple of times with hot soapy water, then swept and vacuumed.
This is what they  looked like minus all of our furniture and other junk (sorry about the blur):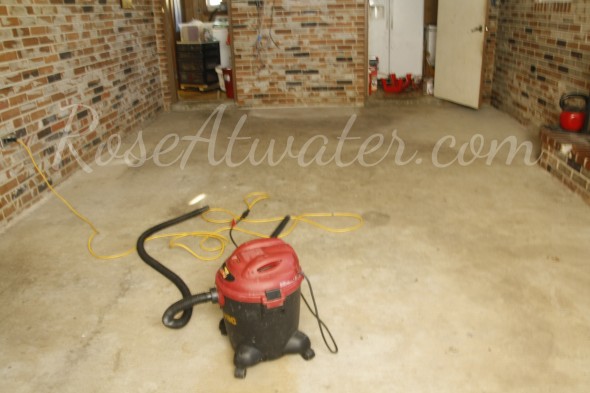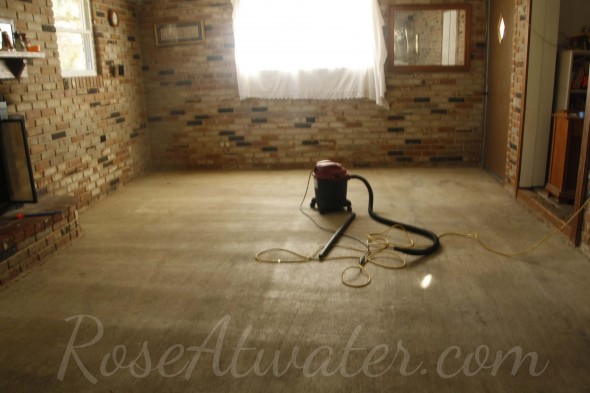 The first thing we did is order/buy supplies (all recommended here):
After it was clean, my husband patched the holes where the carpet tacks were along the edges.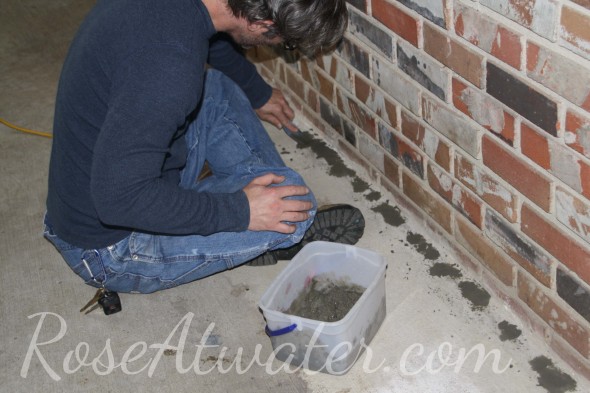 Oh, and we had to tear up the paper and wad it and flatten it again.  We did this a few days before starting and let the kids help – they had a blast!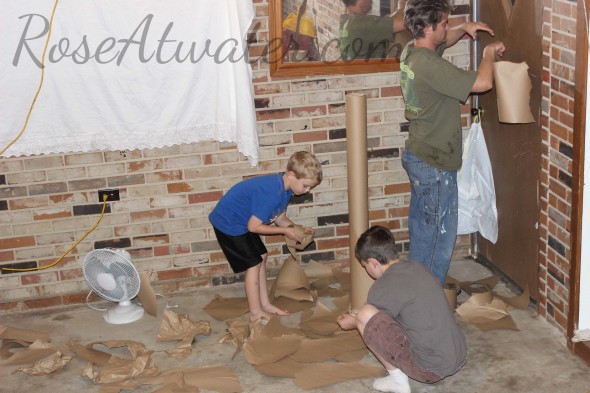 There was a couple of days between this and starting – my new niece was born that week, so of course, we had to focus on what was most important!!
But our next step was to jump in and get started.  OH – let me state here that our floors are not/were not perfectly smooth.  This part of our home used to be a carport.  We left them rough and opted to not sand them… only time will tell if this was a bad decision.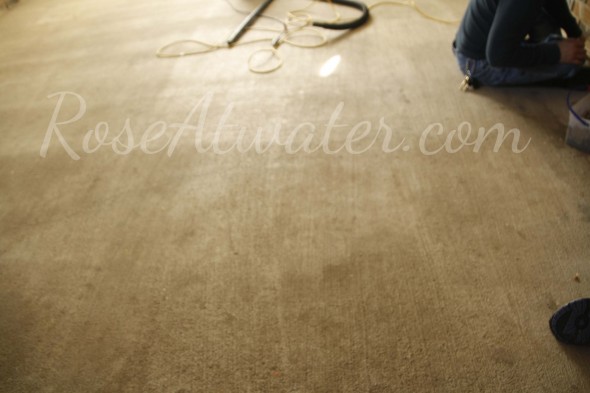 Anyway, so step one, we mixed the glue with water.  My husband did not measure, he just did it by "feel", so I cannot tell you what ratio to use – just reference those posts above for that info!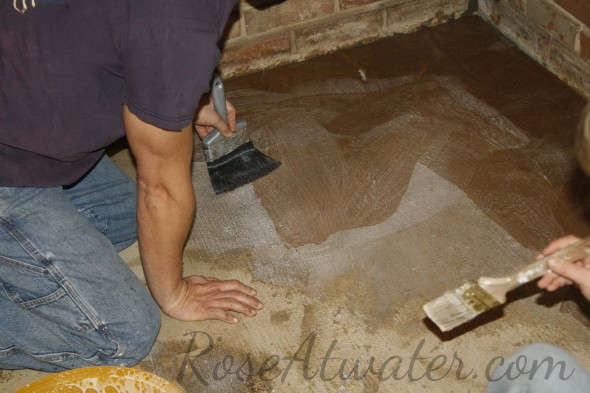 So – water and glue.  We started in the far corner and used a paint brush to paint the floor, and both sides of the wrinkled paper, then we just laid it down and smoothed it out, brushing over it with the paint brush.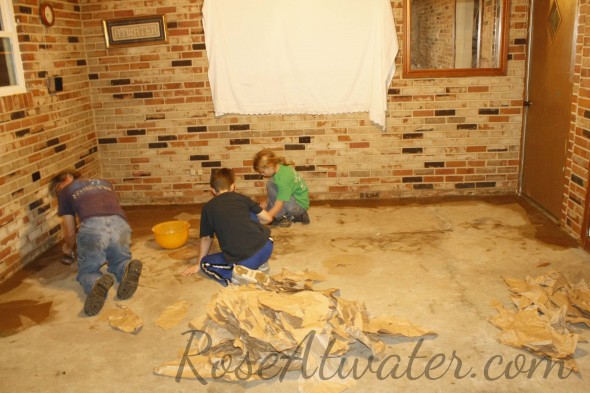 Hubby did lots of edges around one end of the room, then started filling it in.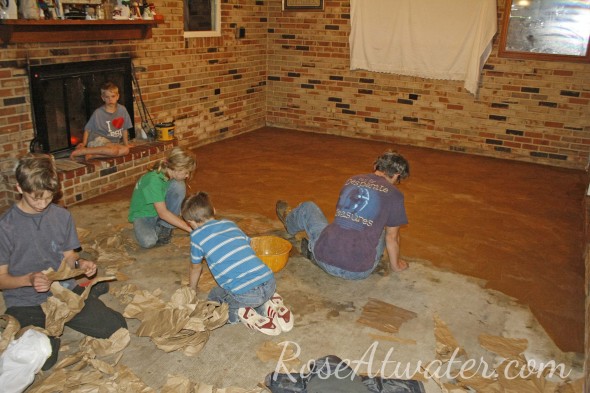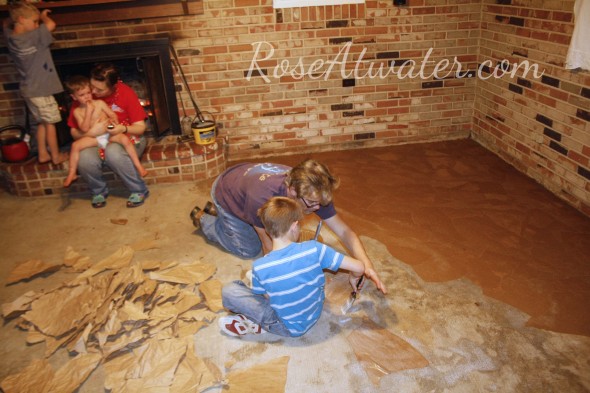 The kids were able to help with some of this too.   We made sure to overlap the pieces of paper (they shrink when they dry) and tried to avoid any straight lines except at the walls.
This is what it looked like when the room was finished (but still wet).  It took about 12 hours (I think) to do this 300 sq. ft. room with all of us working / taking turns: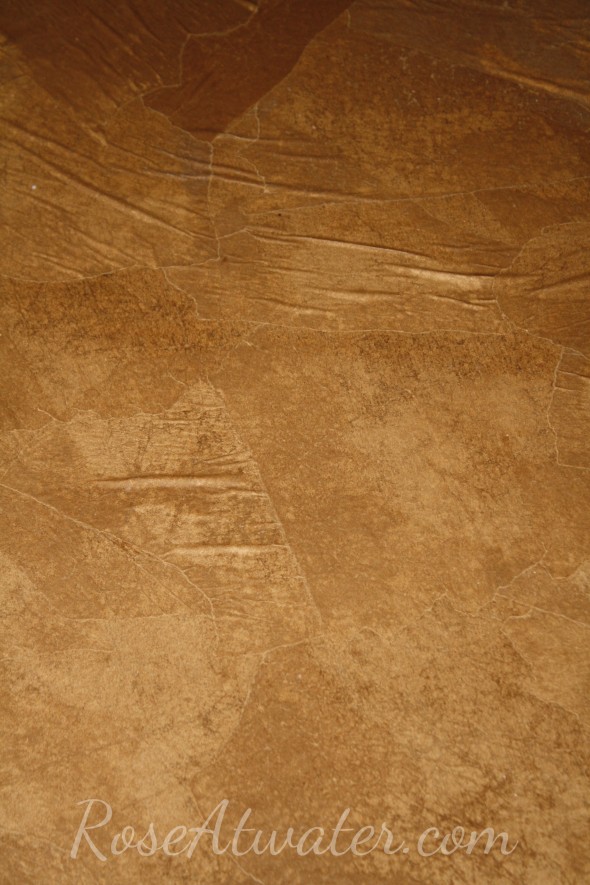 The above pic is a close-up.  Most of those wrinkles smoothed out when it dried… and below is a bigger picture.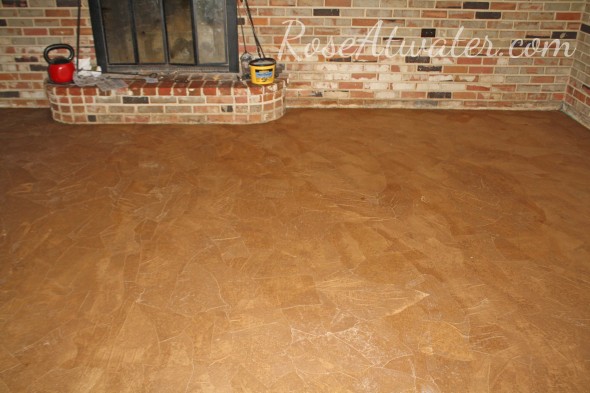 Then this below is after it dried (the next morning):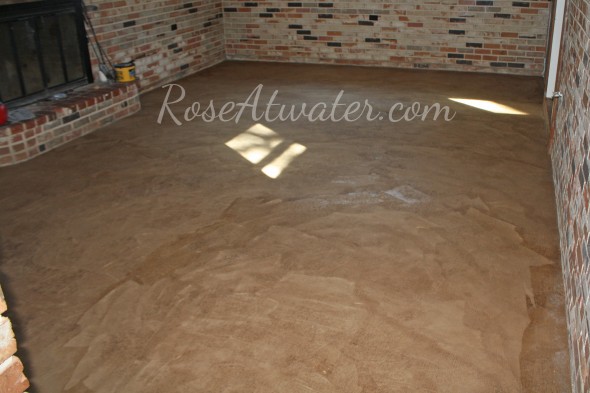 In this corner closest to me here, you can see that there was sort of this circle that looked different.    That's where we stopped/started working through the night and when we were finished, we were really worried that it was going to look terrible. But as you'll see below – it turned out just fine (keep scrolling)!
The next step was staining.   The hubs first used a brush to paint the edges of most of the room, then he used the deck pad (on a mop handle) to mop on the rest.  I think it took about 2 hours total.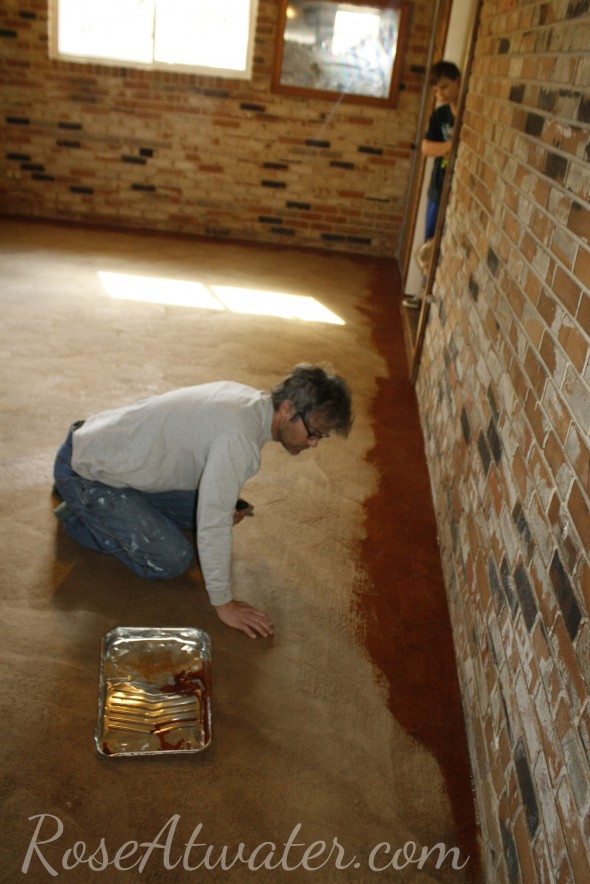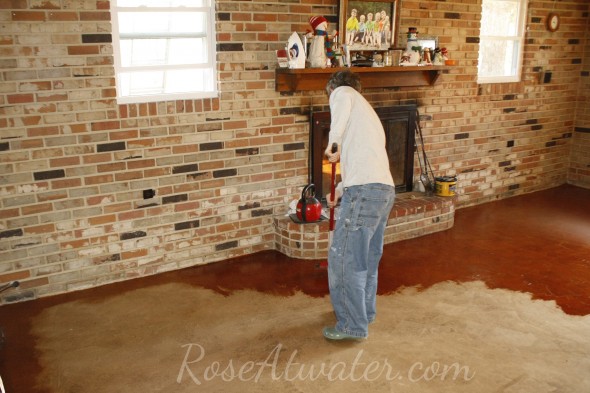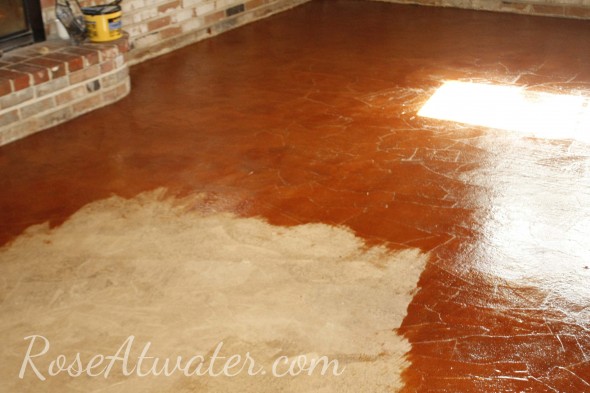 When it was all finished… we had to wait.
And wait.
And wait some more.  I think it was close to 36 hours before the stain was dry.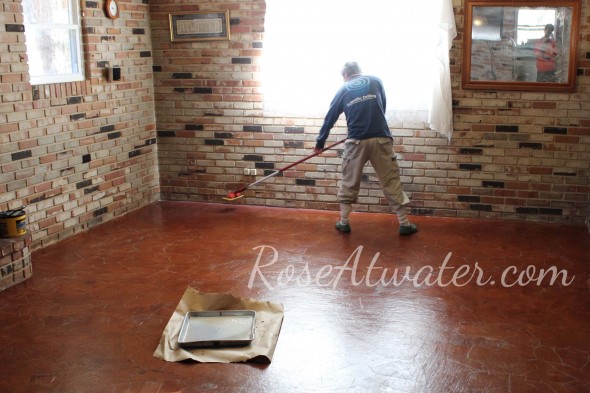 Next – we put on polyurethane.   It is actually recommended in one of the posts that you do 12-14 coats but we only did 10.   A few spots started to get cloudy on the last couple of coats so we stopped.
We may regret not doing more… but I hope not.   Oh, and if you're wondering, we also mopped it on with the deck pad (a fresh one), then we'd let it dry at least 1-2 hours, then do another.
Because of interruptions and kids and fun things like that – it took us just over 2 days to get all the coats on and feel ready to move furniture back in.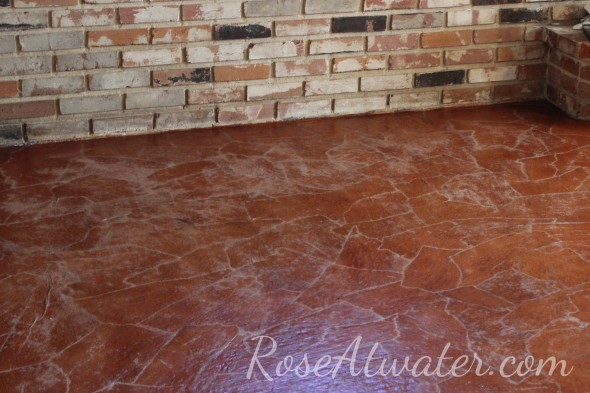 But first let me tell you about our one little hiccup.  After the first coat, a lot of it turned white.    Icky, ugly white.  For a moment I panicked, but thank goodness I remembered that this problem had been addressed over at one of the posts linked above.  
So we stained again (as recommended), waited, waited, waited some more (no pics here), then started over with  polyurethane.  This time – it worked beautifully!    It took just under 3 days to get all the coats of polyurethane done and 5 days from start to finish on the whole project.
Here are the finished pics below – from a couple of different angles and different lights.  We absolutely love the floors so far.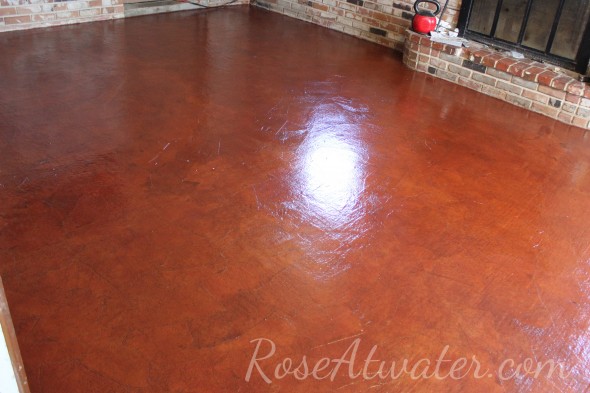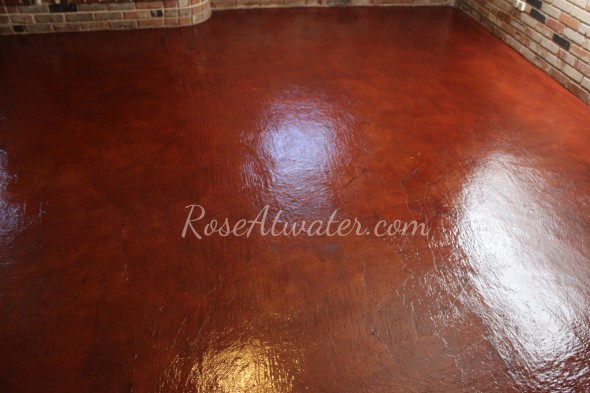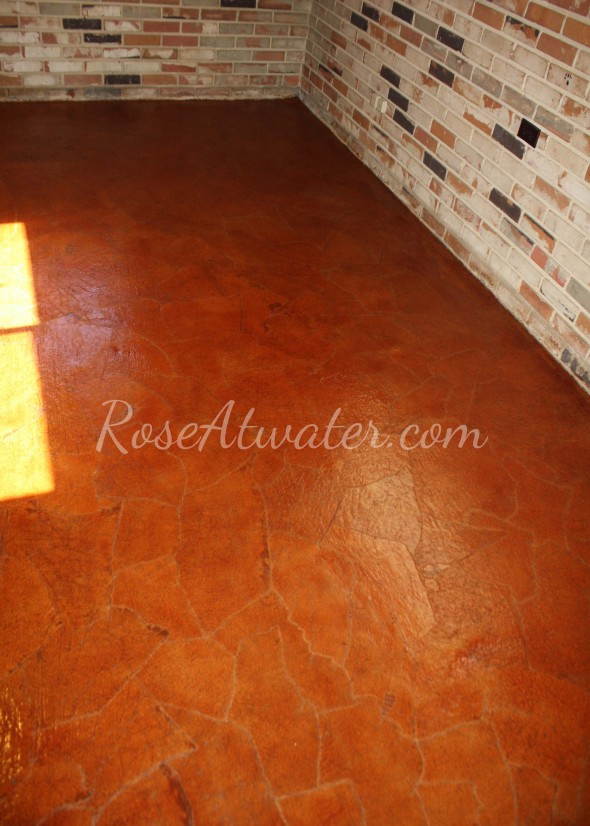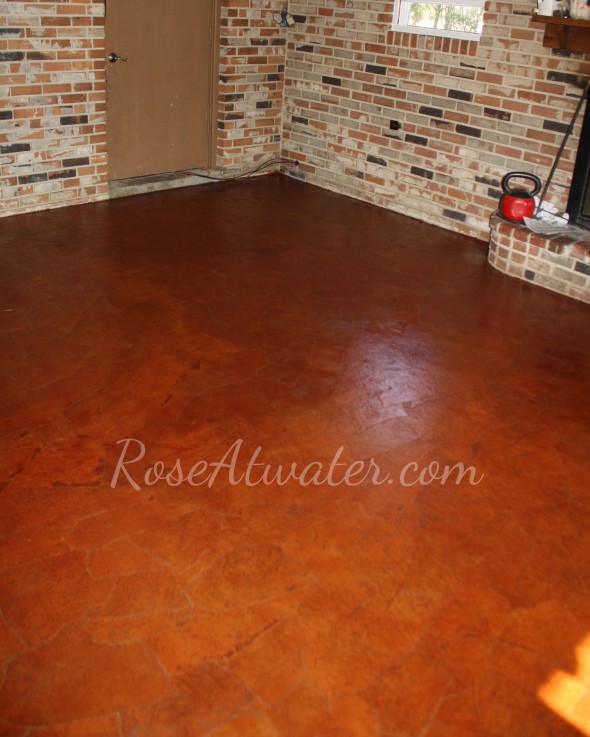 Remind me in a year to update (January 2015!) and let you all know how it's holding up with 6 kids, dump trucks and Hot Wheels cars, the fireplace, etc.  Ha!
What do you think?  Is this something you'd try?