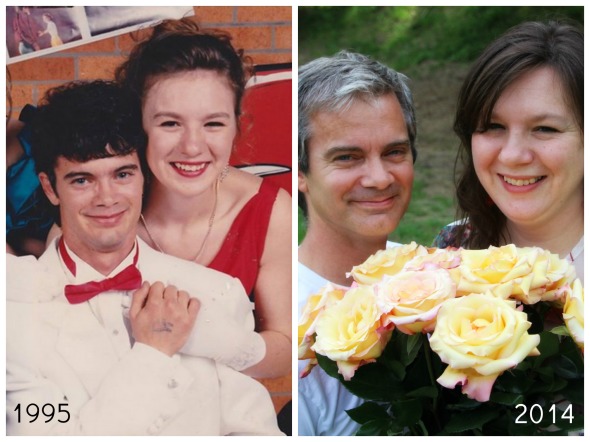 Words hurt.  That little childhood rhyme, "sticks and stones may break my bones but words will never hurt me."… that's a lie.  Words can be some of the single most painful things you ever have to deal with in your life.
A couple of weeks ago I posted this picture (on the left) on Facebook.   It's a picture taken of me and Richy way back in 1995.  It was Spring Fling week at the community college where we met.  We had been dating only a couple of months at the time and he asked me to the dance.   I'll admit it – I was already totally in love with him.
It wasn't even a formal dance but we decided to go all out and really "do it up" that night.  He rented a tux; I wore a floor length gown and beautiful white satin rhinestone heels and matching long white gloves.   It was good times… fun times, and a perfect memory.
Anyway, I posted the picture because it made me happy – we were happy.  We were young and cute and fun and in love.
But when I posted that picture, I used the caption "So young".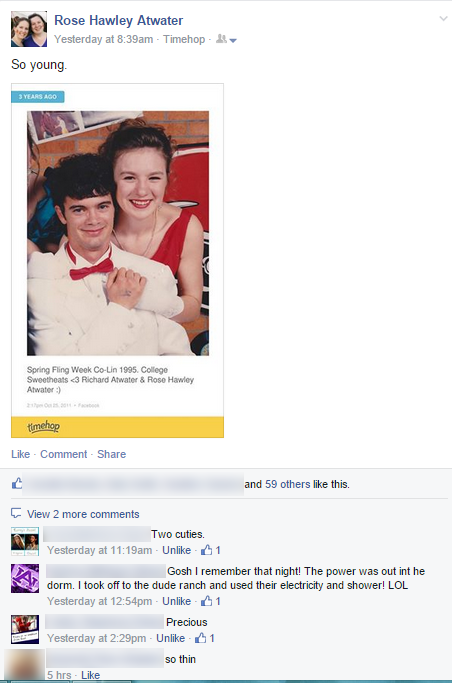 And then a day or two later, someone who used to be a big part of my life posted, "so thin".
I felt like I'd been sucker-punched.
When I read it, tears welled up in my eyes.  Suddenly I felt very small (obviously not literally) and ashamed.    I might have said something very ugly out loud.
Why would she do that?  Say that?  I felt humiliated and I knew that every other person who had liked and commented on that photo got that notification and saw her comment.  I wanted to disappear.
I wanted to delete the picture altogether.   And every other picture of myself on Facebook.
I've gained more than 60 pounds since my college days.  I'm not proud of that.  Every single time I post a picture of myself online, I see it.
I know I'm fat.   It's not a secret to me.  I know I'm not that girl from 20 years ago.  She didn't need to point it out to me.
I wish it were different and I know the power to change it lies with me.  I own that.  But…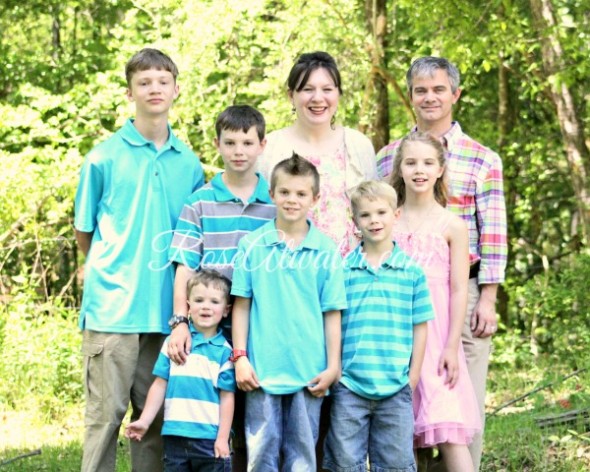 I also know that I've given birth to 6 children and I run a cake business and two websites that means I have sugar-loaded treats in my house all.the.time.   I'm busy and overwhelmed and I don't take care of myself like I should,  None of those are excuses… they're just facts.  Losing weight is hard.  Accepting myself "as is" is hard.
But I really, really don't need my faults pointed out to me publicly.
And before you go defending the person who said it (because I'd truly love to give her the benefit of the doubt that she didn't mean it like I took it), know this:  it's not the first time she's hurt me with words.
When she was a regular part of my life, more than once she belittled me by pointing out my flaws… with my body, my weight, with my kids, with my decisions.    She  never hesitated to make me feel "not enough".  And that went on for almost 10 years.
Let me add that she married into my immediate family – it wasn't a situation where I could just cut off the relationship.
But things are different now.  A divorce has happened (and it wasn't me 😉 ).
It took a few hours before I made a decision, but ultimately, I deleted the comment.  And un-friended the person.
She hasn't been a part of my "real life" in a long long time and I haven't seen her for years but I felt the need to keep her as a friend on Facebook because, well… I guess I felt sorry for her. I've prayed for her many times over the years and I always hoped that somehow she'd be different.
In my own weird way, I though that maybe keeping her as a friend might somehow have an influence on her life.  No more.  I said a prayer for her (again) as I deleted her.   But I'm done.
People… I know it's not a secret, but words hurt.  Be careful what you say.
Word cannot ever be taken back.  They can't be undone.  And they can have a life-long effect.
From now on, every time I see that picture of Richy and me, I won't think about the joy I was feeling that night in the early months of us dating and dancing together in college … but instead I'll see that picture and be reminded of her comment. Those two words.  so thin.
I pray that this thing that happened will be a reminder to me to watch my own mouth.  And always be kind and uplifting and never tearing anyone down with my words.
One of my favorite verses, and something I often pray when I'm angry or worried about saying something I'll regret, is this one, "  Let the words of my mouth and the meditation of my heart be acceptable in your sight, O Lord, my rock and my redeemer." (from Psalms 19:14)
I hope you'll pray the same thing.
Ephesians 4:29:  Let no corrupting talk come out of your mouths, but only such as is good for building up, as fits the occasion, that it may give grace to those who hear."
Matthew 12:36-37: I tell you, on the day of judgment people will give account for every careless word they speak, for by your words you will be justified, and by your words you will be condemned.
Proverbs 13:3:  Whoever guards his mouth preserves his life; he who opens wide his lips comes to ruin.
Psalm 19:14:  Let the words of my mouth and the meditation of my heart be acceptable in your sight, O Lord, my rock and my redeemer.
Luke 6:45:  The good person out of the good treasure of his heart produces good, and the evil person out of his evil treasure produces evil, for out of the abundance of the heart his mouth speaks.